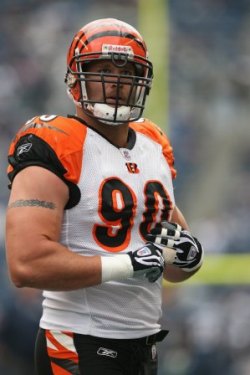 Posted by Josh Katzowitz
Nobody makes more top-five selections in the NFL draft than do the
Bengals
. As the
Cincinnati Enquirer
points out, next week will the eighth time in the Mike Brown era (since 1991) that Cincinnati has had a first-round pick that high – and it's the most in the NFL.
And although Brown apparently feels the club's draft strategy is sound (unbelievably, he said a few months back, "
I don't apologize for our scouting.
It's an easy target. But if you look at the real facts, you'll see it different."), those early first-round picks have produced many more losers than winners.
Here is the good:
Carson Palmer
– No. 1 in 2003: Palmer, at one point, was a top-10 quarterback (maybe even a top-five for a short time). The past couple seasons have been brutal for him, and he's said he'd rather retire than play another game for the Bengals. But still, I think this was a good pick.
And here is the bad:
John Copeland – No. 5 in 1993: He wasn't a bad defensive lineman, and in 1995, he recorded nine sacks. But you expect more from a No. 5 pick than he could give.
Dan Wilkinson – No. 1 in 1994: With Wilkinson and Copeland in the lineup, the Bengals could have expected their defensive line to be a strength for the next several seasons. And if Wilkinson hadn't gone No. 1, he would have had what we consider to be a pretty good career in Cincinnati. But he's also a good reminder that it's not usually a great idea to pick a defensive player No. 1 overall.
Ki-jana Carter – No. 1 in 1995: Ugh, his name is not remembered fondly in Cincinnati after tearing his ACL in the third snap of his first preseason game.
Akili Smith – No. 3 in 1999: You know what really made this pick suck for the Bengals? The
Saints
, in a crazy effort to select
Ricky Williams
, offered Cincinnati nine (!) draft picks in order to take the Bengals spot in the draft. The Bengals refused. Brutal.
Peter Warrick – No. 4 in 2000: You know what Warrick is doing these days after a non-productive NFL career? Last I heard, he was playing for the Cincinnati Commandoes indoor team.
Justin Smith
– No. 4 in 2001: Smith is coming off the two best seasons of his career. Unfortunately for the Bengals, he plays for the
49ers
now.
Next Thursday, the Bengals hold the No. 4 pick, and optimism (or is that trepidation?), like every year, runs rampant in Cincinnati. History, though, indicates they probably won't make the right selection. Another Carson Palmer? Not likely.
For more NFL news, rumors and analysis, follow @cbssportsnfl on Twitter and subscribe to our RSS Feed .