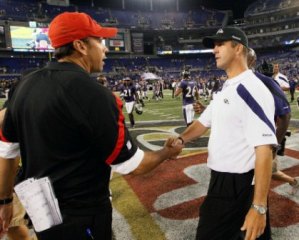 Posted by Josh Katzowitz
During Friday's preseason telecast between the
Chiefs
and the
Ravens
, the commentators wondered how Kansas City coach Todd Haley would react to a late Baltimore timeout and a touchdown run by RB
Anthony Allen
with eight seconds to play in the
Ravens 31-14 win
.
The producer even made sure to catch the postgame handshake between Haley and Ravens coach John Harbaugh as the two had a longer-than-normal conversation.
Sure enough, Haley
was
upset, which led Harbaugh to say this to reporters after the game.
"I want to apologize to the Chiefs if they feel like we were not doing the right thing at the end of the game," Harbaugh said, via
MASN Sports
. "That wasn't the mindset, OK? The mindset was -- this is the preseason. If this had been the regular season, we would've been on a knee. The idea in that situation is to give those young guys who work hard and who are trying to make a football team -- this football team or another football team -- to play the whole 60 minutes and give them a chance to show what they can do. Offensive line, running backs, everybody.
"I know that's debatable, I know there's a point of view both ways, I understand that. But I just feel like that was the right thing to do for our players, to give them a chance to play the game out and see what they can do. So, that was the thinking on that."
Harbaugh is wrong. That mindset isn't "debatable." No, that mindset is "perfectly reasonable." Harbaugh even tried to explain it to Haley afterward.
"I think he said something like, 'I don't know about that,'" Harbaugh said. "I understood, and I just said, 'Preseason, preseason for the young guys.' He said 'OK.'
You'll remember that Haley got really upset last year and refused to shake the hand of former
Broncos
coach Josh McDaniels for
running up the score
on the Chiefs or for McDaniels' participation in
New England's Spygate
or for something. You'll also recall that it led to this classic picture of Haley wagging his finger in McDaniel's face.
Haley later apologized for letting his emotions get the best of him, and the next time the two teams met, Haley and McDaniels did shake. Haley was given a pass because there were many observers who believed he was in the right against McDaniels.
But a preseason game when it's clear the Ravens are trying to work on their team and see how their bubble players perform on the field? A preseason game that, last time I checked, doesn't mean anything in the standings? I mean, really?
"Their coach has to do what he has to do to get his team ready," Haley said. "I'm trying to do what we need to do to get our team ready."
And if Haley is preparing himself for a long season of being offended by opposing coaches, he's certainly on the right track.
For more NFL news, rumors and analysis, follow

@EyeOnNFL

on Twitter and subscribe to our
RSS Feed
.