Posted by Andy Benoit

It's post-draft mea culpa time. If you happened to listen to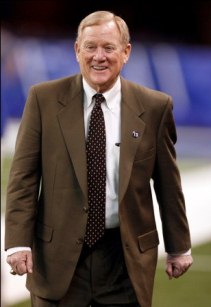 the podcast Will Brinson and I did in the
Indianapolis Offseason Checkup
a few weeks ago, you heard me vehemently declare that it would be an utter shock if the
Colts
drafted an offensive lineman in the first round. I realized at the time that virtually every mock draft on the face of the planet had Indy drafting an offensive tackle. And I realized that offensive tackle was one of Indy's primary needs. But I argued that a first-round offensive tackle to the Colts would not happen because Bill Polian does not spend first-round draft picks on offensive linemen.
Obviously, I was wrong. Indy drafted Boston College's
Anthony Castonzo
22nd overall.
Upon closer inspection, it's easy to see where my logic was flawed. I reasoned that in his previous 13 drafts as president of the Colts, Polian never drafted an offensive tackle in the first round because he knew that
Peyton Manning
could get rid of the ball quick enough to minimize any weaknesses at left tackle. (This analysis of Manning, by the way, is valid; the Colts have survived with the limited
Charlie Johnson
at left tackle the past two seasons.)
But the reason Polian had never drafted an offensive lineman in Round 1 is because a.) left tackle is the only position worth spending a first-round pick on and b.) when Polian took over the Colts in '98 he already had '97 first-round pick Tarik Glenn on the roster. Glenn – who always got out of his stance quicker than any offensive lineman in the game – protected Manning's blind side for 10 years.
As soon as Glenn retired in 2008, Polian drafted
Tony Ugoh
. Yes, Ugoh was taken early in Round 2, but Polian dealt a first-round pick to trade up and get him. So, in essence, Polian drafted a left tackle in the first round that year. Ugoh didn't work out, but that doesn't change the bottom line that Colts are indeed very willing to invest in a premium left tackle.
If I wanted to play small, I could argue that Bill Polian still didn't draft an offensive lineman in the first round because it wasn't him running the Colts' draft this year; it was his son, Chris Polian. Chris says it was a group effort, but Bill recently explained to the media (per the
Indy Star
) that it was Chris who set the parameters for the Colts 2011 Draft plan.
That a different Polian was pulling the trigger on Draft Day is significant news, as it marks a changing of the guard in what is arguably the best front office in pro football. Many a Colt fan is worried about what this could mean for the club's future. They shouldn't worry. Every NFL insider insists that, in this case, the son is every bit as adept as the father, and that the father wouldn't be handing over the keys if this weren't true. The Colts also have one of the best scouting departments in the league, and an excellent player personnel director in Tom Telesco.
Bill Polian is 68. Chris Polian is 39. Bill has not said how long he'll stay on in Indy. It may not matter, as it appears his lasting impact on the organization has already been set.
For more NFL news, rumors and analysis, follow

@cbssportsnfl

on Twitter and subscribe to our
RSS Feed
.