Posted by Andy Benoit

Last week, boxer Bernard Hopkins criticized Donovan McNabb for the quarterback's level of blackness. It was a befuddling rant that prompted a firm response from McNabb's agent and drew heavy b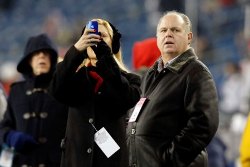 acklash from others outside the discussion.

Contributing to that backlash is someone who knows all about drawing heat for bringing the topic of race into a criticism of McNabb: Rush Limbaugh.

The talk radio host and short-lived ESPN personality recently discussed the issue on air and explained how the comments he made back in 2003 ("The media has been very desirous that a black quarterback do well. There is a little hope invested in McNabb, and he got a lot of credit for the performance of this team that he didn't deserve.") were different from what Hopkins said.

Limbaugh said (via the Washington Post):

"I said nothing close to what Bernard Hopkins was saying. I never said a word about McNabb and blackness. I was talking about the media from start to finish....This poor guy cannot, he cannot catch a break. And it's disgruntled African Americans that are jumping down his case, about the way he was raised? It is horrible, it is distasteful. His parents are out there having to defend the way they raised him, and all they tried to do was give him opportunity after opportunity, expose he and his brother to various things. It's just amazing to watch this."

Meanwhile, McNabb must be thrilled to find the topic of his race inexplicably back in the news.

For more NFL news, rumors and analysis, follow @cbssportsnfl on Twitter and subscribe to our RSS Feed.