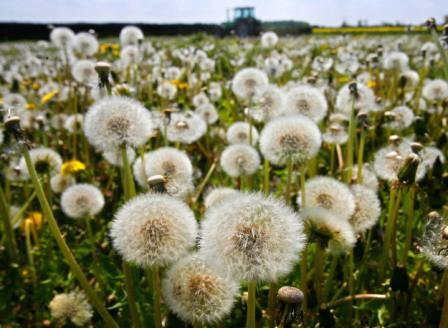 Posted by Josh Katzowitz
Today will be a packed day for you. Naturally, you've got a full slate of NFL games to watch – either on TV or in the stadium of your choice – and then there's going to be the few hours you need to recover from your team winning (beer!) or from your team losing (beer mixed with tears!). Then, you've got to take the kids trick-or-treating, because, lest you forget, it's Halloween.
With that in mind, we've come up with the top-10 best costumes the NFL could make use of this year. Most would require a sense of humor from the individual player, but if that player DID dress up in what we're suggesting, they would automatically be included in our Awesome Hall of Fame.
There were quite a few costumes we left off, because they simply weren't good enough (or were too obvious). One of which was
Terrell Owens
/Chad Ochocinco as Batman/Robin. We've been there, done that. We also had a Wizard of Oz theme working with
Albert Haynesworth
as the tin man, Norv Turner as the scarecrow,
Bryant McKinnie
as the lion, and referee Gene Steratore (the official who had to make the replay calls on the
Calvin Johnson
non-TD catch and the
Ben Roethlisberger
non-TD fumble) as the actual Wizard (pay no attention to that man behind (or, in this case, underneath) that curtain!)
10.
Joe Flacco
= The Situation. This is the reason we had this idea in the first place. The other day we told you about Flacco dressing up like the Jersey Shore's biggest star (complete with faux-hawk, racing stripes and the state map of New Jersey shaved into the back of his head). Yes, Flacco, at face value, doesn't seem to have much in common with The Situation. But he was the impetus for our idea, so we include him.
9.
Tom Brady
= Justin Bieber. Obviously, the hair. And yes, this story has been a bit played-out, but we can't get over the fact that Bieber tried to call out Brady in his terrible bit of freestyling on that ridiculous video. It makes me sad.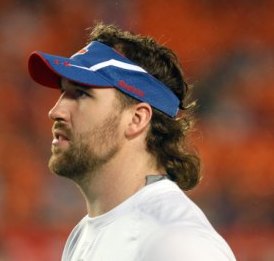 8.
Jared Allen
= Samson. You know, the biblical character. The guy who had so much strength because of the length of his hair, and then cut it all off because of that damn Delilah (that's the basic framework of the story, right? It's been a long time since I was in Sunday school). Well, Allen – who's recorded only one sack in six games this year – has been invisible for most of the season after cutting off his mullet, because of, sigh, a woman (now his wife).
7.
Brett Favre
= Bill Clinton. The only prop he needs is a cigar.
6. Brett Favre = Verizon cell phone guy. Actually, this one wasn't my joke, but I think it's funnier than the Bill Clinton gag. Yet, IF Favre went as the Verizon guy with a pair of the No Fly Wranglers made famous by SNL, he might shoot to No. 1 on this list.
5. Ben Roethlisberger = a stop sign. First of all, Roethlisberger has the solid width to support an octagonal sign. Second of all, Roethlisberger would do well to heed the sign's message the next time he's out at a bar or a golf course or anywhere where there are females present. Roethlisberger would get even bigger props if he could pair the sign with a motorcycle helmet (safety first!).
4. Wade Phillips = Bernie Lomax from "Weekend at Bernie's." At this point, Andrew McCarthy might as well be slapping flies off Phillips' forehead. Phillips obviously is still the head coach of the
Cowboys
, but the way the season has gone, he's a dead coach walking. McCarthy and Jonathan Silverman don't yet have to intertwine their shoelaces with Phillips' to drag him out to the field, but if things get much worse for the Cowboys, we're not far away from having a big boozed-out party at Phillips' island getaway.
3. Jeff Fisher = CSI investigator. The
Titans
coach has become a private detective after his WR
Kenny Britt
was arrested last week at a club a couple days before Tennessee took the field against the
Eagles
(where he pounded Philadelphia single-handedly). Later, Fisher admitted he visited the Karma Lounge on a fact-finding mission to find out what had really happened with Britt. No word on whether he went inside wearing a trench coat and a top hat. Or whether David Caruso was with him.
2.
Braylon Edwards
= taxi driver. This might be a stretch for Edwards, considering it's entirely possibly he's never actually been INSIDE a cab before. Especially when he's out for a night on the town and allegedly has had way too much to drink. Or, even better, Edwards could dress as a limo driver. Get the nice suit, the jaunty hat, maybe a scarf and (definitely) the driving gloves.
1.
Antonio Cromartie
= dandelion. Do you know why? Can you figure it out? Why would we compare the
Jets
cornerback to the flowering plant from the genus taraxacum? Think about what happens when you blow a fully-bloomed dandelion. The seeds scatter to the wind in an effort to reproduce and to make new dandelions. How does that relate to Cromartie? Well, if you haven't figured it out by now, check the video below. Happy Halloween indeed.
For more NFL news, rumors and analysis, follow @cbssportsnfl on Twitter and subscribe to our RSS Feed .