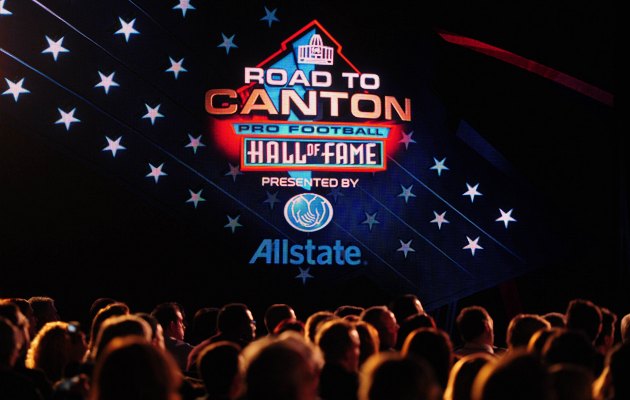 By Josh Katzowitz
The night before Super Bowl XLVI and a few hours after the Pro Football Hall of Fame votes
had been announced
, the three Eye on Football bloggers walked back to our hotel, debating whether the NFL enshrines players in the best way possible.
Criticisms already had begun to pour in -- how could Bill Parcells not be elected, how could the selection committee leave out Cris Carter? -- and the three of us pondered the best way to fix the selection process (or if it should be fixed at all).
I believed the status quo, for the most part, was fine, but Ryan Wilson seemed to me the most open to change.
Since that time about two weeks ago, the floodgates of criticism have opened and a torrential waterfall of suggestions from fans and players have formed a maelstrom of condemnation in which hardly anybody can escape.
Which is why, in part,
Sports Illustrated's
Peter King, who has been a Hall of Fame selector for two decades and is one of the most-respected NFL reporters, is contemplating dropping out of the process altogether.
"I've been thinking of stepping down from the committee of 44 selectors. Many of you are right. Twenty years is a long time," King wrote Tuesday. "I've stated my case -- in favor or opposed -- for many who've been elected and many who haven't. And I've thought, independent of the argument some have proposed for term limits for Hall voters, that maybe it's time for someone else to sit in judgment of these great players, coaches and league and club officials. Fresh voices are good things.
"In 20 years, sitting on the panel has gone from an honor to equal parts burden and honor. I never got in this for pats on the back. I got in it to try to do the right thing by my conscience. Sitting in judgment of the all-time greats is an often-intimidating job, because you realize you're acting as judge and jury to a man's career. When Chris Doleman got in this year, he said that night that the only thing better in his life would be when he died and met his maker. Don't think that's lost on me. It's an honor -- with a heavy weight attached. And the weight gets heavier every year."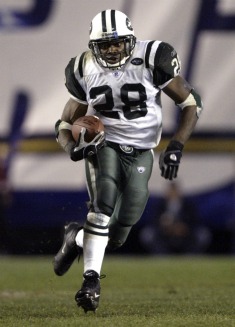 Curtis Martin led this year's HOF class. (US Presswire)
But fans and players have criticized the process. When receiver Tim Brown didn't make the Hall this year, he lashed out on Twitter. Other former players have criticized the fact that Carter still is on the outside. Some don't understand why Cortez Kennedy made it in this year, and some can't figure out how a five-time Super Bowl champ like Charles Haley didn't.
Cleary, though, the toll weighs heavily on
the 44 selectors
, journalists representing each NFL market and other at-large voters, who have to elect at least four players (and leave out close to a dozen legitimate candidates) each year. I saw that in person the night of the election when I ran into a voter at the media hotel lobby and his eyes looked glazed and his brained seemed frazzled.
What should be done about the process? Anything? What would satisfy the general population -- who has began to see the selection process as unfair and, ultimately, incorrect? Anything at all?
Here are some of the ideas I've heard that the Pro Football Hall of Fame could choose to use in order to tweak the process. Some ideas, in my view, would hurt more than they'd help, but at least one is good enough to put into place immediately.
Term limits
: Recently-elected Chris Doleman and Pro Football Talk's Mike Florio have championed the idea of getting new blood in the system every five years, and in theory, that's not a bad idea. But in this day and age, when journalists move from job to job and beat to beat (and sport to sport), the number of long-time football writers will begin to dwindle. You look at the list now and you can see long-time NFL reporters like Rick Gosselin (from the
Dallas Morning News
), John McClain (from the
Houston Chronicle
), and Ed Bouchette (from the
Pittsburgh Post Gazette
). I'd rather have them selecting the inductees, because they have perspective and can compare players across eras, rather than a younger soul whose institutional knowledge doesn't go beyond the 1990s.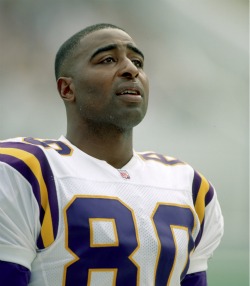 The Hall of Fame selectors have received criticism for not inducting Cris Carter (US Presswire)
In order to vote for baseball's Hall of Fame, you have to be a member of the Baseball Writers Association of America for at least 10 years. Actually, I wouldn't mind seeing something similar with football. But until then, term limits only limits the perspective the committee will bring.
Expand the vote
: Admittedly, I like much about baseball's Hall of Fame selection process, and the ability for a large group of people weighing in on the sport's legacy is good policy for that sport. For football, I don't see how expanding the voter pool will make the process any less cumbersome or fair. With the way the football committee is set up, each of the 15 finalists is presented by one voter and then the entire body debates that player. Say, for instance, you expand the 44 voters to 88. Then, you have a selection committee that has become twice as cumbersome and takes twice as much time to make a decision. Already, the process took seven hours this year to vote in the six members. Simply put, there isn't enough time in the day to add that many more new people. And who says 88 is the right number anyway? What about 150 or 300?
If we're talking about expanding the vote, then, we're talking about scrapping the entire current system. If you want 300 people voting on the Hall of Fame, you have to go to a baseball-type system where you vote for the players you think are deserving and that's it. No meetings, no debating. I think that could work, but logistically, in this system, there's not a chance that could happen.
Add more variety
: Why not add football executives or former players or living Hall of Fame members? The theory behind that idea would be to rid the committee of any perceived biases. But how does adding executives and players, who might have personal relationships to those up for induction, add objectivity to the proceedings? It doesn't. Despite the idea that one person who has a beef against, let's say, Cris Carter and keeps him out because of a personal vendetta, I really don't think that happens as much as the public might believe. These voters take their jobs too seriously in order to upend themselves by making it personal. I couldn't say the same for executives and former players who might vote in, let's say, Carter because they're good buddies with him. How is that any more fair?
Stop with the four-man minimum
: I think the Hall of Fame might be better served with
less
inductees than with more. As it stands now, the selectors have to vote in at least four new members per year with a maximum of seven. I refer back to baseball, where if a certain class isn't good enough, nobody gets in. There shouldn't be a minimum requirement, because it should be hard to get into the Hall of Fame.
Make votes public
: Yes, yes, a thousand times yes. The voters for the AP polls in college football and basketball are there for fans to see. Why won't the Pro Football Hall of Fame allow its selectors to do the same? I know plenty of the 44 who
want
their votes to be made public knowledge. And if there is a bias among some voters, this might help dispel their desire to keep out the players they don't like.
So, what am I saying here? Basically, I think the current format works. Despite all the criticism that's heaped on the selectors, I'm not sure there's a better way to get players inducted. I'm biased, of course, because I think journalists make the best selectors. They're trained to be objective, and they're trained to research, ponder and think about every possible angle before making a decision like this. I'm content with the system the way it is. It's not perfect, but it's pretty darn good nonetheless.
For more NFL news, rumors and analysis, follow

@EyeOnNFL

on Twitter, Like Us on Facebook, subscribe to our NFL newsletter, and while you're add it, add our
RSS Feed
.