Posted by Andy Benoit
The Kansas City
Chiefs
have only a few days remaining as the "NFL's lone undefeated team". Romeo Crennel's much-improved defense, like many defenses, does not match up favorably with the
Peyton Manning
-led
Colts
offense.
To set the table, let's acknowledge that Manning is very familiar with Kansas City's 3-4 scheme. For years he faced it in big games when Crennel was the defensive coordinator in New England. Those Patriot defenses were savvy veteran units that relied heavily on presnap disguise. This Chiefs defense is a callow unit that tends to rely more on athleticism.
Part of the reason Manning baits so many players into presnap guessing games is because the Colts offense almost never refers to presnap movements and gyrations. Instead, everyone lines up and holds still. (Think about it….when was the last time you saw one of the Colts receivers go in motion?) This is to allow Manning to diagnose the defense. But a side effect is, there's nothing for defenders to look at except Manning.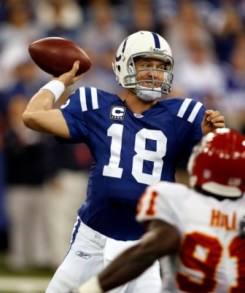 The Chiefs must avoid getting caught up in what No. 18 is doing. Those hand signals will not be figured out. The Colts are so guarded about their signals that they do not even reveal them to their own players until the 53-man roster is set. (This, by the way, made
Blair White
's debut off the practice squad all the more impressive two weeks ago, as the undrafted rookie had to basically learn all of the signals overnight.)
Personnel-wise, the Colts have the ability to neutralize Kansas City's best players. Cornerback
Brandon Flowers
is on a Pro Bowl track. However, he plays the left side, which means he will NOT be lining up against
Reggie Wayne
. Wayne, instead, will be covered by
Brandon Carr
. Carr has the strong frame needed to run with the thick 198-pound Wayne, but it's a tall order for the third-year pro to defend the league's most fundamentally sound receiver.
Derrick Johnson
is one of the better pass defending inside linebackers in the NFL, which should make for an interesting showdown with
Dallas Clark
. Expect the Colts to split Clark out even more than usual in order to compel Kansas City's safeties to tip their hand and get involved.
The difference-making piece to this puzzle is that the upgraded Chiefs pass-rush won't be a factor this game. Kansas City's best sack artist,
Tamba Hali
, is a high-energy, second-effort type player. Manning, who masterfully masks the limitations of his below average offensive line, simply gets rid of the ball too quickly.
Kansas City will need at least two turnovers and a big play on special teams to hang with the Colts this Sunday.
For more NFL news, rumors and analysis, follow

@cbssportsnfl

on Twitter and subscribe to our
RSS Feed
.