Posted by Andy Benoit

Packers @ Vikings

Brett Favre has a shoulder/ankle/elbow/chin/and probably something else, but he's listed as probable and is 99.9999 percent certain to go. He'll have his best receiver, Percy Harvin (ankle) available, and he's also getting his former best receiver, Sidney Rice, back from hip surgery. No. 3 wideout Bernard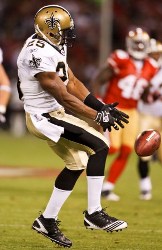 Berrian, however, is questionable with a groin injury. C John Sullivan (elbow) and G Anthony Herrera (calf) are both questionable, which is a problem given how slipshod the Vikings offensive line is on the outside.

For the Packers, the injury storm seems to be abating (either that or everyone has gone to IR already). WR Donald Driver (quad) and DL Ryan Pickett (ankle) aren't expected to return yet, but the rest of the lineup is healthy.
Seahawks @ Saints

Reggie Bush (fibula) is likely back and eager to stick it to his former USC coach. Starting RB Pierre Thomas (ankle) is still out, though. It's starting to seem unlikely that Thomas will return at all in 2010. TE Jeremy Shockey is out with a rib injury, and FS Darren Sharper won't play due to a bad hamstring. That's noteworthy because Sharper's replacement, rising first-rounder Malcom Jenkins, is questionable with a neck. Rookie CB Patrick Robinson is also questionable (ankle); Sean Payton will make a decision on him just before kickoff.

Seahawks QB Matt Hasselbeck has a crack in his non-throwing wrist. He'll play, but he won't get to throw to Brandon Stokley (calf) or Golden Tate (ankle).
Redskins @ Titans

CB DeAngelo Hall does not have a hamstring injury, though expect that to change if Randy Moss beats him on a deep route. RB Ryan Torain DOES have a hamstring injury and won't play. Fortunately, Clinton Portis is back after missing five games with a bad groin. Portis may not have RG Artis Hicks (thigh) to run behind, but Hicks is probably on the cusp of losing his starting job anyway. S LaRon Landry (Achilles) and CB Carlos Rogers (hamstring) are questionable.

The Titans are still without Kenny Britt (why do you think they signed Moss?) and they'll play without TE Craig Stevens (knee scope) for the next few weeks. QB Kerry Collins (calf) is doubtful, which means Jeff Fisher avoids having to make a tough call on Vince Young. CB Vincent Fuller did not practice due to a hamstring injury.

UPDATE 9:20 p.m. ET: Landry and Rogers are both out for the Redskins.

For more NFL news, rumors and analysis, follow @cbssportsnfl on Twitter and subscribe to our RSS Feed .