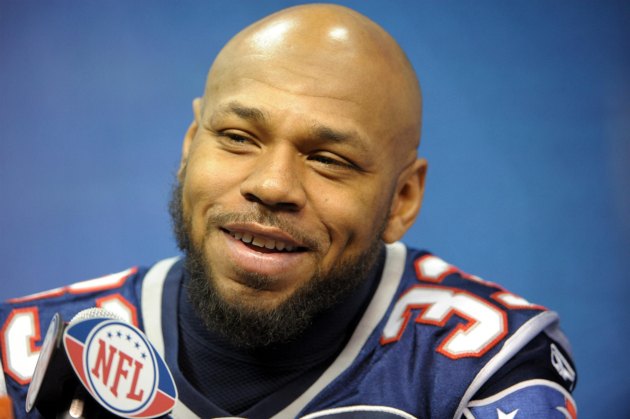 By Josh Katzowitz
INDIANAPOLIS –
Kevin Faulk
began his career in New England 13 seasons ago. Before Bill Belichick, before
Tom Brady
, before the Super Bowl titles and the dynasty label. Back then, Faulk, taken in the second round of the 1999 NFL draft, took handoffs from Drew Bledsoe, took coaching from pre-USC Pete Carroll and took plenty of losses (19 in his first two seasons).
But better than perhaps anyone in the organization, Faulk understands how far the
Patriots
have come since 2000. He was there at the beginning when the team was going nowhere and in the middle when the Patriots couldn't avoid the Super Bowl. And now as Faulk gets closer to the end of his closer, he gets to help determine if the Patriots can end their seven-year NFL title streak and reestablish themselves as one of the greatest organizations in NFL history.
Faulk has never really been a star. He led the team in rushing just once, and though he was a big contributor in the passing game for much of his career, he was rarely spectacular. Mostly, he was just solid. But he's played for a coach in Belichick who has no qualms about cutting loose veteran players if he believes they've outgrown their usefulness,and the fact Faulk has remained in New England all these years is a testament to Faulk's importance in this organization.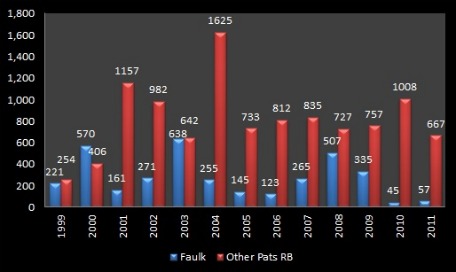 "Kevin has been essential," Patriots guard
Brian Waters
said. "He's got a lot of young guys he's been working with. He has a great understanding of telling them what it takes to get to the next level. It's different when it comes from coaches. Coaches say the same things over and over. When it comes from a player, especially when it comes from a guy with such a big heart and such a leader as he is, it definitely sticks with you."
Faulk is not an outspoken player, which he fully displayed during Tuesday's Media Day proceedings. He had his own podium, but his answers were clipped and not altogether interesting.
He's adamant about not reflecting on his career before it's finished. He knows he's on the backend of his career, but he doesn't appreciate these days any more than he appreciated the game in the past.
"What happened earlier in my career? You worry about that after your career," said Faulk, who is the team's all-time leader with 12,349 all-purpose yards and just one of six NFL players this past decade to total 3,000 rushing yards and 3,000 receiving yards. "Once you're in it, you're in it. You don't want to look back and think about what you've done. You wait until it's all over."
He did wonder, though, if he still had a place in the NFL after missing most of last season with a torn ACL. He wondered, in fact, if he'd ever get a chance to win his fourth Super Bowl ring.
"Sorta, kinda," said Faulk, who started this season on the PUP list. "That's every year, though. You always wonder if you're going to get back there. There's a lot of different ways and situations that has to go on in order to make it to this point."
But there's little doubt Faulk has been one of Belichick's favorite players. Even though Faulk, throughout the years, has played behind the likes of Terry Allen, J.R. Redmond, Antowain Smith,
Laurence Maroney
, Corey Dillon,
Sammy Morris
and
BenJarvus Green-Ellis
((see above graph), Belichick continues to see Faulk's value.
"In terms of his contributions, his unselfishness, and being a great teammate, everybody loves Kevin," Belichick said. "As they should. He contributes so much to our football team. He's so unselfish. Always tries to help the younger players and the team in whichever way he can. He's not the most vocal guy, but he will speak up sometimes and it's always in a positive way. He was here when I got here. He's been a great player and a great teammate for all of us through the years."
H/T to CBSSports.com's Ryan Wilson for the graph.For more NFL news, rumors and analysis, follow

@EyeOnNFL

on Twitter, Like Us on Facebook, subscribe to our NFL newsletter, and while you're add it, add our
RSS Feed
.