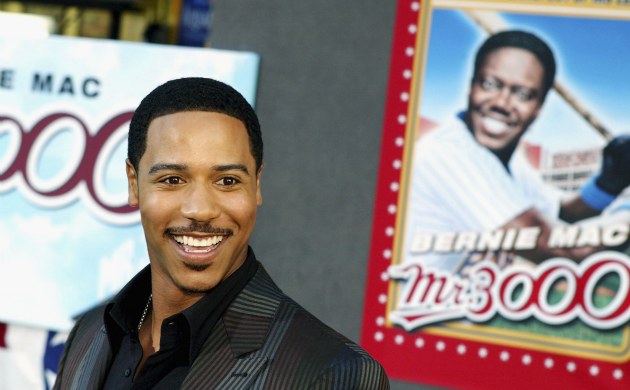 Posted by Josh Katzowitz
Brian White played only four games for the
Patriots
before he hurt his hamstring. That effectively ended his NFL career. Because for a guy like White, he simply had too much else to do. He had professional lacrosse to play, he had his professional dance/theater company to establish, he had modeling and acting to do, and he had plenty of philanthropic ideas to implement.
You might not know him from his football days (he played his college ball at Dartmouth), and you might not know that his father was former Celtics standout Jo-Jo White. But there's a pretty good chance you've seen him on TV or on the movie screen -- whether it's "Men of a Certain Age," "Mr. 3000," or "The Shield." Here's
his website
in case you really want to do some research on him (and you should, he's a pretty interesting dude).
Now, he's got a new movie, "Politics of Love," where he plays the lead role of Kyle Franklin, a conservative who falls in love with a local Barack Obama volunteer. We caught up with White earlier this week where we talked about how he split time between pro football and pro lacrosse, how Red Auerbach pushed him to the Ivy League and why Martin Luther King was supposedly a Republican.
1. CBSSports.com
: Growing up the son of a pro athlete, was being an athlete just part of your bloodline?
Brian White
: I guess. There was never anything else. As a little kid, not only is my dad Jo-Jo White, but M.L. Carr is involved in the family, Red Auerbach is my godfather and my stepmother was an Olympic-caliber sprinter. Athletes were all around. I happened to be a natural athlete. If I wasn't, it might have been hell. But I never got any pressure from my mom and dad to be an athlete. They actually pushed me to books.
CBS
: How much was your dad around?
White
: I was raised by my mom. My dad was always traveling, but she allowed me and encouraged me to be close to my dad. So I grew up with three parents: my mom, my dad and my stepmom. Ninety percent of the time I was with my mom, and 10 percent was with my dad.
2. CBS
: Well, they pushed you to the books, and you ended up going to Dartmouth.
White
: I wanted to be a teacher, but then I found out what teachers made. I started to ask my professors if there was another way to impact kids. That's when I started myself in philanthropy.
My mom was business partners with M.L. Carr in a national corporation. I would see the show "Lifestyles of the Rich and Famous" with Robin Leach, and one day M.L. was on. And they never mentioned basketball. I asked my mom about it, and she was like, 'That's not how he made the majority of his wealth.' Basketball was the day job. Whatever they made in basketball was on top of what they were already making. I knew I needed an education to do that.
Red sat me down during my sophomore year of high school and said "I know you're a good athlete. But your education is what's going to get you far." This is Red Auerbach pushing me toward academics.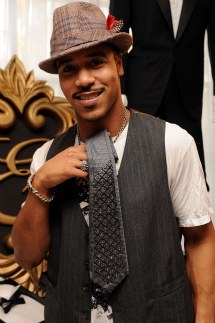 3. CBS
: I know once you got out of school, you played NFL football and pro lacrosse. What was that time like?
White
: I got out of school in '97, and I was playing right then. Football was in the fall and lacrosse was in the winter. You bleed one season to the next. Lacrosse was doing their fall ball (to prepare for the season), but you're bigger, faster and stronger because you've already been playing football. When you show up, you're ready. But I never had time off. I never could get better. After that first season, I had four games with the Patriots and got injured. I was playing catch-up and catch-up. It started not to be fun. I started using my brain little more.
Four games into my pro career, I tore my hamstring in half. Then, I played some in NFL Europe and the CFL. Because it wasn't a 9-5 job, I started my dance company called Phunk Phenomenon Urban Dance Theater Company with Reia Briggs-Connor. That led me to modeling and being on camera. Then I was moving from state to state and playing lacrosse and moving around. I was modeling and I came out the other side at the end of 1999. I called up the
Raiders
and asked if I could come out to their camp (to attempt a comeback), but in the process of having that conversation, a casting director who was Tyler Perry's casting director came up to me and asked if I was an actor. The next day I went to an audition.
CBS
: Then, life changed?
White
: I was juggling a lot of balls already, so I just kept juggling. Acting was a lot like football. When you're a DB and you're one on one with a receiver, you're going to dance. It's go-time in front of 100,000 people and everybody watching on TV. That's exactly how it is when a director says "Action!" It's the same adrenaline rush, the same training process. I love it.
CBS
: Going from football to acting, tell me about that.
White
: For me, it was a seamless transition. I had a dance background. I studied ballet and jazz. I had been doing modeling and runway shows. By the time I was acting, what I knew how to do was learn and prepare. I asked questions. What do the best actors do? What do they study? What does it take? I followed that advice. This is my 12th year professionally doing this. I still take classes every week. I approach it the same way I approached lacrosse and football -- as a student of the game.
4. CBS
: You've worked with some big-name actors – Bernie Mac, Duane Johnson, Jason Statham. What are your goals about the future? Do you want to be as big a star as some of those guys?
White
: Being a star has to do with fame. I don't care about that. I have an athlete's attitude. I want to be the best as defined by my ability. My goal is to push myself in a position to call the people I want and the bank I want and do the things I want to do, because my value is known. To get that accomplished in this business, it's the same thing you do things in sports. You make sure your integrity and your won-loss record is impeccable, and people will say yes more than they say no.
CBS
: "Men of a Certain Age" was one of those shows that I heard such good things about, and it was one of the shows that I wanted to watch. I think the demographics might have been for people a little older than me, but I kind of regret not checking it out. What was the experience like on that show, and how disappointing was it that it was canceled?
White
: It speaks a lot to what people watch and celebrate. The biggest ratings go to realty TV. The worst ratings go to Emmy-nominated shows. I basically shake my head, but I also scratch my head. We know it's a great show and people say it's a great show. I ask myself, "As a producer, how can I not change anything about the show but how can I get more eyeballs that go to the show?" Instead of five million people watching it, how do you get 15 million people to watch it? Guys like Ray Romano, Scott Bakula and Andre Braugher are some of the best actors in the history of the TV. I know what good work looks like and feels like, and I was happy to have that opportunity.
5. CBS
: Your new movie is," Politics of Love", and your name is first on the marque and you're on the movie poster. Is this just a big opportunity for you?
White:
I was born into an athlete's family, but that's never a reason you get out on the court. You do it because you love it. That's why I'm doing this. But let me ask you a question. In your lifetime, have you ever seen a black Republican who wasn't laughed at?
CBS
: Off the top of my head, I can think of J.C. Watts. I don't think he was laughed at. I don't want to say he was mocked, but I think he was definitely an anomaly.
White
: My character, Kyle, is not that. He's cool. He's suave. He's responsible. He's all good things. What we wanted to try to say in this movie is that politics are about people. When I started to talking to my family about this movie, my mom reminded me that Martin Luther King was a Republican. There are bad people in both parties, and there are good people in both parties. Young people need to educate themselves more. That's what motived me to be involved in this --that it might get young people interested in the topic.
CBS
: Yeah, but Martin Luther King was a Republican, probably because the southern Democrats were conservative and racist. I can see why he might want to be a Republican.
White
: I can certainly see why. I was a surrogate for Obama; I helped fundraise. I'm still a supporter. I just like kids to think. As an advocate for the youth, I'm trying to educate them. As we travel the country hearing from young people, a lot of people don't know why they agree or disagree with somebody. That's not how I was raised. I'm passing along those pearls of wisdom. If you know why you believe something, that's cool. If you don't know why believe something, then you're a fool.
For more NFL news, rumors and analysis, follow

@EyeOnNFL

on Twitter and subscribe to our
RSS Feed
.