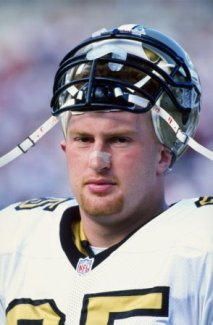 A fascinating read today by
Alex Marvez of foxsports.com
. It's another effects-of-multiple-concussions story – in my opinion, there can't be enough of these types of stories – and he talks to former TE Cam Cleeland.
Since he retired after the 2005 sesaon, he's suffered through mental fog, bouts of anger, irritability with his children and depression. During his career, he estimated that he suffered at least eight concussions, and he compared playing in the NFL to putting on a bike helmet and running into a concrete wall 40 times a day.
"Fans just see Sundays," Cleeland told Marvez. "They just see a game, the fun, the millions of dollars, the bling, pretty cars and whatever. We're paid well. Don't feel sorry for us. But something is going to be wrong with you after you do this for so many years."
It's a really interesting read, so check it out. It also reminded me of a story the Associated Press wrote last year where reporters talked to five players on all 32 teams and asked them to answer a series of questions about their own thoughts and views on concussions. I reported on the Cincinnati
Bengals
locker room, and I spoke to DE
Frostee Rucker
, LB
Rey Maualuga
, LS/TE
Clark Harris
, LT
Andrew Whitworth
and QB
Jordan Palmer
.
None of their quotes made it into the story, but in case you wanted to see what these players had to say, I have the transcription. It's a longish read, but it's an interesting one.
Here were the questions I asked:

1. Have you ever sustained a concussion that forced you to miss playing time? If yes, how many and at what level?

2. Do you worry about getting a concussion or not? If so, do you worry about it as much – or more? – than other injuries?

3. Have you ever hidden or downplayed the effects of a concussion?

4. Have you followed the recent developments in the news about concussions and dementia among NFL players, including the recent congressional hearing on the topic? (If so, what are your thoughts?)

5. Do you think the game is significantly safer now than in the past, particularly with regard to the risk of concussions? Or do you think it's about the same now as it has been? Or is it less safe?
And here were the answers:
Rucker
1. Yes, I had a concussion last preseason, but I didn't miss a game. It was a minor thing. I got a little dizzy, and that's about it.
2. No, I really don't. There are so many other things to worry about. It's the game of football, and the thing I worry about is making sure I'm in the right spots.
3. No, I can't say that I have. We're all aware of it in the locker room, but we know our training staff will take care of it if that ever come up.
4. Yeah, I have. It's very interesting. You asked me if I've hidden things, but some people do hide things. That's why certain precautions have to be taken. You have to know your business and with life in the NFL, on and off the field. It's good for everyone to be aware of what's going on.
5. It's about the same. We're still playing a brutal game. Let's not sugarcoat that at all. Our staff does a good job making sure we have enough air in our helmets and they're making sure they're working on safety each game. We do a good job here. I can't speak for everybody else, but we do a good job here.
Maualuga
1. No, you mean did a concussion made me miss this game or the next game? I've had concussions in games, and I wouldn't know how I got it. I wouldn't know the play I got it in, but I'd be in there talking gibberish to the other linebackers. Other than that, I never missed any other time. I've had four or five in college. I won't remember anything, but I'll still be in the game. Or I'll go out there and talk to the doctor and say, 'I had a little ding.' Monday, I'll do a computer test, and it'd be the same as it was when I did it in camp.
2. It's something, especially if you play defense, that lingers in the back of your head all the time. We like to be the ones giving the concussions, but sometimes, things happen. The worst thing that could happen would be getting my knees blown out. I worry about that more than I would worry about a concussion.
3. I've had one and not told anybody about it. but they'd pretty much know because of the questions I'll be asking. If I'm supposed to go somewhere and I don't, they'll tell me to go and I'll yell at them, 'No, you go.'
4. No.
5. I don't think there's any difference. Football is football. Football is a contact sport, and everybody is going to be hitting. There has been some safety rules – I don't know about concussions – as far as the horse-collar tackling and rules on the quarterback and things like that.
Harris
1. No.
2. No, you can't worry about stuff like that. Maybe sometimes if you get hit in the head, you sit up on the field and worry about it a little bit. But other than that, you can't worry about getting injured.
3. No.
4. Yeah, it's hard not to notice the news about how all of that can lead to Parkinson's and Alzheimer's. It's something I've been following a little bit.
5. Well, I get a new helmet every year, and with all the new technology that comes out, I don't see how it wouldn't be safer. I look at the old films with guys playing the old-school style with just the two bars going across their face. I think, with these new helmets, it's got to be safer.
Whitworth
1. No
2. Yeah, I do. But moreso, I worry about guys who don't understand what a concussion is. I'm more worried about sustaining a head injury that I don't realize is a concussion. I really don't know how guys know for sure. But in this game, the realistic part of it is, especially being a linemen, head injuries and feeling pain with a headache is just natural. That's more my concern. Not knowing if it's a concussion.
3. No
4. A lot of guys are more conscious about it. They realize that this is something that can affect them later on. It's something not a lot of guys understand. On this team, you've got Ben (Utecht). Not a lot of guys understood what all went into that and what they can expect down the road. I think we've learned a little bit from having a guy on our team that went through that.
5. I think it's the same. You've got guys who are playing for their livelihood and for their families. To say that guys aren't playing through some kind of concussion … guys play through pain every single week – headaches and all that. You just don't know if guys are entering the field with headaches or head injuries where, if they take the right hit, it could be severe. You just don't know.
Palmer
1. Yes, I got knocked out my sophomore year in college out of a game. I tried to run the ball, got dazed a little bit and sat out the rest of the game. I was fine to play the next week.
2. I've played three preseason games now and I've been hit plenty of times. I haven't really thought about it. If I played more, I don't think I would think about it much.
3. I think when you get dazed a little bit, you never think you have one. That's when the doctors come over and say that you do. I think that's part of it. But I've never lied and said, 'No, no, I didn't have one last week" when I actually did.
4. I haven't followed it much.
5. I think it's the same. In the NFL, I have state of the art cleats and shoulder pads and stuff. But I wear the exact same helmet I wore in Pop Warner. Now, there are other helmets available to me. It's not the NFL or the Bengals fault, but I wear the same Riddell, filled-up-with-air deal that I wore when I was a kid. It hasn't changed that much. But then I see
Andre Caldwell
, who looks like he's wearing a lacrosse helmet.
--Josh Katzowitz
For more NFL news, rumors and analysis, follow @cbssportsnfl on Twitter.