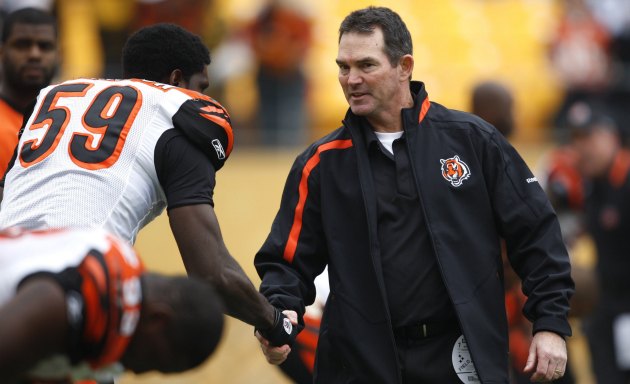 By Josh Katzowitz
It's getting to be about that time. Christmas? Yes, of course. Hannukah? Naturally. Festivus? It depends on your syndicated TV viewing habits. The carousel of coaches who are fired and hired, changing the courses of several franchises for the foreseeable future? Abso-freakin-lutely.
Personally, I hate to see any coach drawing the pink slip, but as Bum Phillips once said, "There's two kinds of coaches, them that's fired and them that's gonna be fired." Jack Del Rio knows of what Phillips speaks -- he's already been asked to vacate the
Jaguars
premises. And there will be plenty more firings to come.
As colleague Will Brinson pointed out in this week's
Sorting the Sunday Pile
, at least seven coaches (Steve Spagnuolo, Andy Reid, Jim Caldwell, Raheem Morris, Tony Sparano, Todd Haley and Norv Turner) are on the hot seat, and that means there's a strong possibility a whole mess of new coaches will be needed. Like last year, when I presented
my list of potential coaches
*, many of the candidates are career assistants who have never had a chance at a head coaching slot. Some you've seen in this role before. All, though, deserve a chance --- or another chance -- to run a team of their own. And who knows, maybe they'd be the one to turn around a franchise in need of a jump-start.
*Only two from last year's list made it this list (Cowboys defensive coordinator Rob Ryan and Bengals defensive coordinator Mike Zimmer), and with Leslie Frazier, Jim Harbaugh and John Fox in new jobs, I've also dropped candidates like Eagles offensive coordinator Marty Mornhinweg, Giants defensive coordinator Perry Fewell and Ravens offensive coordinator Cam Cameron from consideration.
10. Bruce Arians:
I had
Steelers
defensive coordinator Dick LeBeau on the list last year, though I figured that's not going to happen at this point, but why shouldn't teams take a look at Arians, Pittsburgh's offensive coordinator? He was the head coach at Temple in the 1980s -- his record is an unshiny 21-45 -- but the paradigm shift made by the team since he's been offensive coordinator is impressive. The Steelers are no longer a smashmouth, pound-the-rock offense. No, with
Ben Roethlisberger
and a trio of talented young receivers, the Steelers have entered the 21st century with their offense. There was talk Arians was a contender for the Ole Miss job, and it sounds like
these people
also would be rooting for Arians to get a head coaching job.
9. Joe DeCamillis:
Before you say, "Why in the hell would you hire a special teams coach to be your head coach?" remember that John Harbaugh followed a similar path -- he spent nine years as the Eagles special teams coach and didn't spend one second as a coordinator -- and it seems to have worked out OK for the Ravens. Plus, as CBSSports.com Pete Prisco said in a recent chat, DeCamillis, the Cowboys special teams ace, is organized and passionate. And if Prisco says he's OK, it must be true.
8. Rob Chudzinski:
He hasn't spent much time as an NFL offensive coordinator, but he's performed his finest work this year. Sure, he has some talent on his hands (
Cam Newton
and
Steve Smith
, obviously), but the work he's done with Newton this season has been impressive. It's difficult to remember this now, but Newton was considered a raw specimen with only one year of major college football before the
Panthers
took him No. 1 in the draft. But with Chudzinski's help, Newton oftentimes plays amazing football for a rookie. It's doubtful anybody will take a chance on Chudzinski at this point, but he's one to keep an eye on in the future.
7. Chuck Pagano:
While the Ravens offense has been in a state of flux this season, there's little question about the effectiveness of Baltimore's defense, which is ranked third in the league in points allowed and yards. Pagano is only in his first season as a coordinator, taking over this season for Greg Mattison, but the Ravens have been more effective this year (they were 10th in the league in yards in 2010). Pagano might need more seasoning, but he's a guy who could ride Baltimore's wave, particularly if the Ravens go deep into the playoffs, into a possible new job.
6. Brian Billick:
There are plenty of reasons not to hire Billick. Like he said recently, he's not young and he's not cheap. But if you're not necessarily looking to hire somebody for the next three decades and you have some money to spend, why wouldn't you take a look at Billick? Yes, he's pompous (though very good while being interviewed, and I like him on the NFL Network), but he's also confident in his abilities. As well he should be. In nine years in Baltimore, he went 80-64, and you might remember that he won a Super Bowl title. It would take a special owner to turn to Billick, but I think it could be a very good choice.
5. Wade Phillips:
The job Phillips has done in Houston this year has convinced me that Phillips deserves another chance at a head coaching job. Obviously, things didn't end well in Dallas -- do they ever with Jerry Jones, though? -- but did you know he has a better winning percentage (.573) than Jeff Fisher (.542) and Brian Billick (.556)? And that in his nine full seasons as a head coach, he only had one losing record? There's no doubt that Phillips knows what he's doing as a defensive coordinator, and we know Phillips can win as a head coach as well. He's deserving of another chance.
4. Rob Ryan:
This is what I wrote last year: "We need – I mean, we NEED – another Ryan brother as a head coach in the NFL. Aside from being the most entertaining coach out there today – publically, at least – Rex Ryan has done a wonderful job turning the
Jets
into Super Bowl contenders. Now, Rob Ryan, the
Browns
(now Cowboys) defensive coordinator, needs to get his chance. With the marked improvement in Cleveland, does Ryan deserve the shot? Probably not at this point. But how awesome would it be if somebody gave him a job?" Indeed Josh from 2010, it would be pretty awesome.
3. Russ Grimm:
He was finally elected to the Pro Football Hall of Fame last year as a player. Now he deserves his own team to run. He was nearly selected to follow Bill Cowher in Pittsburgh -- and some believe he was offered the job before the Steelers rescinded the offer and gave it to Mike Tomlin -- and for now, Grimm is an assistant head coach to Ken Whisenhunt in Arizona. You'd think Grimm would get his chance eventually, but he has to wonder how much longer he'll have to wait.
2. Jeff Fisher:
If you were going to hire a former head coach and you had an infinite amount of money to woo even the most resistant of people, you might go with Bill Cowher as the first choice. But my second choice probably would be Fisher. For 17 seasons with the Oilers/Titans, he recorded a 142-120 record, and he came ever so close to a Super Bowl victory. Aside from Cowher, I'm not sure there's another former head coach out there that would command as much instant respect as Fisher.
1. Mike Zimmer:
After a one-year slip-up, when the team was ranked 24th in the NFL in points allowed, the Bengals, once again, are one of the top units in the league. This, even after losing top cornerback
Johnathan Joseph
to the
Texans
and after failing to re-sign starting linebacker
Dhani Jones
. Zimmer has received effective play from youngsters
Carlos Dunlap
and
Geno Atkins
, and though there are no legit stars on defense, somehow Zimmer keeps making the case why somebody (anybody?!?) should give him a job. It's time for Zimmer to have his shot.
For more NFL news, rumors and analysis, follow

@EyeOnNFL

on Twitter, Like Us on Facebook, subscribe to our NFL newsletter, and while you're add it, add our
RSS Feed
.