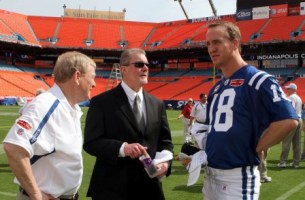 Posted by Josh Katzowitz
The biggest worry for the
Colts
franchise when the lockout ends is the contract of QB
Peyton Manning
and whether the
two sides will agree
to a long-term extension. For now, Manning has been franchise-tagged for 2011, though his agent would like to get rid of that designation by
dropping it in
the next Collective Bargaining Agreement.
But aside from Manning, Indianapolis has plenty of work to get done in order to secure the services of some of its most important free agents, especially if the new CBA allows unrestricted free agency after four years of service.
That means RB
Joseph Addai
, LB
Clint Session
, OT
Charlie Johnson
and S
Melvin Bullitt
would be eligible to leave.
"As far as me coming back or being gone, I don't know," Johnson told the
Indianapolis Star.
"I will just take it as it happens. I'm working out, trying to get better and hoping a deal gets done. But I can't concern myself with 'what ifs' at this point."
But Bullitt, taking over Bob Sanders' old position, definitely wants to return to the Colts.
"I'm probably the strongest I've been in two years," Bullitt said. "I want to play in Indy again. That's what I'm planning on. But the reality is I'm not signed with anyone … I want to finish my career in Indianapolis, but I will have to make a decision quickly."
Returning to Indianapolis seems like a no-brainer for many of these free agents, especially if they can get somewhere close to market value for their services. With Manning running that team, the Colts are always going to be in contention for a Super Bowl.
But if, for some reason, the Colts can't re-sign Manning, they'll be in a world of trouble. Not just because they'll be letting go one of the top quarterbacks of all time, but because without him, it'll be tougher to convince top-flight free agents to return to a team that would have
Curtis Painter
at the top of the depth chart.
For more NFL news, rumors and analysis, follow @cbssportsnfl on Twitter and subscribe to our RSS Feed.