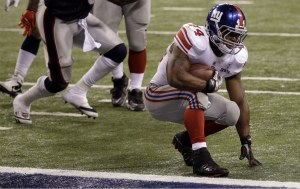 By Josh Katzowitz
Just because
Tony Romo
is coming off another solid season and shrugged off so many of the previous expectations/assumptions about his toughness and ability to play in the clutch, that doesn't mean we can't continue to find his fellow colleagues to rip him whenever they get the chance.
I mean, the guy played with a punctured lung (
and won!
)and then, at the end of the season, he played
with a bad hand
, but hell, that apparently didn't really satisfy anybody.
In fact, Romo started every game this season despite a number of ailments and obstacles.
Giants
running back
Ahmad Bradshaw
was not so impressed.
Bradshaw, coming off his game-winning Super Bowl XLVI touchdown, was asked on the
NFL Network
if the
Cowboys
could ever win a Super Bowl with Romo as the starting quarterback. Bradshaw, predictably, doesn't believe in Romo.
"You know what, man, I don't see it happening," Bradshaw said. "I don't think they believe it, and they're America's team.
"It all comes in together. If the fans don't believe it, the team doesn't. They're kinda doubtful with Romo."
While I'm not sure Bradshaw's reasoning makes sense (since when do players care what fans think about their teammates?), this also isn't the first time this year a Giants running back has criticized Romo. You might recall
Brandon Jacobs
saying
this in October
: "[
Eli Manning
] is definitely a 100 percent better quarterback than Tony Romo. No question."
Also criticizing Romo this year?
Redskins
tight end
Chris Cooley
and NFL Network analyst Deion Sanders (though Romo also had a pretty big backer (literally
and
figuratively)
in Dirk Nowitzki
).
Surprisingly, not everybody, especially those in the Cowboys organization, agrees with Bradshaw (and Jacobs).
"I thought Romo was competing at a level that would've given us that opportunity but the rest of us need to play better and get better before we can really gel the way the Giants are," Jones said at the Senior Bowl last month.
And when
CBSSports.com's
Will Brinson caught up with Dallas running back
DeMarco Murray
during Super Bowl week, Murray defended Romo.
"One week he's a hero, the next week he's not," Murray said. That's just the way it is with the Dallas Cowboys. We're used to it, we love it and we wouldn't want any one else leading our team."
Obviously, Romo is used to hearing people bash him for a variety of reasons. He tries to turn the other cheek. But he also understands why his vast array of critics say what they do.
"It's just an easy thing to say until you win the Super Bowl," Romo said in November. "Until then any time you lose a game it's a big game. But if you win, then it really wasn't that big of a game. That just goes with the territory."
But from a guy who
just
won the Super Bowl, Bradshaw's words can't feel so good to Romo.
For more NFL news, rumors and analysis, follow

@EyeOnNFL

on Twitter, Like Us on Facebook, subscribe to our NFL newsletter, and while you're add it, add our
RSS Feed
.