Posted by Andy Benoit

Chargers @ Texans

Pretty much every pass catcher with a hint of talent is on the mend for San Diego. Antonio Gates is going to test his foot shortly before kickoff. Don't expect to see ILB Brand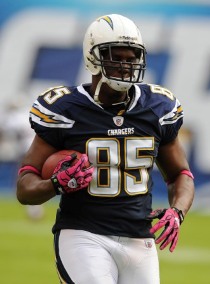 on Siler for the Chargers. He's still battling a foot injury and did not practice all week. (Siler's replacement, Kevin Burnett, who is more adept in the open field and comfortable in coverage, may actually be a better fit against this Texans offense anyway. Burnett, by the way, is listed as probable with a shoulder injury.)

For Houston, when Xavier Adibi (hamstring) gets healthy, he'll likely assume a starting job now that SLB Brian Cushing is playing DeMeco Ryans' MLB position. Don't expect that to be Sunday, though – Adibi did not practice all week. Neither did DT Shaun Cody (knee).
Owen Daniels (questionable) continues to combat an ornery hamstring. Andre Johnson could be dealing with his sore ankle all season. He was limited in practice but is probable.
Bears @ Bills

Coming off the bye, guard Roberto Garza is back for the Bears after missing two games following arthroscopic knee surgery. Garza at least brings veteran experience to the interior of a Chicago front five that has struggled mightily in identifying assignments against the blitz this season.

Cornerback Zack Bowman is out with a foot injury, which means Tim Jennings and Corey Graham will play major roles in stopping a Bills passing attack that is suddenly and inexplicably potent.

With the exception of LB Andra Davis (out, shoulder), the Bills are relatively healthy across the board.
Cardinals @ Vikings

All reports said that Percy Harvin looked awful testing his bum ankle in practice late this week. The Vikings are listing the second-year receiver/kick returner as questionable. The only other questionable Viking is Frank Walker (hamstring). Then there are a slew of probable key contributors, including the quarterback (foot, chin, elbow, whatever), corners Chris Cook (quad), Asher Allen (back) and Lito Sheppard (hand), LB Ben Leber (knee), DT Pat Williams (elbow) and C John Sullivan (calf).

Max Hall is no longer starting for the Cardinals, but you figure he'll still find a way to take a nasty shot and get knocked out of this game for at least a series or two. Maybe Hall can sit next to Clark Haggans; as the veteran OLB is doubtful (and likely out) with a groin injury. Chris Wells should be good to go on his sore knee.

For more NFL news, rumors and analysis, follow @cbssportsnfl on Twitter and subscribe to our RSS Feed.