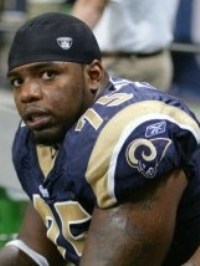 Posted by Josh Katzowitz
Former
Rams
G Claude Terrell, who last played in 2007, has been accused of beating and forcing sex on a Texas woman at gunpoint during a seven-hour incident Monday.
According to the
Houston Chronicle,
Terrell was arrested on assault charges Nov. 19 against the same woman. On Monday, police say, he waited until after the woman dropped off her kids at school and returned to her apartment before he attacked her with a .38-caliber handgun he had found in her home.
Then, from about 8:30 a.m. until 3:30 p.m., he held her against her will, beating her and sexually assaulting her, police say.
From the story:
Terrell remains in the Galveston County jail with bail set at $600,000 on the latest charges: burglary with intended sexual assault, aggravated sexual assault and aggravated kidnapping, each a felony carrying a sentence of from five to 99 years imprisonment or life. He also is charged with enhanced family violence with a sentence ranging from two to 10 years.
He played only two years in St. Louis, starting 13 of 20 total games, before the Rams dropped him in 2007 after he was arrested and charged with assaulting his wife.
For more NFL news, rumors and analysis, follow @cbssportsnfl on Twitter and subscribe to our RSS Feed .