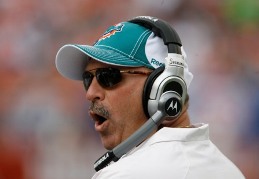 Posted by Will Brinson
Something ain't stirring the Kool-Aid down in Miami. And all apologies to the inestimable Tone Loc for ganking his line (although it did involve the
Dolphins
, so I suppose it's okay), but whatever Stephen Ross is doing with his coaching situation seems a little bizarre.
Not only did he
openly chase Jim Harbaugh
(
and Bill Cowher?
) while Tony Sparano was/is still gainfully employed with the Dolphins, but apparently there's some sort of flirtation going on with Eric Mangini now too.
See, there was a press conference (or, if you prefer "media roundtable") planned in Miami for Friday. There the team was going to presumably present,
as the
Miami Herald
's Armando Saiguero put it
, "a unified front" after handing Sparano some "sorry for publicly embarrassing you by chasing after someone else" money.
That press conference was scheduled for 4:45 PM EST and then, suddenly, canceled.
Why? Excellent question.
Well, they created a bit of a miss by running full sprint after Jim Harbaugh without firing Tony Sparano. Additionally,
Jeff Darlington of the
Herald
cites sources
who say the 'Fins scheduled a meeting with former
Browns
coach Eric Mangini for Friday. (Yes, this is like posting a sign inquiring into dates out in front of your ex-wife's house. Before she's moved out.) Supposedly the Browns were only seeking a "'consultant' who has 'knowledge of the division,'" and eventually cancelled the meeting anyway
But, given the surrounding circumstances, it's auspicious to say the least. Back to the cancelled press conference --
Darlington cites sources
who believe the Dolphins suddenly realized what a mess they'd created and decided to "reorganize." Or something.
Either way, Tony Sparano should be announced as the head coach of the Dolphins sometime soon. And it's all but certain that his first press conference back from the job from which he was never fired shouldn't be awkward at all.
For more NFL news, rumors and analysis, follow

@cbssportsnfl

on Twitter and subscribe to our
RSS Feed
.