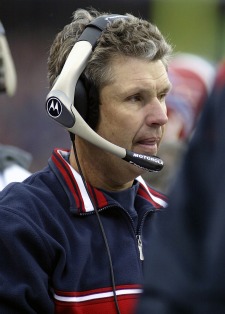 One of his former players in Buffalo said Williams encouraged his players to knock out opponents for financial rewards. (US Presswire)
By Josh Katzowitz
The NFL already has informed its fans that, under Gregg Williams reign as
Saints
defensive coordinator, he contributed to a bounty pool that helped motivate New Orleans players to try to knock opponents out of games. He's since apologized and said
it was a terrible mistake
.
Then, there was a report Saturday that the NFL would investigate the
Redskins
to determine whether Williams pulled the same shenanigans in Washington when he was the defensive coordinator there under Joe Gibbs from 2004-07 (Gibbs has said
he wasn't aware of a pool
, but former player Matt Bowen admitted in a piece for the
Chicago Tribune
the Redskins had one in place).
Now, the
Buffalo News
reported Saturday night that, when Williams was the
Bills
head coach from 2001-03, he rewarded players for injuring opponents and making other important plays.
"There was financial compensation," former safety Coy Wire told the newspaper, along with three other former players who asked not to be named.
And it wasn't just rewards for knocking out a player to gain a competitive advantage – which obviously is bad enough. No, according to Wire, it was a malicious-type atmosphere.
"There were rewards," he said. "There never was a point where cash was handed out in front of the team. But surely, you were going to be rewarded. When somebody made a big hit that hurt an opponent, it was commended and encouraged."
And now at this point, Wire can't believe he ever thought that was the right way to play the game.
"Now, it's unthinkable that was my reality," Wire said. "I shattered (former
Lions
running back) James Stewart's shoulder, and he never played again. I was showered with praise for that. It's a shame that's how it was. Now I see how wrong that was."
And assuming the NFL investigates these charges and punishes the offenders, Williams also will get the chance to learn just how wrong it was. And at some point maybe we should wonder whether, assuming all of this proves true, whether Williams deserves to continue his coaching career in the NFL.
For more NFL news, rumors and analysis, follow

@EyeOnNFL

on Twitter, Like Us on Facebook, subscribe to our NFL newsletter, and while you're add it, add our
RSS Feed
.