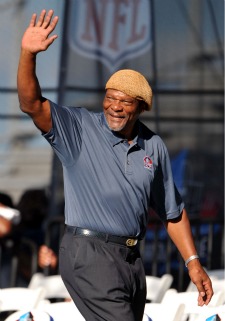 Posted by Josh Katzowitz
Just because the NFL lockout is over and the owners and players have signed a new CBA (without, mind you,
agreeing to HGH testing
), that doesn't mean the lawsuits have stopped.
No, not in regards to the former NFL players who believe they helped make the current NFL what it is today and also feel like they're getting screwed in the aftermath.
Yahoo Sports
' Dan Wetzel reports the latest, as a group of 28 former players, including Hall of Famers like Carl Eller (pictured at right), Chuck Bednarik and Elvin Bethea, have filed a lawsuit against the NFLPA, union executive director DeMaurice Smith, and
Tom Brady
and
Mike Vrabel
, two of the plaintiffs from the lockout lawsuit.
The suit -- filed in U.S. District Court in Minneapolis -- states that when the NFLPA decertified last March, the players were in no position to bargain for and agree to the benefits for the retired players, and as Wetzel writes, the players want a declaration that "the 'right to negotiate with the League the rights and benefits for NFL retirees' rests with the Eller plaintiffs."
The veterans' attorney Michael Hausfeld said this lawsuit does not affect the current labor peace but that the former players want to readjust the benefits they've received in the new CBA.
Said Hausfeld: "The retirees rights were sacrificed for the benefit of the active players."
Why this continues to come about, I think, is a general feeling of disrespect from the current players to those who came before them. That's the sense I got from former Oilers quarterback Dan Pastorini when
CBSSports.com
spoke to him recently. Even with the $620 million Legacy Fund created by the NFL and the NFLPA in the new CBA, the players obviously feel that doesn't adequately compensate them for their sacrifices in the past.
"I think it's a travesty the way they treat the older players," Pastorini said. "I'm part of that group. They're throwing us a bone with the $620 million. By the time they get to a new CBA after 10 years, they won't have to worry about us pre-(19)93er's. It's sad, but it's their M.O. They want to wait for us to die.
"What they're talking about now is to give us a bone and to shut us up. It's just wrong. It's damn wrong. And the players association is just as greedy as the owners are, if not more so. The players don't go to bat for us, which makes us ashamed."
Although some current players, like
Saints
quarterback
Drew Brees
, have advocated for the retirees, the general feeling of discontent still lingers. Now, the former players are hoping the court system will bestow upon them the relief they feel the NFLPA hasn't given to them.
For more NFL news, rumors and analysis, follow

@EyeOnNFL

on Twitter and subscribe to our
RSS Feed
.