Posted by Andy Benoit

One of the best things about the draft is that from it we can find out what teams really think about their current players. Excluding examples of teams filling obvious needs, here are some of the more revealing draft picks from 2011, with a quick blurb of what the team was really saying by making this pick.
Arizona Cardinals

2nd round, Ryan Williams, RB, Virginia Tech
We're not sure Beanie Wells can stay healthy. Or that Tim Hightower is really all that good.
San Francisco 49ers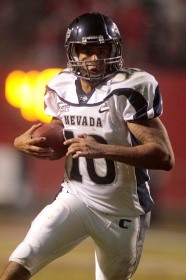 2nd round, Colin Kaepernick, QB, Nevada
Remember when we said that Alex Smith is still our guy? Yeah – that was a lie.
4th round, Kendall Hunter, RB, Oklahoma State
Glen Coffee screwed us last year.
Seattle Seahawks

1st round, James Carpenter, OT, Alabama
Sean Locklear is lazy and not worth signing.
St. Louis Rams

1st round, Robert Quinn, DE, North Carolina
Do you believe James Hall is as good as his 10.5 sacks last season suggest? Neither do we. Also, let's face it, when we say Chris Long has a great motor (which he does), we're also saying he's not an elite athlete.
2nd round, Lance Kendricks, TE, Wisconsin
When the offensive starters are announced over the loudspeaker during pregame, we get a little squeamish hearing the name "Billy Bajema" called. For one, the guy should never start for any team. Ever. And for two, the name Bajema just sounds, you know, sorta dirty.
3rd round, Austin Pettis, WR, Boise State
We're worried about Danario Alexander's knees.
Check back throughout the week for other division's Draft Truths Revealed. To see all Draft Truths Revealed, click the "Draft Truths" tag.

For more NFL news, rumors and analysis, follow @cbssportsnfl on Twitter and subscribe to our RSS Feed.