Posted by Andy Benoit

1.) Momentum schmo-mentum

When a columnist or analyst starts talking about the momentum a team has or doesn't have heading into the playoffs, really what they're telling you is they don't have anything to say about that particular team. Citing a team's momentum is like citing a quarterback's moxie or a head coach's energy: it's meaningless drivel.

The 2007 New York Giants lost two of their final three regular seasons games. How did momentum work out for them? Or what about the 2008 Arizona Cardinals? They lost four of their last six regular season games, with three of those four losses by 21 points or more. They lacked momentum…heading into their Super Bowl run. Or there's always the 2009 New Orleans Saints, who entered the playoffs on a three-game losing streak. If only they'd had momentum…they could have blown out the Colts in Super Bowl XLIV, rather than beat them by a mere two touchdowns.

Momentum is relevant DURING games (we saw that early at rowdy Qwest Field in the Seahawks-Rams contest). But it's not relevant week-to-week. It's only logical that "momentum" would disappear after the game. After all, there are six days between games. And – just a guess – but the do-or-die scenario of an NFL playoff game changes the mood in the locker room over the course of those six days.

So here's a promise: these next eight stories about the eight Wild Card teams will have nothing to do with "momentum". The only references to what's happened in recent weeks will pertain to actual events and tangible data – not that mythical force that lazy sportswriters have been allowed to pretend is real.


New Orleans Saints (No. 5 seed; 11-5) @ Seattle Seahawks (No. 4 seed; 7-9) Saturday, 4:30, NBC


2.) Seahawks: undeserving

On Sunday night, many people saw the Seahawks play for the first time this season. Give them credit – th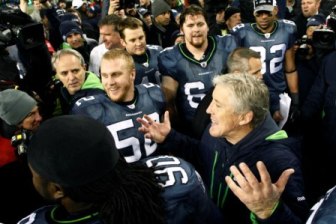 ey deserved that win more than the Rams. The Seahawks got a solid game out of backup quarterback Charlie Whitehurst. In the second half they discovered their long-missing rushing attack, registering 141 yards (their third highest total on the season) They stifled the fruitless St. Louis passing attack and used the famous Qwest Field buzz to their advantage.

Now, let's hope America doesn't get short-sighted and say, "Sure, the Seahawks are only 7-9, but they actually looked pretty good Sunday night; maybe they deserve to be in the playoffs after all."

Make no mistake: it is an embarrassment that this club is in the postseason tournament. The Bucs and Giants were both three games better than Seattle. Yes, it is an honor to win your division…but the old-timers who say winning a division warrants an automatic playoff spot are just plain wrong. Division titles meant more back in the five-team division format. But since realignment in 2002, a team now just has to beat out three other teams to win a division. The problem is, the NFL's current playoff format was in place long before the 2002 realignment. A division title should warrant an automatic playoff bid…just as long as the division winner is ABOVE .500. Yes, there have only been three instances where a team with a .500 record or worse reached the postseason. But two of those instances have come since realignment. And in both of those instances, the outdated playoff system screwed over playoff caliber teams.

This time, it's also screwing over NBC. The network pays the NFL $1.1 billion a year to cover the NFL. You think Dick Ebersol likes getting stuck with a losing team on the Sunday Night Football regular season finale? How about having to broadcast that losing team again the next week in the Wild Card opener?

If you're wondering why the NFL would stick the Seahawks on NBC for a second consecutive week (not to mention give the Seahawks a short week after making them play late on Sunday), it's because of the way the playoff television format shakes out. Here's how it works (based on observation): the NFL views the Saturday night late game as the premier television slot and alternates between using an AFC and NFC game in that slot. Last year the league took the Philly-Dallas matchup from FOX and put it in NBC's Saturday night slot. This year, it was CBS's turn to give up its premium game. Thus, you get Colts-Jets (the NFL's most marketable player against the biggest market team). Because the Colts-Jets is a 3 seed vs. 6 seed, the NFL chose the NFC's 4 seed vs. 5 seed matchup to fill the other Saturday slot.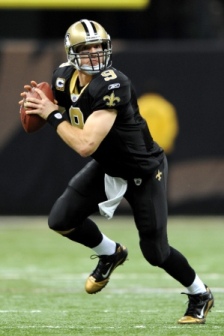 Why are we discussing the logistics of the broadcasting schedule rather than the Seahawks themselves here? Because this article is designated for true playoff teams.

3.) Saints: Unable to march in?

Last season the New Orleans Saints ranked sixth in the league in rushing. This season they ranked 28th. The Saints come into the postseason averaging just 68.3 yards per game on the ground over their last three outings. They have barely even bothered with establishing the run in any of those outings.

Injuries have likely factored into Sean Payton's thinking here. Until this past Sunday, leading rusher Chris Ivory had been out with a bum hamstring. No. 1 running back Pierre Thomas has battled a bad ankle all season. Veteran midseason pickup Julius Jones is too inconsistent to feature, while Reggie Bush has stolen about $8 million from the team this season (Bush has often looked sluggish because he hasn't been processing information well).

The lack of a run game is part of the reason Drew Brees threw 22 interceptions this year (Brees finished the season with a 12-game interception streak, the longest the NFL has seen since Jon Kitna in 2006).

Is this play-calling unbalance a major problem? Meh; there are worse things than relying heavily on the reigning Super Bowl MVP and his litany of receiving targets. But make no mistake: this is NOT the formula New Orleans used in its Super Bowl run last postseason.


New York Jets (No. 6 seed; 11-5) @ Indianapolis Colts (No. 3 seed; 10-6) Saturday, 8:00, NBC

4.) Jets: Surprisingly under-hyped?

At least the New York Jets didn't sneak into the postseason through the backdoor like last year. Though the 11-5 Jets are two games better than they were in '09, and though the offense has opened up considerably in Mark Sanchez's second season, no one seems to consider this club on the verge of taking that next step. Except their head coach, of course. "I think we're going to win it [all] this year," Rex Ryan said after his team's easy Week 17 victory over the Bills.

Because the Jets gave up 45 points in primetime to the Patriots and 38 points on a widely-watched Sunday afternoon game against the Bears, there is the perception that Ryan's defense has dropped off from a year ago. But look at the numbers:
2009 Jets
98.6 rush yards allowed per game (8th in the NFL)
153.7 pass yards allowed per game (1st)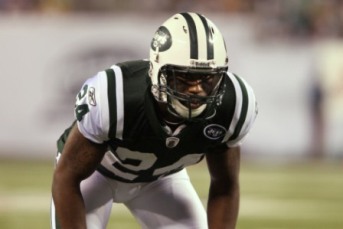 51.7 percent completion given up (1st)
32 total sacks (tied 18th)
2010 Jets:
90.9 rush yards allowed per game (3rd in the NFL)
200.6 pass yards allowed per game (6th)
50.7 percent completion given up (1st)
40 total sacks (8th)
All in all, the numbers between the two years are nearly identical. And the '09 Jets forced just one more turnover than the '10 Jets. The major difference between the '09 Jets and '10 Jets is that the '09 Jets were not on Hard Knocks, were not playing on national television every other week and were not filling the tabloids with stories about harassment of a female supermodel reporter or foot fetishes.

A more important difference between the two is that the '09 Jets could control games with their rushing attack (which always buttresses a good defense) while the '10 Jets cannot. Expected breakout running back Shonn Greene has come close to topping his Wild Card performance against the Bengals last season. Thus, the '10 Jets are still relying heavily on 31-year-old LaDainian Tomlinson, who has not rushed for more than 55 yards in a game since Week 5.


5.) Colts: Peeking at the right time

Okay, so the Titans gave the Colts a tighter Week 17 contest at Lucas Oil Field than anticipated. Defensively, ends Dwight Freeney and Robert Mathis were neutralized by the stellar Tennessee tackles (Michael Roos and David Stewart). Offensively, Peyton Manning and company were held to just 23 points.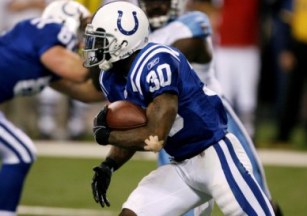 Fine – go ahead and bet against Indy's pass-rush and passing attack. A lot of you did earlier in the season (you know, when Manning showed he might be washed up by throwing 11 bad passes over a three-week stretch).

It's easy to say these 10-6 Colts are not their usual dangerous selves. But the Colts failed to earn a bye in 2006, when they went on to win Super Bowl XLI. The Colts didn't find momentum in the'06 playoffs – they found their run defense. That was the postseason in which Bob Sanders returned after playing just four regular season games.

Sanders won't return again this time (IR, biceps), but that doesn't mean the Indy run defense won't progress. The progression is already underway, in fact. This past Sunday, the Colts held Chris Johnson to just 39 yards on 20 carries. The Titans as a whole managed just 51 yards on the ground. The week before, Indy held Oakland's No. 2 ranked rushing attack to just 80 yards. The week before that, they held Jacksonville's No. 3 ranked rushing attack to 67 yards.

What's more, the Colts seem to have rediscovered their own rushing attack. Joseph Addai (who also helps tremendously as a pass-blocker) is back after missing eight games with a neck injury. Addai has rushed for 45 and 44 yards the past two weeks. More impressive has been veteran Dominic Rhodes. The soon-to-be-32-year-old locker room favorite was a member of the UFL's Florida Tuskers just a few months ago. Since resurfacing in Indy, Rhodes has rushed for 172 yards in three games His quickness and veteran savvy give the offense everything it was missing when first-round bust Donald Brown was starting.

And, of course, the Colts still have Manning. And, while they're without Austin Collie and Dallas Clark, they still have one of the league's premier one-two punches at wide receiver in Reggie Wayne and Pierre Garcon.


Baltimore Ravens (No. 5 seed; 12-4) @ Kansas City Chiefs (No. 4 seed; 10-6) Sunday, 1:00, CBS


6.) Ravens: Joe Flacco to come of age?

Last year in the Wild Card Round, the Ravens went into Foxboro and punched the Patriots in the mouth/nose/throat/gut/groin. They ran the ball 52 times for 234 yards, which is why few people crowed about Joe Flacco's almost irrelevant performan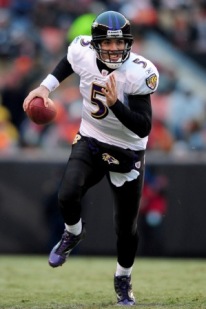 ce. The then-second-year quarterback was 4/10 for 34 yards…on the day. An interception made Flacco's passer rating an imperfect 10.

We wont' see another Pop Warner gameplan like this from John Harbaugh's club. Sure, offensive coordinator Cam Cameron will be enticed to attack the Chiefs' 15th-ranked run defense– especially given that Ray Rice looks fresher than he did early in the season and that Oakland's Michael Bush gashed the Chiefs for 137 yards in Week 17 (most of those yards came from attacking the undersized defensive ends on off-tackle runs). But the Ravens have been grooming Flacco for this opportunity. His 2010 numbers wound up being nearly identical to his 2009 numbers – just 10 fewer attempts, nine fewer completions and nine more passing yards overall – but the Ravens used less six-man offensive line formations and more spread receiver sets this season. In other words, they put more on Flacco.
This makes sense considering Baltimore traded a small ransom for wideout Anquan Boldin, signed veteran T.J. Houshmandzadeh, signed speedster Donte' Stallworth and drafted tight end Ed Dickson. The Ravens have more aerial weapons than they've ever had, which is why this time they'll ask their third-year franchise quarterback to be a weapon himself.


7.) Chiefs: Can coaches carry them?

For a man known for being difficult to work with, Todd Haley sure showed admirable humility this past offseason. The second-year head coach and respected offensive guru realized that clearing play-calling duties off his ultra crowded head coaching plate would ultimately help the team. So, Haley welcomed Charlie Weiss to his staff, knowing full-well that the former Patriots offensive coordinator would almost certainly get the lion's share of the credit if, you know, Matt Cassel went from being a hot seat starter to 27 TD-7 INT passer.

Operating in Weiss' familiar system (a system Cassel learned primarily from Josh McDaniels in New England), the 28-year-old ex-USC backup has been exactly what a team with the league's best rushing attack needs: a caretaking quarterback capable of making the occasional big play. Much of the credit for Cassel's success belongs to Weiss.

Weiss isn't the only coach who has turned in a masterful season for the Chiefs. Offensive line coach Bill Muir has been fantastic with a callow unit that was originally thought to be very vulnerable at the tackle and center positions, while running backs coach Maurice Carthon has helped Jamaal Charles blossom into a 1,467-yard rusher (a 1,467-yard rusher who primarily comes off the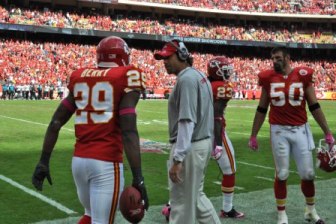 bench, no less).

Defensively, coordinator Romeo Crennel's system has flourished despite an undersized front seven and inexperienced secondary. That secondary, which has often featured dual rookies at the safety spots (first-rounder Eric Berry and fifth-rounder Kendrick Lewis) plus a rookie in the slot (cornerback Javier Arenas) has benefitted from the tutelage of Hall of Fame defensive back Emmitt Thomas. Finally, give credit to linebackers coach Gary Gibbs, who has overseen a unit that successfully transformed nickel inside 'backers Derrick Johnson and Javon Belcher into starters. The emergence of the young safeties and those speedy linebackers has infused speed into the interior of Kansas City's defense.

You could argue that no team maximizes its talent through a variety of personnel packages better than the Chiefs. But is the reliance on coaching a good thing? The Chiefs did not look very well coached in their season finale against the Raiders, particularly on offense. Cassel completed 11 of 33 throws and was under immense pressure the entire afternoon. One can't help but wonder if the news about Weiss heading to Florida isn't distracting (especially given that the relationship with Haley likely wound up having something to do with Weiss' decision).


Green Bay Packers (No. 6 seed; 10-6) @ Philadelphia Eagles (No. 3 seed; 10-6) Sunday, 4:30, FOX


8.) Packers: DE-FENSE! (boom, boom) DE-FENSE! (boom, boom)

Columnists and analysts will be most tempted to fall back on the moment myth when talking about the Green Bay Packers this week. They're that team that "nobody wants to face heading into the playoffs". It's true, Green Bay is hot right now. But the reason isn't momentum – it's talent, deception and aggression on the defensive side of the ball.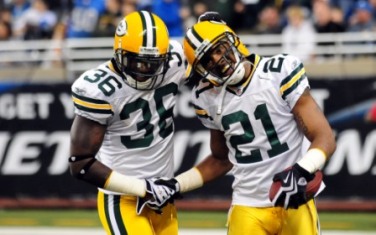 Injuries have ravaged the Packers D, but only in the front seven. Coordinator Dom Capers has still be able to prove what Saints defensive coordinator Gregg Williams proved last season, and what Steelers defensive coordinator Dick LeBeau proved the season before that: you can basically do whatever you want with your front seven as long as you have an elite back four. In the NFL, an elite back four includes: a true cover corner (Tramon Williams, ala Jabari Greer/Ike Taylor), a rangy safety (Nick Collins, ala Darren Sharper/Ryan Clark) and a versatile playmaker (Charles Woodson, ala Roman Harper/Troy Polamalu).

What Capers has that Williams did not have (but that LeBeau certainly had) is a dominant pass-rusher. In fact, Green Bay might suddenly have two. Clay Matthews continues to punish teams with his speed off the edge (by the way, a side note, don't listen to analysts who simply look at Matthews' somewhat slender stature and determine he can't anchor against the run – the guy has been a tremendous playside run defender the past few weeks). In addition to Matthews, undrafted rookie Erik Walden has exploded since filling in for injured Frank Zombo (another undrafted rookie who was filling in for injured Brandon Chillar….who was filling in for injured Brady Poppinga – seriously). Walden led the Packers with 11 tackles and two sacks Sunday against the Bears.

Aaron Rodgers is a great quarterback. Or, given that he hasn't yet won a playoff game, perhaps we have to say he's a quarterback with great skills. Either way, Rodgers makes Green Bay's offense capable of greatness. But the absence of an adequate running back also makes Green Bay's offense vulnerable.

The reason the Packers are in the postseason is because of their defense. It allowed just three points in the make-or-break finale against the Bears, and it forced six turnovers in the make-or-break matchup against the Giants the previous week.


9.) Eagles: A quarterback change?

Hard to believe – maybe even impossible to believe – but according to ESPN's Sal Paolantonio (via Pro Football Talk), Andy Reid may consider benching Michael Vick in Philly's Wild Card game against Green Bay. The Eagles coaching staff is extremely alarmed by Vick's inability to recognize presnap blitzes. As ESPN's NFL Matchup Show pointed out,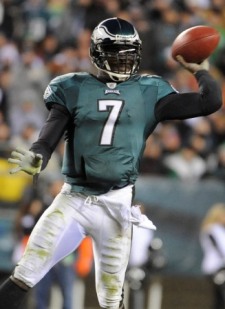 recognition problems are what led to most of the sacks Vick took against the Vikings in the Tuesday night loss.

Vick did not practice with the team prior to the meaningless Cowboys game (which he sat out in order to rest his battered 6'0", 215-pound body). Instead, he spent the week studying Green Bay's 3-4 defense. Vick torched that defense in his 2010 debut off the bench back in Week 1, but that was only because the Packers had spent the week preparing for quintessential pocket passer Kevin Kolb (whom they destroyed, by the way).

It'd be great to know how much time the Packers spend preparing for Kolb this week. Do they – or anyone – really believe Reid would have the gall to pull the league's presumed MVP runner up in the playoffs? The backlash Mike Shanahan took for pulling Donovan McNabb in a regular season game at Detroit would be a mere blip compared to the backlash Reid would take for pulling Vick in the City of Brotherly Love.

The Eagles obviously hope it won't come to this. And it probably won't. But this Sunday will prove whether Vick has really become a student of the game. No question he's putting forth the effort to study the film and playbook; the question is whether that effort will pay off.




10.) Quick Hits: The bye week teams

With so much focus on the immediate playoff matchups, it's always amazing how far off the radar the No. 1 and 2 seed teams drop during Wild Card week. Here's just a little something to help keep the bye week clubs in the back of your mind.;
**The Patriots finished with an NFL-best 14-2 record. It's the fourth time in Bill Belichick's career that he's reached 14 wins. (Too bad this stat, like virtually all other regular season stats, will be rendered virtually moot in two years when the NFL decides to water down its flourishing product by adding two more games to the regular season).
**The Steelers will be as well rested as a BCS bowl team once they take the field for their Divisional Round matchup. Pittsburgh will have played the hapless Panthers on Thursday night in Week 16, rested for 10 days, played the hapless Browns in Week 17, then rested for another two weeks.
**The Falcons might be the most banal, methodical No. 1 seed in NFL history. Their season has consisted of nothing but 12-play, 77-yard drives capped with a Michael Turner/Tony Gonzalez/Roddy White touchdown.
**Lovie Smith was true to his word: the Bears played to win in Week 17. The Bears didn't get the win, of course, but no player in that locker room regrets the effort. And doesn't it just seem like ever since the Giants gave the undefeated Patriots all they could handle on that epic Saturday night contest at the end of the '07 season, more teams have played to win in their meaningless games?

For more NFL news, rumors and analysis, follow @cbssportsnfl on Twitter and subscribe to our RSS Feed.