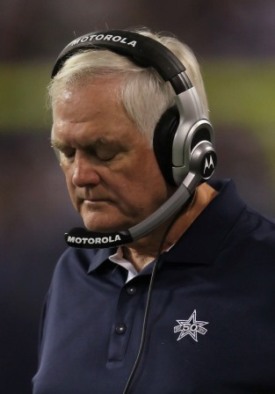 Posted by Josh Katzowitz
Earlier today, we brought you the
Top Ten Halloween costumes
in the NFL this year. Coming in at No. 4 was Wade Phillips, who we thought should dress up like Bernie Lomax from "Weekend at Bernie's," because, for all intents and purposes, he's a dead coach walking.
After Dallas fell 35-17 at home to a mediocre-at-best
Jaguars
squad today, owner Jerry Jones might have to rethink his policy about not cutting loose a coach during the middle of the season. Perhaps, he should make sure Bernie Lomax/Wade Phillips doesn't return next week for a sequel of an absolutely dreadful performance by the
Cowboys
.
They didn't show any heart. They didn't show any desire. They didn't show much of anything.
QB
Jon Kitna
, replacing the injured
Tony Romo
, tried hard and completed 34 of 49 passes for 379 yards and a touchdown (he's the first Cowboys QB not named Romo to throw for more than 300 yards since Drew Bledsoe did it five years ago). But first three of his four interceptions were the result of drops by his own receivers – one apiece by RB
Felix Jones
, WR Roy Williams and WR
Miles Austin
– and destroyed Dallas' chances on offense.
Defensively, the Cowboys couldn't stop QB
David Garrard
, who was a ridiculous 17 of 21 for 260 yards and four touchdowns, and RB
Maurice Jones-Drew
(27 carries, 135 yards). And you had to love the final Jacksonville TD of the game, a naked bootleg off the play-action fake in which Garrard just kind of strolled into the end zone to put his team up by 25 points.
So, if we're blaming somebody for Dallas' putrid effort, who do we point the finger at?
Unless you're in the locker room, who really knows? But I know who will take the blame and who will lose his job because of it. That'd be Wade Phillips.
This is what Boomer Esiason had to say on the NFL Today
before
the 1 p.m. games began:
"What happened last week (a 41-35 Cowboys loss to the
Giants
) lays at the feet of one, Wade Phillips. I'm sorry, that is the reality of this business. If you ask me, if they don't turn it around now, I think it's a foregone conclusion that Wade Phillips will be out of a job by the time the season end rolls around."
At this point, Phillips would be lucky to hang around that long.
For more NFL news, rumors and analysis, follow @cbssportsnfl on Twitter and subscribe to our RSS Feed .