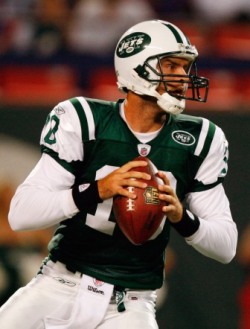 Posted by Josh Katzowitz
Jets
QB
Erik Ainge
has had a big struggle ever since emerging from the University of Tennessee. He's had plenty of arm and shoulder struggles during his pro career, but even worse than that, Ainge was a
drug addict*
who battled bi-polar disorder.
*It got so bad for Ainge that he said, compared to him, Charlie Sheen was as hard-core as Miss Daisy.
All of it became too much. That's why Ainge, who missed all of last season to get help with his addictions, told the
Associated Press
that he's retiring from football. Ainge said he's been sober for nearly a year but that his body just won't allow him to play (he had surgery to repair a stress fracture in January and he recently tweeted that he had a torn rotator cuff).
"This isn't the step I wanted, but it's the hand I'm dealt," Ainge told the AP. "There's nothing I'd love more than to come back to New Jersey when the lockout's over and compete for a job and be around those guys and their families. I miss them as people, but it's just not in the cards physically right now.
"I don't know exactly when it happened with my shoulder because I've been battling shoulder problems for a long time, but now that I'm not in NFL-playing shape – I'm in good shape, but not NFL shape – my shoulder started really telling me how bad it was. One of the things I've been working on in my recovery is acceptance, and to be honest, I need to accept that I want to be able to play baseball with my kids when I'm 35. I don't want to be limping the rest of my life."
Ainge insists he loves football, but he loves his body more. He can't lift a 10-pound weight with his throwing arm, and he knows that fact will hinder him if he were to compete for a job that requires him to, um, throw the ball.
Plus, Ainge would have had a tough time making the Jets roster this season with five quarterbacks (
Mark Sanchez
,
Mark Brunell
, Kevin O'Connell,
Drew Willy
and
Greg McElroy
) already on the roster.
Ainge, though, says he'll leave football without any regrets and that the most important thing in his life is staying sober.
"I don't have to come back and be a Pro Bowler to be a success story," he said. "If I stay sober and I move on with my life and I'm successful, that's the success story."
For more NFL news, rumors and analysis, follow @cbssportsnfl on Twitter and subscribe to our RSS Feed.