Posted by Andy Benoit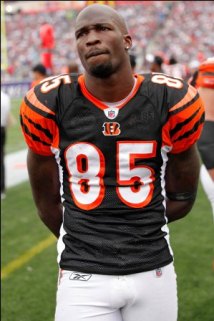 Chad Ochocinco is sorry for the sex-line flap (even though he has nothing to apologize for since he wasn't at fault). This is at least the second time we've mentioned this story about Ocho's cereal, and it's probably the fifth or sixth time you've heard about it. This begs the question…could the mistake have been a clever publicity stunt? (Think about it: would we be talking about the cereal without the sex-line controversy?)
The Redskins couldn't practice Thursday because it was raining. Seriously.
Football wasn't the only thing Braylon Edwards was thinking about last Sunday.
Eagles second-year running back LeSean McCoy is getting some well-deserved props for his improvements in pass-blocking. (By the way, that was three hyphens in one sentence!)
John Madden remembering George Blanda.
Our own Will Brinson continues to sit by the window, staring off blankly as he thinks about the bum ankle of his beloved Sean Weatherspoon. The Falcons linebacker missed practice again on Thursday.
Titans running back Javon Ringer wouldn't mind getting more action behind Chris Johnson. Jeff Fisher has hinted a few times this week that the second-year man will get a heavier load. (Ringer has 13 carries on the season.)
Normally, homemade music videos don't make it anywhere on CBSSports.com (except maybe the message boards). But this Redskins hip-hop video is an exception. (Notice the notice editing on the superhero bit about 30 seconds or so in.) Oh, also, my editor pointed out that, thanks to a quick few seconds of iffy content, we need to add a NSFW warning. Or, maybe it is suitable…depends on your view of animal behavior. We'll say nsfw (lowercase)."
Sean Payton thinks John Fox would be the top free agent available next year if the head coach doesn't stay in Carolina.
Is this the most unforeseen NFC Offensive Player of the Month recipient of all-time?
Packers rookie linebacker Frank Zombo (what a name, by the way), was fined $7,500 for his hit Monday night on Jay Cutler. (Going by Shaun Smith's fine…for just $2,500 more, Zombo could have nailed Cutler where it really counts.)
For some reason, Dwayne Jarrett thought now would be a good time to reveal that his agent approached the Panthers about trading the receiver during the offseason.
Ray Rice is a go for Sunday.


For more NFL news, rumors and analysis, follow @cbssportsnfl on Twitter and subscribe to our RSS Feed .