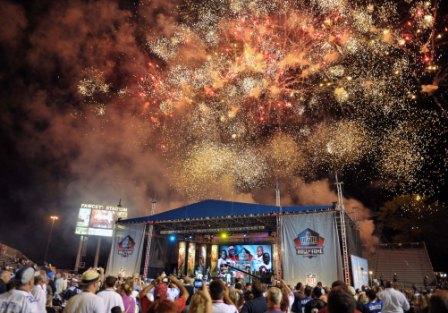 Posted by Josh Katzowitz
The Pro Football Hall of Fame this past Sunday released the names of the 26 semifinalists that could be inducted into the HOF for 2011. Most of the names you know. You've watched them play. You've watched them win. You've watched them etch out fantastic careers.
Last year, you knew guys like Jerry Rice and Emmitt Smith were going to make their way into the HOF in their first years of eligibility. These players were some of the best of all time. It was no contest.
But each year, there are certain players or coaches or executives that are left out who deserve to enter the hallowed halls of the … well … Hall. This Top Ten With a Twist isn't about the players you know who full well will be inducted into next year's induction class, minus Prime Time. These are the guys who might not, but who probably should be.
10. George Young, executive: I wonder if Young's enshrinement has been held off because his skills had declined noticeably late in his career (ie. when free agency was introduced to the game in the early 1990s). But there's no denying that Young was the NFL executive of the year five times and the teams he worked for won three conference titles and one Super Bowl title. For an executive, he was pretty damn important.
9. Jerry Kramer, OG,
Packers
(1958-68): While he was a very good player in his day – as the three Pro Bowls, five All-Pro selections and the oodles of championships attest – he did the world a favor when he wrote
Instant Replay
in 1967, giving fans an inside look at what occurs during an NFL season and at coach Vince Lombardi. No, it's no
Ball Four
by Jim Bouton (that guy never could get in baseball's HOF, by the way), but Kramer's impact on how the fans view the game is an important piece of the NFL's history.
8. Steve Tasker, WR/ST, Oilers (1985-86),
Bills
(1986-97): During his 14-year career, Tasker started a total of 15 games. He never had more than 21 catches in a season, and he caught nine touchdown passes. But the fact he's perhaps the best special teams player ever to compete in the NFL should give him a path to the HOF. He was a 5-foot-9, 180-pound gunner, and he was fast and lethal. He went to the Pro Bowl seven times, and he was named the MVP of the Pro Bowl in 1993. He didn't make it to the semifinals this year, but that's not surprising. Special teamers are not given their just due (see No. 1).
7. Andre Reed, WR, Bills (1985-99),
Redskins
(2000): Reed has gotten caught up in the WR numbers game. He's been eligible at the same time as Michael Irvin, Jerry Rice, Tim Brown, Art Monk and Cris Carter, and I can see why it'd be tough to select Reed instead of those kinds of receivers. But you have to remember that Reed ranks ninth in career receptions all time and 11th in receiving yards. At some point, he deserves to be enshrined in Canton. Don't expect it to happen this year, though.
6. Dermontti Dawson, C,
Steelers
(1988-2000): Simply put, he's one of the greatest centers of all time. He made the Pro Bowl seven-straight seasons, and with his athletic ability and his knack for getting out in open space and making key blocks for his running backs, he changed the perception of what a center should be. He'll probably become a finalist for the second time in as many years. One of these days, he should get the welcoming phone call.
5. Cris Carter, WR,
Eagles
(1987-89),
Vikings
(1990-2001),
Dolphins
(2002): Much like Reed, Carter is overshadowed by other receivers. He finished his career as the No. 2 WR (behind Jerry Rice) in receptions and touchdowns. He's been passed by Marvin Harrison on the receptions list and by
Randy Moss
and
Terrell Owens
on the touchdowns list since he retired, but at some point, Carter should be in. It's actually a little surprising that he's not in already.
4. Don Coryell, coach: Yes, he wasn't the originator of today's modern offense – that'd be a combination of Sid Gillman, Paul Brown and various others – but his Air Coryell teams in the late 1970s to mid 1980s with the
Chargers
helped innovate the passing game we still see today. He's already a member of the College Football Hall of Fame. Now, it's time for him to join Gillman as the only two coaches to be enshrined in the college and the pro Halls of Fame.
3. Deion Sanders, CB/PR,
Falcons
(1989-93),
49ers
(1994),
Cowboys
(1995-99), Redskins (2000),
Ravens
(2004-05) : The reasons why are obvious. Just look at the video below. This is his first year eligible, and there's little chance he won't make it in immediately.
2. Ed Sabol, contributor: Enjoy watching NFL Films productions? You like watching the behind-the-scenes spots of the players woofing at each other on the sidelines and your favorite coach's pregame and postgame speeches? If yes, you can thank Sabol, who helped found NFL Films in the mid-1960s. How differently would we view – and think about – the NFL if Sabol hadn't been such a visionay? That's unanswerable of course, but the fact NFL Films plays a big role in an NFL's viewing experience makes Sabol HOF worthy.
1. Ray Guy, P, Oakland/Los Angeles
Raiders
(1973-86): Simply put, Guy is the greatest punter in the history of the game. But there are no kickers enshrined in the HOF. That must mean they're less important than anybody else, right? Well, we all know that's not true. It's time to get Guy into the Hall. He deserves it.
For more NFL news, rumors and analysis, follow @cbssportsnfl on Twitter and subscribe to our RSS Feed .