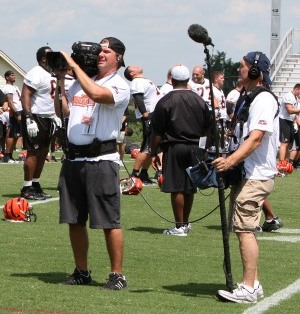 Posted by Josh Katzowitz
Throughout the lockout that seems neverending -- now at 114 days and counting!!! -- we've seen players get arrested, we've seen the NFL and the NFLPA come together and then bicker and then come together and then bicker, and we've seen players
sue their girlfriends
for their engagement rings.
Most disturbing, we've seen the signs that Brett Favre might want to return
for another season.
We've also heard plenty about how a lost preseason would cost the NFL $800 million if the lockout continues through August and into September.
But when it comes to the preseason and how much is on the line, you know what we haven't heard about? We haven't heard which squad will be the subject of the annual highlight of August –- HBO's "Hard Knocks."
Oh, we know which teams have already declined the invitation (or supposedly, declined the invitation). Among them are the
Buccaneers
, the
Broncos
, the
Lions
and the
Falcons
(who might be open to doing it in the future), and at this point, it seems as if nobody wants to be on the show. Making matters tougher are those who say
cooperating with Hard Knocks
is a mistake.
Assuming we'll see a preseason this year that would provide a platform for the Hard Knocks crew to start filming -- and
CBSSports.coms'
Mike Freeman writes that it's getting close --here are five teams we'd like to see featured on Hard Knocks. Many of them might not be interested for one reason or another, but if we have a fantasy roster, this is it.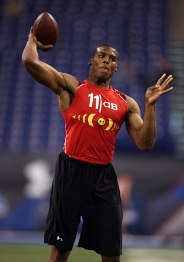 The big storyline:
Simply put: the entertainer and the icon,
Cam Newton
. We want to see how he learns the offense; we want to see if his teammates rally around him; we want to get an early idea of whether Carolina made a bad decision last April. Or maybe he's the next superstar in the game. Either way, he's one of the biggest storylines of the preseason, and we want to be inside the locker room to see what happens.
The foil:
Jimmy Clausen
. How is he going to react to Newton? What happens when Newton badly fakes out some defender destined for the practice squad and gains 30 yards on a broken play? Will the director then cut to Clausen as he raises a fist to the sky in anger? And what happens if Clausen, um, actually outplays Newton?
Two other compelling reasons:
1) NFL.com's Gil Brandt has mentioned in the past couple of days that Favre has offered to help mentor Newton. Can you imagine the video that could come from this, especially if the camera caught Favre alone in the locker room sending a text message? 2) WR
Steve Smith
: is he going to play for the Panthers or not?
The big storyline:
The same guy who makes sure this show would never feature his team on his watch. That would be coach Bill Belichick. How fascinating would it be to see how Belichick builds a team and how he relates to his players? Would we get to see Belichick's team meeting in which he implicitly tells his team how to answer questions from the media (in the most uninteresting way possible)? Kidding aside, we want to see a future Hall of Fame coach behind the scenes and uncensored.
The foil:
Rex Ryan. Is there any way to get a split screen of the
Jets
coach talking trash about Belichick -- hey, he's not here to kiss anybody's ring! – while Belichick coldly goes about finding a way to make Ryan pay for his words?
Two other compelling reasons: 1)
Danny Woodhead
: he was on Hard Knocks with the Jets last season, and though he's not in danger of being cut with New England, I still want to know why Woodhead, all of a sudden, is so freaking good. 2) G
Logan Mankins
(
and his agent)
has said some not very complimentary things about the Patriots management, all in the name of landing a large contract. Will he be kinder and gentler this preseason?
The big storyline:
Obviously, the Lombardi Trophy. Hard Knocks has never followed a team the preseason after it won the Super Bowl, so it'd be cool to see the ring ceremony the public wasn't allowed to witness a few weeks back (I'm assuming Hard Knocks wasn't actually there, but it'd be cool nonetheless) while watching the Packers attempt a repeat.
The foil:
Charles Woodson
vs.
Tramon Williams
. Woodson is the bigger name, but he's older than Williams and there's a pretty good chance Williams is the better CB these days. Maybe we'd really get to see if Woodson is close to the end, and if Williams can replace Woodson's outrageous production.
Two other compelling reasons:
1) Would
Aaron Rodgers
sign autographs for the fans at training camp? Because, as we all know, he doesn't like signing for cancer patients (
I kid, I kid)
. 2) Last year, little-used cornerback
Brandon Underwood
had a
sexual assault charge
hanging over his head all season (he pleaded no contest to a lesser charge). Now, he's been charged with disorderly conduct after an alleged physical altercation with his soon-to-be ex-wife. Underwood isn't a great quote, but his story might make for an interesting change of pace on the show.
The big storyline:
The will-they-or-won't-they-fire-him as it relates to coach Gary Kubiak. I'm kind of surprised he's still coaching in Houston actually, and the last time Hard Knocks featured this kind of storyline, it was Wade Phillips with the
Cowboys
. Now, Phillips is Kubiak's defensive coordinator. How hot can that boiler room get anyway?
The foil:
The secondary. This is what I wrote in the
Texans offseason checkup:
"The secondary (
Kareem Jackson
,
Glover Quin
,
Bernard Pollard
and Eugene Wilson) were just tremendously bad. If the Texans can't get this fixed, it doesn't matter who's coordinating the defense, because Houston simply won't win." I don't disagree with that.
Two other compelling reasons:
1) Though he came off a bit bumbling in Season 4 with the Cowboys, Phillips is a sympathetic figure. And the man has proved he can coordinate a defense. I want to see how he transforms a 4-3 sieve-like defense into a 3-4 defense that potentially could save Kubiak's job. 2) Will QB
Matt Schaub
ever get into the playoffs? He's the best quarterback in the league who hasn't gotten there.
The big storyline:
Obviously, Al Davis, and the one question I want to know. How hands-on is he these days?
The foil:
Nnamdi Asomugha
: Just like
Darrelle Revis
last season with the Jets, we're not going to see too much of the talented free agent cornerback on the TV. Unfortunately, we won't get to see any of
Antonio Cromartie
either (psst, see video below).
Two other compelling reasons:
1) New coach Hue Jackson finally gets his chance at running a team. Forget that Tom Cable went 6-0 in the AFC West last year without making the playoffs -- still a pretty damn impressive feat. Davis got rid of him, just like he gets rid of everybody after a couple years. Will Jackson be an exception? 2) Al Davis: Seriously, I want as much Al Davis as possible.
For more NFL news, rumors and analysis, follow @cbssportsnfl on Twitter and subscribe to our RSS Feed.