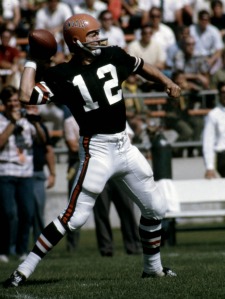 By Josh Katzowitz
In 1969, Greg Cook was a specimen at quarterback during his rookie year for the
Bengals
. He led the AFL by completing 53.9 percent of his passes for 1,854 yards, 15 touchdowns and 11 interceptions (he played in only 11 of the team's 14 games), and at the time, it was one of the best seasons ever by a rookie quarterback. He could throw the ball 70 yards, and he possessed great touch and timing.
In his rookie season, he also averaged 17.5 yards per pass – the 12th best season average in NFL/AFL history. Cook – who, at 65 years old, died Thursday – was destined to be a superstar, perhaps one of the best quarterbacks of all time.
But while that one season was the highlight of his entire playing career, Cook's legacy indirectly impacted much of the NFL offense you watch today. Cook, you see, was the main reason Bill Walsh had to implement the West Coast offense in 1970.
"Greg was the single most talented player we've ever had with the Bengals," Bengals president Mike Brown said in a statement. "His career was tragically short due to the injury. Had he been able to stay healthy, I believe he would have been the player of his era in the NFL.
"Greg was a personal friend to me. He was a good person whose company I enjoyed over all his years as a player and after that. I feel a great loss at his passing."
The reason you probably don't remember Cook today is because in the third game of his rookie season, he suffered a bad shoulder injury that was later diagnosed as a torn rotator cuff. He missed the next three games, but returned for the final half of the season to finish his rookie year on a high note.
But after undergoing several surgeries to repair his shoulder, Cook would play only one more game in his career, throwing just three passes in 1973 before disappearing into the Cincinnati landscape.
Yet, Cook was a godsend for Walsh, who was helping run the Bengals offense. He had expected Cook to return for his second season in 1970, and Walsh planned to continue using Cook's big arm to mold a downfield vertical passing attack. But without Cook, the Bengals had to go with backup Virgil Carter, who was not as talented but was considering a quick-thinking quarterback.
As
Sports Illustrated's
Paul Zimmerman wrote in 2001, "Carter was able to go through his progressions quickly and throw on the go; not blessed with a big arm, but accurate. So Walsh crafted an offense to suit him, a horizontal offense with a lot of motion and underneath routes and breakoff patterns, an attack that now goes by the misnomer 'West Coast Offense.'"
It's a misnomer because, although Walsh had his greatest success in San Francisco, the idea was hatched in the Midwest. And though the man from whom Walsh took much of his cues in developing the offense was a longtime Los Angeles
Rams
and San Diego
Chargers
coach, Sid Gillman had started making his passing game more horizontal when he coach at Miami (Ohio) and the University of Cincinnati in the 1940s and 1950s.
Once, Zimmerman asked Walsh how much his system would have changed if Cook had a long career. "Completely different," he said. "It would have been down the field."
And thus, how much differently would the NFL look today without the West Coast offense and Cook's contribution? I imagine it wasn't any consolation to Cook, but without his injury, the league could have been a vastly-different, less-exciting place.
For more NFL news, rumors and analysis, follow

@EyeOnNFL

on Twitter, Like Us on Facebook, subscribe to our NFL newsletter, and while you're add it, add our
RSS Feed
.