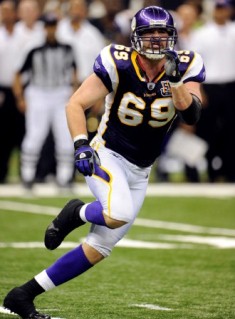 Posted by Josh Katzowitz
When
Vikings
defensive end
Jared Allen
faces off against the
Chiefs
in Kansas City this Sunday, he won't have great memories of his departure from there the last time.
That's because he started his career with the Chiefs, who drafted him 2004 but then traded him to Minnesota in 2008 for the draft picks they eventually would use to select
Branden Albert
,
Jamaal Charles
and DaJuan Morgan.
At the time, Allen was coming off his career-high 15 ½ -sack season, but he and then-general manager Carl Peterson couldn't come to an agreement on a new contract. So, Allen made it clear that he wanted out, and he got what he wanted.
But Allen is obviously still fueled by the end of his tenure in Kansas City, and he lashed out at Peterson, who's no longer in pro football, this week when discussing it.
After he was asked why he wanted to leave Kansas City, Allen said (via the
Kansas City Star
), "His name was Carl Peterson. You can write that in caps. Obviously I guess I had a problem with (owner) Clark (Hunt), too, because he chose Carl over me."
The main problem was that Allen feels like Peterson lied to him. And apparently it still stings.
"When everything went down there," Allen said, "I didn't appreciate being lied to. I was told I'd be getting a (contract) extension and everything and the way things played out…
"My biggest thing was, 'Listen, I never lied to you guys. I show up and I bust my tail for you. Please don't lie to me.' After so many times of hearing they're going to take care of you and they don't and hearing the words Carl had to say about me, it's tough to give it your all for somebody like that."
CBSSports.com sent Peterson an e-mail requesting comment, but the message was not returned. Instead, we're left to record what former Chiefs coach Herm Edwards said.
"You never like to trade good players, especially guys that can rush the quarterback," Edwards told the paper. "He's a unique player. But there are times where you're forced to do it. In the situation we were in, I don't think we had any possibility of signing the guy. He felt like he wanted to move on and we were trying to rebuild. We needed players. It worked out well for Minnesota. It worked out for the Chiefs. They got some more players."
For more NFL news, rumors and analysis, follow

@EyeOnNFL

on Twitter and subscribe to our
RSS Feed
.