Posted by Andy Benoit
The list of 26 semifinalists for the Pro Football Hall of Fame 2011 class was recently announced. The most important name on that list? Cris Carter.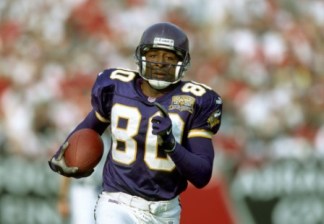 Wide receiver has become one of the toughest positions for voters to gauge. The NFL has evolved so markedly into a passing league that the receiving statistics from one era to another are almost impossible to evaluate. The same problem applies to quarterbacks, but quarterbacks are much easier to figure because a.) They're tied more directly to their team's success; b.) They touch the ball every play and c.) They stay on your television screen after the ball is snapped. A wide receiver, on the other hand, might make important contributions like lifting a coverage, disguising a route or providing backside run-blocking support, but that action often takes place off screen.
The voters' decision will be overwhelmingly based on numbers. That's what makes Carter, the longtime
Vikings
receiver, the key that potentially unlocks the Canton door for a host of wideouts. Carter is third all-time in receptions (1,101), eighth all-time in receiving yards (13,899) and fourth all-time in touchdowns (130). Overall, he was essentially the second best wide receiver of the 1990s. If he doesn't get in, what hope is there for other prolific wideouts like Tim Brown, Andre Reed or Irving Fryar, Torry Holt, Isaac Bruce or Marvin Harrison? All have similar numbers. (Holt, Bruce and Harrison each have a ring, but receivers aren't judged by titles the way quarterbacks, running backs and, obviously, head coaches are.)
Carter was
passed over by Hall of Fame voters
last year, but that could have simply been the Jerry Rice effect. This year could be Carter's best shot at getting in. Of the 25 other semifinalists, only Deion Sanders and likely Marshall Faulk are surefire Yes'.
For more NFL news, rumors and analysis, follow

@cbssportsnfl

on Twitter and subscribe to our
RSS Feed
.