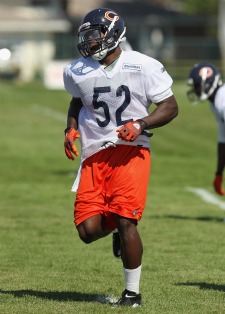 Chicago LB J. Thomas has been charged with misdemeanor drug possession. (U.S. Presswire)
By Josh Katzowitz
Before the start of his rookie season and while we were looking for stories to write during the lockout,
Bears
linebacker
J.T. Thomas
had a nice tale to tell when he took an eighth-grade girl suffering from spina bifida
to her junior high prom
.
Unfortunately for Thomas, he undid much of that goodwill early Monday morning when he was arrested and charged with possession of less than 15 grams of marijuana, a misdemeanor. That's the report from
MetroNews
out of West Virginia, which writes that Thomas was pulled over by police at 3:55 a.m. for going the wrong way on a one-way street and driving more than 25 mph over the speed limit.
When the officer asked to see his car registration, according to police, he pulled two plastic bags out of his glove compartment which contained a "leafy substance" that looked like marijuana.
According to the website, Thomas -- who dealt with a back injury after Chicago made him a sixth-round draft pick last year and missed the entire 2011 season -- was in Morgantown, W.V., for the weekend to raise money for the J.T. Thomas Foundation.
Despite his arrest, Thomas has been celebrated for his enthusiasm to work with the less fortunate (or take them out on a date).
"Maybe it's because my younger brother, Jared, he's dealing with autism," Thomas told
West Virginia Illustrated
before he returned to Morgantown. "That's what kind of jump-started me when it comes to special needs and special needs children. Maybe it's that or maybe it's the fact that I was raised by my mom in a very loving family and we always gave back, so now this is just a threshold for people to help me continue to give back.
"We're a foundation that helps give to foundations, so I think it has the chance to be really big and touch as many lives as possible."
This is the second Bears player in the past two months to add a marijuana arrest to his record, but say this for Thomas: the other one was on
a much grander scale
.
Here's the statement released by the Bears: "We are aware of the arrest of J.T. Thomas in Morgantown, WV. We are currently gathering information to learn more about the circumstances surrounding the arrest."
For more NFL news, rumors and analysis, follow

@EyeOnNFL

on Twitter, Like Us on Facebook, subscribe to our NFL newsletter, and while you're add it, add our
RSS Feed
.