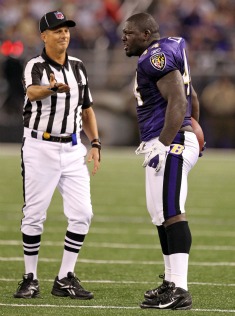 Posted by Josh Katzowitz
When
Vonta Leach
signed his three-year, $11 million deal with the
Ravens
, leaving Houston behind for good,
Ray Rice
happily texted him,
"Let the fun begin."
For the most part, the two
have
had fun, with Leach opening holes for Rice and helping the Ravens to a 3-1 record and the top spot in the AFC North.
But when asked about his departure from the
Texans
, where he had played the past five years of his career, it turns out Leach wasn't so pleased with the way he felt he was treated. In effect, he felt he was taken for granted.
"It worked out for them and it's worked out for me. It's a win-win situation," Leach said, via the
Houston Chronicle,
referring to the Texans use of
James Casey
in his old spot. "I had five good years in Houston, and I did leave on a bad note. When I was there, I laid it all on the line for Houston, whether I was hurt or not. During my time there, they paid a lot of players I felt didn't necessarily deserve to get paid. What disappointed me was when it was time for me, maybe my last contract, to get a good deal ... I didn't have to be the highest-paid fullback.
"I just wanted to feel appreciated. I didn't. I was not appreciated."
Leach said the problem began last year when he made his first Pro Bowl -- one of his long-term career goals -- and Leach said the Texans knew his price tag was going to rise. That could be why Houston declined to re-sign him and instead is now using Casey, who's making $480,000 compared to Leach's $6 million guarantee from Baltimore.
Leach said he just wanted a fair deal. He didn't get it.
"The deal that was offered to me was disrespectful to me and my family," he said. "It was a lesser deal than I just got finished playing for them for. … All I wanted was to be wanted," he said. "I wanted to stay with the Texans. When I heard the offer, I picked up the phone and called (Texans general manager) Rick Smith myself. I said, 'Rick, what's going on?' He said, 'Vonta, we had to give away all of our money. We don't have any more.' I said thanks, and that was it."
Now, Leach is having fun with Rice and his new team. And he's getting paid what he feels he deserves.
For more NFL news, rumors and analysis, follow

@EyeOnNFL

on Twitter and subscribe to our
RSS Feed
.