Posted by Will Brinson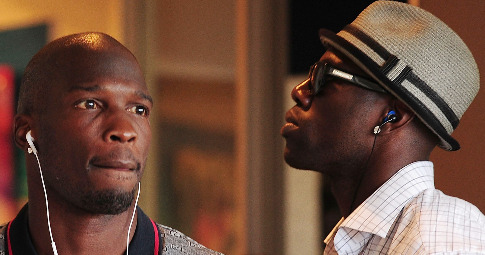 All due respect to Christmas, this is the most wonderful time of the year. Why? Because, well, football's here people. Hope springs eternal right now for nearly every team in the league, and for everyone who loves Sundays the way they should be enjoyed.
And though tonight's game between Cincinnati and Dallas isn't a regular season game, it's still the metaphorical starter waving his proverbial flag for us to get pumped for football. As such, let's run through 10 things to watch for tonight.
First things first, though:
make sure to follow us on Twitter
, so you can discuss all things NFL as the football season kicks off.
1. Terrell Owens' interaction with the Bengals
Obviously, Bengals fans are going to be interested to see how he fits in with the team. Certainly, timing between
Carson Palmer
and Owens will be of tantamount importance, but there's no reason to discount watching the defense as well; the
Cowboys
have a good idea of the damage that TO can do, and seeing the initial schemes that they throw at
Chad Ochocinco
-- based on Owens' presence on the other side -- will probably give a reasonable indication as to what he should see all season long (provided Owens doesn't prove to be a total non-factor throughout the year).
"I'm a playmaker," Owens said. "I know Michael Irvin has adopted that title, but that's what I do and have done throughout my career is make plays. The coaches know what I'm capable of once the ball is in my hands. They're going to get all of Terrell on the field."
Andy also makes an excellent point about Owens -- how will his demeanor be towards
Tony Romo
and the rest of the Cowboys throughout the game? More on this in just a second.

2. Who's carrying the Cowboys' weight?
As we detailed previously, Jones bulked up in the offseason, while
Marion Barber
lost a few pounds. There's a certain school of thought,
expressed quite nicely by Will Carroll at SI.com
, that adding pounds to certain body frames can actually be a
bad
thing.
"Health is a skill, one that linebackers try to take away with every hit. Jones' problem hasn't really been those kind of hits, but in holding together his own body. Bulk often is accompanied by a reduction in flexibility and any additional tightness is going to be even more risky for the tightly-wound Jones. It also isn't going to keep him on the field for his pass blocking either. (It's still bad.)"
Personally, I'm still high on Jones, but concern over someone who traditionally hasn't been able to stay healthy changing his body style (potentially for the worse in terms of health) is certainly understandable. Also understandable: wanting
Tashard Choice
to look good on Sunday night. He's definitely the third option for the Cowboys, but because of, well, Jones' health he's seen plenty of playing time in the past few years.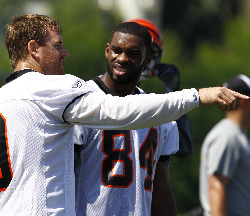 3. Cincy's other new weapons
Lost -- somewhat -- in the hype that is Batman and Robin are the signings of
Antonio Bryant
and
Jermaine Gresham
since the Bengals last took the field for meaningful football. Bryant won't likely be playing for the Bengals, but Gresham should. And considering that he's supposed to provide the high-end receiving option from the tight end position, well, Bengals fans should be curious to see how he performs, especially with
a recent report
that he "looked lost" not offering immediate enthusiasm.
Also of interest is the possibility of seeing double tight end sets out of Cincy -- 2009 third-rounder
Chase Coffman
(who won the John Mackey Award for the best tight end in college his senior year) will likely get some action tonight -- which, given the receiving talent at the position, could provide for some very interesting formations during the season.
4.
Trickeration time?
It's fairly obvious that Owens and Ochocinco like attention. So do the Dallas Cowboys, duh. And since this is the first game of the 2010 season, it seems like a reasonably awesome moment to bust out some first quarter fanciness. If I had to put money on one thing, it would involve Ochocinco throwing a pass to Owens on some sort of end-around. If you've got better ideas, leave them in the comments.
5. Terrell Owens' interaction with the Cowboys
Yeah, I know. Giving the VH1 star TWO of 10 bullet points is kind of feeding the monster. So we'll add Pacman Jones and
Tank Johnson
too. Since, you know, all three are former Cowboys. That's not to say that we should expect TO to try and extract revenge on his former team.
Or do we
?
"Do I think I probably should still be there?" Owens said about his time in Dallas. "Yeah. But that's not the case. You deal with that situation as it comes. I think a lot of people know there are some unfortunate things that happened there ... Again, I still stand by the things I said and what was done and I know it wasn't my fault.''
You may recall that Owens shamed the entire state of Texas by mocking the glory of the Cowboys' star. They temporarily forgave him when he joined the 'Boys for his run there, but considering how many Cowboys fans were in attendance to see Emmitt Smith's spectacular speech last night, would it be surprising to hear some boos for Owens? Of course not.
The only thing less surprising would be Owens abstaining from some action designed to rib Dallas' fans and players a little bit.
6.
What do you know about pressure ?
Kickers are considered an afterthought for many people (and "idiots" by folks like
Peyton Manning
), but the reality of the NFL is that they matter. A lot.
Mike Nugent
and
Dave Rayner
are battling it out in Cincinnati, while the unproven -- but quite brash --
David Buehler
should
be the guy to take the Cowboys through the season. However, kicking in practice and kicking in an actual game situation are two completely different things. And while preseason games might not matter much for first-stringers or guaranteed starters, for someone looking to lock down a job with an NFL team for pushing an oblong ball between two poles, performing well before the regular season starts is an absolute must.
(Quick update: Looks like THE NUGE isn't bringing his leg to the field today, so it's up to Rayner to try and not look stupid in kicking action for the Bengals tonight.)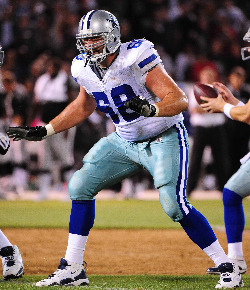 7.
Will Doug B. Free?
To not worry about his job stability, that is.
Doug Free
takes over for
Flozell Adams
on the left side of the line in Dallas, and the reason Adams is gone is that Wade Phillips (and presumably Jerry Jones as well) was confident enough in Free's ability as a blind-side protector to make the move.
Whether Free wants it or not, that's an ample amount of pressure on him. And while
Alex Barron
wasn't signed in the offseason to compete with Free, he's still there, which only adds to the pressure. Free's been very good in camp thus far (his first two snaps excepted), but that performance would be worthless if Tony Romo got decapitated on the first play from scrimmage.
8. The Big Backup D
Wade Phillips has already said that
Jason Hatcher
"needs to play anyway" while calling
Marcus Spears
' 4-6 week injury a "good opportunity" for Hatcher. That's true, and with 8.5 of the Cowboys' 42 sacks from 2009 on the mend, it'll be interesting to see how Hatcher can step in and play. Optimistically, the Cowboys won't need him immediately, but optimism isn't always warranted.
Additionally,
Sean Lee
won't see time tonight, which means that
Jason Williams
and
Victor Butler
should get plenty of backup-LB action behind
DeMarcus Ware
and
Anthony Spencer
. Again, you don't WANT to use them, but finding out that your team is deep at an already strong position isn't exactly a bad thing. If they actually are.
9. Sack lunch
The Bengals defense was superb last year, with one exception: putting the quarterback on the ground before he throws the ball. They ranked 16th in the NFL with 34 sacks, but this year
should
be different.
As Pete Prisco noted in his love/hate for the Bengals camp tour
, the line has a lot of depth heading into 2010. The return of
Antwan Odom
, who was leading the NFL in sacks before he tore his Achilles' last season, is particularly beneficial. If they can generate more pressure on the quarterback than they did last year, it won't be hard to duplicate it. We just need to see that the depth is there.
10.
Emmitt Smith's Interview
Another excellent suggestion from Andy --
who tweeted about it earlier
-- because, if you recall Emmitt's speech from last night, he was wonderful. Shockingly wonderful, in fact, having memorized the entire lengthy speech, which he delivered without any of his trademark bumbling.
If you're Norby Williamson or George Bodenheimer, are you wondering "Where was that guy when he worked for us?" Because you should be. Smith's time as a commentator was a bit rough and he was an absolute gem as a speaker last night ... with a little preparation. It's worth seeing how he does when he steps back into the booth.
For more NFL news, rumors and analysis, follow

@cbssportsnfl

on Twitter and subscribe to our
RSS Feed
.