Posted by Will Brinson
Sorting the Sunday Pile takes all of Sunday's NFL action and figures out the most important storylines for you to digest. Send your complaints, questions and comments
to Will Brinson on Twitter.Make sure and listen to our Week 4 podcast review below as well and feel free to subscribe via iTunes.

1. The Billboards Worked!
When John Fox decided to bench
incumbent starter
Kyle Orton
at half for would-be Denver football messiah
Tim Tebow
, it seemed like a pretty good excuse for Fox to let the fan-favorite quarterback struggle his way to a miserable second half, giving Fox has a totally justifiable excuse for refusing to answer any Tebow-related questions and instead just glaring at whoever asks them with a stern, judgmental look.
Then Tebow scored on a rushing touchdown that was a designed quarterback draw.
Then Tebow threw a screen pass to
Knowshon Moreno
, a ball so blessed by Tebow's hand that Moreno used its powers to break several tackles, cross the goalline and bring the
Broncos
inexplicably within two points.
So, um, we have a quarterback controversy, right? Rich Gannon and Marv Albert certainly think so.
Fox agrees, I think. Maybe. Possibly.
"I think Tim Tebow sparked the team today," Fox said. "We haven't had a chance to watch the tape. We haven't had time to watch the film. I think at this point we've got a bye week. We do need to improve offensively. And it will all be up for discussion."
Right. We definitely do. Although it's pretty arguable that Tebow, despite his shortcomings, should be starting for the Broncos. Kyle Orton will be a free agent after this year, and would still have trade value to a few teams (ahem, Miami).
Tebow, as Fox noted, managed to make the Broncos play harder, even if his own personal play was lacking. Yes, he ran for a touchdown. Yes, he threw for another. And, yes, he gave the Broncos a shot at winning a game in which they had no business having a shot to win. But he still finished
6 of 13
4 for 10 for
34
79 passing yards (28 came on the Moreno touchdown) and played so poorly up until four minutes left in the game that at least one dork fired up Photoshop and created fake, apologetic billboards.
(Ed. Note: Had Orton's stats in there. My bad. Note strikes. Still doesn't make Tebow's stats "good.")
Doh. And, yeah, I literally put this on Twitter 10 seconds before Tebow scampered in for his first touchdown.
Look, I'm prepared to take a ton of flak from Broncos fans in the comments for even begin to suggest that going to Tebow isn't the smart move. But from a perspective of "putting the best player under center" it
isn't.
Orton's still better. But the Broncos are bad and won't sniff the playoffs this season, so perhaps rolling the dice with Tebow now and at least seeing what he can is the play.
He apparently inspires the team, and that's great. But the reality is that he's a below-average quarterback with a limited skill set who just about helped his pretty awful team pull off a come-from-behind victory against a much better team at home.
And failed
.
Yet, we're still talking about Tebow. And that's OK. But there's a whole lot of chatter about Tebow being "the guy" in Denver. And even though the statistics and the tape show that he wasn't all too productive -- though the statistics can't measure heart, not yet anyway! -- that chatter won't stop until Fox caves and names him the starter.
Which should make the next two weeks (the Broncos are on the bye) of speculation super-duper fun.
2. The Snooze Button Is Broken
Leading up to the
Eagles
's Week 5 matchup with the
Bills
,
Michael Vick
made sure the media knew that Philly no longer saw themselves as "the Dream Team." Unfortunately for him, we already knew that. It comes with the territory on a 1-3 start.
After a 31-24 loss in Buffalo
, the Eagles are 1-4, and with all due respect to the very-much-for-real Bills, it's not even that hard to fathom. Sure, Andy Reid's team "won the offseason," but as their NFC East compatriots the
Redskins
know, that means nothing in the regular season.
"No. 1, there's nobody to blame but me," Reid said after the game. "That's how I look at it. I take full responsibility for it. It's my team."
And that's fine, because the Eagles are an incredibly sloppy team right now. If you need more proof than Vick's four interceptions -- he had six
all of last year
-- just look at the way each half ended. With the Eagles in the Bills territory,
Vick took to long to throw the ball away
and chunked the rock through the end zone as time expired. In Philly he might have gotten a second, but on the road, that clock's ticking, and the Eagles didn't got a shot at three points.
The worse crime came on a fourth and one with 1:23 to go and the Eagles down seven -- the Bills somehow managed to draw
Juqua Parker
offsides, grabbed a free first down and took knees to move their record to 4-1.
Buffalo
is
the real story, because it's absolutely improbable that they're a legit playoff contender. But the Eagles, clear-cut preseason favorites to win their division, are quite the nice juxtaposition to a Buffalo team that's well-coached, scraps for everything and plays sound football en route to winning games.
On the bright(ish) side, there have been seven teams since 1978 to make the playoffs after starting the season 1-4. So Philly's got that going for them.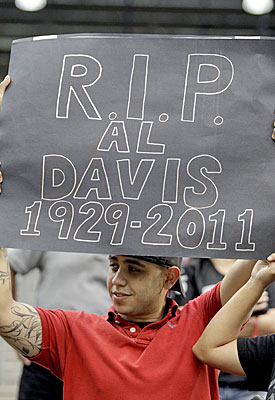 3. Just Win, Baby
Since Al Davis died on Saturday morning, there were any number of very impressive, very emotional and very deserving tributes for one of the all-time great figures in NFL history.
But the best tribute of the weekend?
Oakland figuring out how to just win in Houston
, in what was clearly an emotional game for everyone on the
Raiders
payroll.
"I know he's looking down on this team," Raiders coach Hue Jackson said Sunday. "And he's with us every step of the way."
As Clark Judge noted Sunday
, Oakland is indeed finding ways to "just win" and most of the season, they've looked better than their AFC-West counterparts the
Chargers
, despite sitting a game back in the standings of their division foes. They're still just 2-2 outside the division, but those two wins equal the number they had outside the AFC West in 2010.
If they can replicate their in-division success, 2011 could be a special year. And it probably won't hurt that Oakland has three-straight games at home starting in Week 6 -- you can bet that the Black Hole will be especially dark, which is exactly how Al Davis would have wanted it.
Real quickly, if anyone that's as "young" as I am (30; I'm using the term loosely) is confused by the heartfelt tributes to Al Davis over the weekend, take some time to read about his history in the AFL and NFL and watch some of the offerings the NFL Network is putting out there right now.
The stereotype that my generation takes from Davis is that he ran the Raiders into the ground with his obsession for speed and athleticism. This is because the Raiders last Super Bowl win was in 1983 and since they moved back to Oakland from Los Angeles in 1995, they've made the playoffs just three times.
Reality is that while some of those stereotypes do apply, Davis helped spark the rise of the NFL that we know today, he broke down serious barriers when it came to minority hiring in the NFL, and while he owned the team, the Raiders became the only franchise in NFL history to make a trip to the Super Bowl in four consecutive decades.
That's sustained success by any measure, and throughout it all, there really was only one constant: Al Davis.
4. Meanwhile, Across the Bay ...
The San Francisco
49ers
are 4-1 after
taking Tampa Bay to the woodshed 48-3
on Sunday afternoon in San Francisco.
Improbably,
Alex Smith
threw three touchdowns as San Fran's offense, with the help of a second-straight 125-yard rushing game from
Frank Gore
, carved up the
Buccaneers
defense.
Vernon Davis
found the end zone twice, and the 49ers used the all-around dominant performance to vault themselves to 4-1, as they maintained firm control over the NFC West.
What Jim Harbaugh is doing with San Francisco (
and this is the second week in a row I've written this
) is absolutely phenomenal, even if allowing a wide receiver to suffer a potentially serious ankle injury with four minutes left and up 41-3 deserves some flak.
Everyone felt confident believing that the Niners needed better coaching to really utilize their talent. That might be true.
But they're a miraculous comeback -- and just three points -- away from being undefeated, and it doesn't really matter who they've played against. Because, frankly, their schedule doesn't get
that
much tougher. Not counting NFC West games, San Francisco has games in Detroit, versus Cleveland, at Washington, versus the
Giants
, at Baltimore (Thanksgiving), and versus Pittsburgh.
No one's going to confuse them for the most dominant team in the NFL, even if their win Sunday looked that way, but even if they win the rest of their division matchups and lose the rest of their games (the latter's harder to fathom than the former, by the way) , they'd still end up with nine wins.
They're squarely in the driver's seat for a playoff game at home come January, Alex Smith's got the keys and everyone seems alright with this.
5. Paint it Blonde
I asked this like 12 times on Twitter Sunday, but no one could give me a good answer, so I'll ask again: How is that
Reggie Wayne
was the only person in the entire
Colts
organization that knew
Curtis Painter
was better than
Kerry Collins
?
Because Wayne knew
-- he knew so much
that he told us twice that
Painter could compete. Unfortunately for Wayne, the newest Manning brother (Curtis!) actually prefers
Pierre Garcon
when it comes to touchdown passes ...
Don't get me wrong --
even Jeff George would have found Garcon
on that play, so terrible was
Brandon Flowers
coverage. But it's pretty obvious at this point, even with Indy sitting at 0-5, that Painter gives them a better shot at winning than Collins, even if
they're now 0-5 after a 28-24 loss to Kansas City
.
So why did it take three games and a Collins concussion to figure that out? It's a great question and it probably involves someone(s) on the coaching staff or the front office not being as in-tune to the roster as Wayne is.
For
Chiefs
fans (read: my good friend and colleague who runs Eye on Basketball,
Matt Moore
): let's not get too frisky just yet. Your two wins are squeakers against teams that are a combined 1-9. But Todd Haley's seat is cooling at least.
6. Come on, It's All Ball Bearings These Days!
Actually, if you're the
Vikings
, it's simpler than anything Irwin M. Fletcher ever suggested: just give
Adrian Peterson
the ball.
Through four games -- all losses -- Peterson was "only" averaging 20.3 carries per game. This isn't to suggest Leslie Frazier should have run him into the ground as soon as he got the head coaching gig in Minny, but if you're leading by double digits at halftime, there's nothing wrong with a healthy dose of AP.
Frazier finally figured that out, and let Peterson loose against a suddenly hapless
Cardinals
team. Peterson ended the day with 29 carries for 122 rushing yards and three touchdowns; all the scores came in the first quarter, making AP just the fourth running back in the last 20 years to find the end zone three times in one quarter.
The obvious gameplan led to an obvious result:
Frazier's first win as a (non-interim) head coach
.
Now he's got a bigger problem to solve -- what to do with his quarterback situation.
Donovan McNabb
struggled again, completing just 10 of 21 passes for 169 yards against a Cardinals secondary that doesn't begin to qualify as "competent." The oft-maligned
QB was pelted with "We want Ponder!" chants
from the crowd at the Metrodome, and it's probably time for Frazier to perk his ears up and listen.
Could Ponder have produced the same stat line as McNabb? Absolutely. And he certainly could have handed the ball off 29 times, with the potential upside of actually letting Frazier find out if he's a legit franchise quarterback.
7. When the Circus Comes to Town
Victor Cruz
of the Giants now holds the (unofficial) NFL record for ridiculous, luck-based catches. Unfortunately for the Giants, he canceled out his big-top performance against Seattle with two absolutely back-breaking turnovers
that eventually cost New York the game
.
His final statline? Eight catches, 161 receiving yards, a touchdown, a rush for three yards, a terrible fumble and a tipped pass with just over a minute left that the
Seahawks
Brandon Browner
returned 94 yards for a game-clinching pick six.
The catches are nice and the acrobatic entertainment is fun to watch (see: below). But you absolutely can't miss a catch near the goalline that results in the ball being tipped up to a crowd of defenders and gets intercepted.
Eli Manning
and Co. could have won even if they probably shouldn't have, given that they were pretty much outplayed from the get-go. Instead, the Redskins are all alone atop the NFC East, which is exactly what
Rex Grossman
predicted, the Seahawks finally won a game on the East Coast and it's perfectly acceptable to go running for your bomb shelter
right now
.
8. Clock Mismanagement

Speaking of circuses, whoever spiked the collective Kool-Aid of NFL coaches with Andy Reid's Jamba Juice probably won a lot of money in their pick-em league this week -- the final two minutes of the early games featured a series of incredible gaffes, many of them game-changing.
The
Panthers
, for instance, lost by three. You think calling a timeout with two seconds left as the
Saints
scrambled to set up for a field goal, which they eventually made after the pause in action, helped New Orleans? Yes it did. The Saints won by three.
We chronicled the Eagles mistakes -- in each half, no less! -- above. This is nothing new to an Andy Reid-coached football team. But it's still inexcusable.
The Raiders probably appreciate the
Texans
going incomplete-incomplete-sack with three timeouts to close out the first half, instead of utilizing their clock-killers to get good field position and a shot at some points. The Raiders didn't score, and
Jacoby Jones
probably deserves some fault, but you can't give the ball back to the other team that quickly.
The Vikings and Giants also behaved in a manner unbefitting of quality teams near the end of the first half, and both Mike McCarthy and Hue Jackson made poor decisions to go for a two-point conversion at an inexplicably early time.
Just sloppy decisions all around. On the bright side,
maybe this Les-Miles-to-the-NFL thing could work out
after all!
9. Best Team's Best Win?
Perhaps the most impressive thing about the
Packers
march to the Super Bowl in 2010 was their resiliency amid tons of injury. Well, that and their ability to adapt when things weren't going their way. It's what great teams do, and it's what the Packers did once again on Sunday night, despite getting down early to a sharp-looking
Falcons
team and, most devastatingly their stalwart of a left tackle in
Chad Clifton
.
Bryan Bulaga
was already out on the right side, but it didn't matter -- Mike McCarthy and
Aaron Rodgers
adjusted their gameplan and spent the second half doing their best General Sherman impersonation, piling up a whopping 25 unanswered points on Atlanta's defense
en route to a convincing 25-14 win that puts the Packers at 5-0
for the first time since 1965.
"We just stayed patient," Rodgers said afterwards. "It was a tough game -- I took a lot of shots. I had to move around a lot. [The offensive line] did a great job. The rhythm wasn't there all the time, but we just stayed with it, stayed patient and knew the big plays were going to come."
Rodgers threw for 296 of his 396 passing yards after the half and completed passes to a franchise-record 12 receivers. That's even more impressive considering that the Packers seriously stalled after Clifton went out, as the Falcons were actually able to get some pressure on Rodgers.
It was a brief period in neutral, though, as Rodgers -- who's established himself as the best quarterback in the NFL at this point, and I hope you're alright with that -- and the Packers got rolling and ended up winning in near-blowout fashion.
If they continue to adjust when adversity hits as they have this season (and last),
Mike Freeman's note earlier this week about the Packers going undefeated
doesn't seem remotely far-fetched.
And as long as No. 12 is under center, neither does another Super Bowl.
10. The Old Don't Bury 'Em Yet Game
High-quality teams that are struggling, like the
Steelers
, always bust out this old chestnut, randomly ripping into an opponent and reminding us that they're not dead yet.
So we come not to bury the Steelers, but to praise them,
on the heels of a 38-17 beatdown
of the
Titans
on Sunday that happened despite a weakened Steelers offensive line, an aging Steelers defense, a surging Titans offense and a busted-up
Ben Roethlisberger
.
"I told ya, I was just faking it," Roethlisberger said. "I'm a wimp."
Ben, obviously, is the complete opposite of a "wimp," mainly because pain either a) doesn't effect him or b) makes him better. Or something -- the dude was limping like crazy in pre-game warm-ups, and I felt pretty good about my Steelers pick.
Then all 350 pounds of
Max Starks
managed to rejuvenate the Pittsburgh offensive line who bullied an underrated Tennessee front four, giving
Jonathan Dwyer
his first career 100-yard rushing game, only allowed Roethlisberger to get sacked once, and protected like a unit capable of helping a team get to the Super Bowl.
Oh yeah, the defense was OK too --
LaMarr Woodley
made it quite clear early on that Pittsburgh was going to have a statement game, recording an interception and 1.5 sacks, one of which was one of the most beasty sacks I've seen in a while -- Woodley fought off a blocker after briefly getting his hands on Titans quarterback
Matt Hasselbeck
, and just forcing his way to the takedown.
Pittsburgh's still tied with the
Bengals
(right?), but they're both just a half-game back of the
Ravens
now, and in case you thought the Steelers would just limp off into the sunset, you were clearly wrong.
Worth 1,000 Words
Muffed Punts
Leftovers from Sunday's action ...
... What the hell was
Matt Schaub
thinking on the final play of Raiders-Texans??? Just a horrible pass.
... When
Antonio Cromartie
picked off
Tom Brady
to end the half in the
Jets
-Patriots tilt, it was the first red-zone interception that Tom Brady has thrown at home. Ever. In his career. Say what you want about cherry-picking stats, but that's absolutely insane.
... Comebacks continue: the Chiefs stormed back from 17 points down, making it the seventh time an NFL team has done so this season, the most in NFL history.
...
Cam Newton
became the first player in NFL history with more than five passing and five rushing touchdowns in the first five games of his career Sunday. Yes, they lost. Whatever.
... Speaking of that Panthers game, what it's gonna take for the NFL to let an official eject someone? Because what
Roman Harper
did -- needlessly cheap-shotting
Steve Smith
after Smith made it to the end zone Sunday -- was about as close as it came, and nearly sparked a brawl. Not to wussify the sport further but how about we make a statement before we get Auburn Palace 2.0.
Jim Irsay Pop-Culture Referencing Tweet That's Sure to Drive Colts Fans Insane of the Week
"
Take a bottle,drink it down...pass it around
"
This is what you want the owner of your football team saying shortly before Curtis Painter gets second career start to try and get your team the first win of the season. Obviously.

GIF O' THE WEEK
Courtesy of the fine mustachioed fellas at SB Nation, Victor Cruz' insane circus catch.
Hot Seat Tracker
Jack Del Rio: He called his team's performance "crappy" and no amount of blame-shifting by Maurice Jones-Drew is going to save his gig at this point. Bye-week tracking engaged.
Tony Sparano: He's making it through the bye week and, hey, might make it the whole season, if only so Stephen Ross can chase Jon Gruden.
Jim Caldwell: The Colts are frisky right now, but they're sure not winning. If they land Andrew Luck, won't they want someone that can groom him?
Andy Reid: Welcome aboard, sir! Although he could just throw Juan Castillo over the side to cool his seat.
Tom Coughlin: Premature? Probably. But I'm just trying to get ahead of the inevitable surge from angry New Yorkers.
Ken Wisenhunt: What happens when you trade a bunch of stuff for a quarterback and then spend $63 million on said quarterback but still stink? I'm just asking questions.
Chasing Andrew Luck
Colts (-400) -- It occurred to me today ... if Andrew Luck is really patient and wants to enjoy life and learn things and go about things the smart way, wouldn't he
want
to end up sitting behind
Peyton Manning
for two or three years? He'd be like Aaron Rodgers on play-calling steroids after that time frame.
Dolphins
(-250) -- Presumably, Luck is part of Ross' package to Gruden.
Rams
(+150) -- One would think they'd trade the pick for a lot of wide receivers.
Jaguars
(+250) -- Another team with a franchise passer, huh?
Vikings (+300) -- Boy, it's a good thing they didn't rent McNabb for just one year ...
Broncos (+400) -- But, but ... Tebow!
Cardinals (+500) -- Wouldn't
this
be awkward? "Hey, Andy ... Do you do refunds?"
Panthers (+750) -- Also a very serious "trade the pick" candidate.
Eagles (+1000) -- Are their odds of getting Luck
better than their odds of making the Super Bowl
? So. Awkward.
MVP Watch
Last week, I pointed out that Aaron Rodgers easily eclipsed anyone else with his performance against the Broncos. (Stafford and Tom Brady got honorable mention and still do.) With stiffer competition on the road, Rodgers again stepped up in a big way. We're only five weeks into the season, so it's a touch silly to speculate on votes, but he'd win unanimously right now.