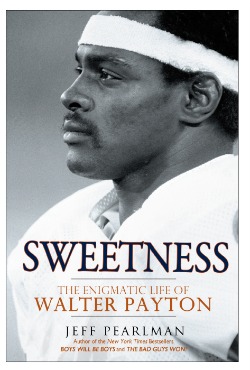 Posted by Josh Katzowitz
With the new biography on Walter Payton, written by Jeff Pearlman, still generating controversy, the
Chicago Tribune
went to Payton's son, Jarrett Payton, to talk about the newest NFL Network documentary on Payton.
And, of course, Pearlman's book, which reported that Payton abused pain-killers, talked of suicide and had extramarital affairs.
But Payton doesn't hold any ill will toward Pearlman.
"I don't hold grudges against anybody, and I'm speaking from my heart," Payton told the newspaper. "Everybody has a job, to write or do whatever they do to the best of their ability. We all have to feed our families. So I understand that. It's just hard for me to be 30 years old now and to have your life in a book or in the paper. Some of the stuff was true. Some of it wasn't.
"It's hard because someone passed away and is not here to defend himself. But my family and I have gotten so much stronger through everything. We have to really thank the
Bears
fans here in Chicago because we've gotten so much love."
During a recent chat with CBSSports.com, Pearlman talked about writing a book of this nature, knowing that some of the revelations would
upset the family.
"I always feel bad about it," Pearlman said. "I feel worse about it when the book is about to come out. It all feels really hypothetical when you're working on the book. It's always a year or two away from coming out. It feels so far away. When the book is about to come out, you realize that real people are about to be hurt. They're going to be sad, shocked, disillusioned. But your ultimate job is to write a definitive, all-encompassing biography about something. That's the whole person. It's not another ass-kiss to an athlete. Not a sports book but a life book. If it was about my dad, I'd be really hurt by that. But as a biogprapher, you're sensitive to those feelings. You'd be doing a huge disservice to the biographers.
"There are times in this process when you really question whether this is what you should be doing. It's certainly not my goal to damage people or make people feel horrible. I always ask this of my wife: "Am I doing something that can be justified?"
Even with the controversy that was generated by an excerpt that ran in
Sports Illustrated
, the Payton book has received plenty of positive reviews by people who have the entire tome. And it's good to know that Jarrett Payton feels OK about it.
For more NFL news, rumors and analysis, follow

@EyeOnNFL

on Twitter and subscribe to our
RSS Feed
.