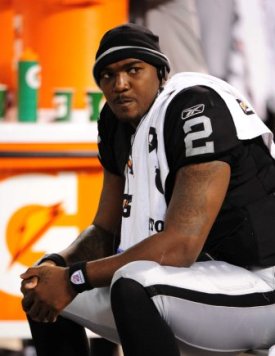 Posted by Josh Katzowitz
I saw an interesting tweet from @PScrags a few weeks ago, and it went like this: "FACT: Of the 10 quarterbacks drafted in the 2007 NFL Draft, not ONE is a current starting NFL quarterback."
That perked my ears, and I thought I'd check out that particular Draft and see what happened to that non-illustrious 10 (in doing my own painstaking research, I discovered there actually were 11 QBs taken that year). As of today, PScrags' statement isn't exactly true, though it could be soon, assuming
Michael Vick
retains his starting spot for the
Eagles
.
Carolina's
Matt Moore
, it should be noted, was an undrafted free agent that year, and now he's back to being a starter after
Jimmy Clausen
showed he's clearly not ready to play in the NFL. But Moore wasn't drafted anyway, so we're not including him.
1st Round
No. 1. JaMarcus Russell,
Raiders
: Well, we all know what happened to him, don't we? The only question now is this: how many of us were introduced to Purple Drank because of Russell? A fair number, I suppose. Therefore, a toast to Russell. A toast of Purple Drank.
No. 22.
Brady Quinn
,
Browns
: Remember how amazed we were by how far Quinn had fallen in the Draft and how long he had to sit in the green room? Remember how some people thought he could be a No. 1 overall pick? Jeez, how crazy are some mock drafters anyway? He's now, depending on the day, either the second- or third-string QB in Denver.
2nd round
No. 36.
Kevin Kolb
, Eagles: Well, he was the starter at the season's beginning. Before the concussion and before Michael Vick transformed himself into one of the NFL's elite quarterbacks. When Vick returns, he likely will knock Kolb into the backup spot. Unless Andy Reid changes his mind once again. And because Kolb has played well in Vick's absence, that's a possibility.
No. 40.
John Beck
,
Dolphins
: He was the third-string QB in Baltimore during the offseason, but that was before
Marc Bulger
came into the picture. He was traded to Washington where … he's the third-string QB.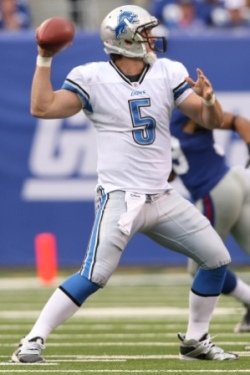 No. 43.
Drew Stanton
,
Lions
: I bet you didn't know this: Stanton threw a TD in his first-ever NFL attempt. Ultimately, that probably will be the highlight of his career. When
Matthew Stafford
returns to the field after the Week 7 bye, Stanton will fall back to No. 2 (until backup
Shaun Hill
recovers from his forearm injury).
3rd round
No. 92.
Trent Edwards
,
Bills
: The wound is still too fresh to delve into the details, but in one week, Edwards lost his starting job and then lost his backup job. Jacksonville has since claimed him off waivers. Let me repeat: the Bills – who might be the worst team in football – decided they couldn't use him. Edwards replaced
David Garrard
on Monday Night Football after Garrard sustained a concussion, and actually, Edwards didn't play badly.
4th round
No. 103.
Isaiah Stanback
,
Cowboys
: What can we say about Isaiah Stanback? Namely, he has five pass receptions in his pro career. He tore his Achilles in the preseason with Seattle, and he was released soon after. It's almost not fair to call him a QB, but that's what he did in college, so that's how we'll list him.
5th round
No. 151: Jeff Rowe,
Bengals
: He sat behind
Carson Palmer
and
Ryan Fitzpatrick
for a season. The next year, he lost his third-string job to
Jordan Palmer
. Ah, nepotism sucks, eh? Unless, of course, you're the recipient of that nepotism. Then, it's awesome.
No. 174.
Troy Smith
,
Ravens
: When Baltimore signed Bulger to back up
Joe Flacco
, that signaled the end of Smith's time with the Ravens. There's little doubt Smith has great athleticism, but he's proven he's not a starting QB in the NFL. He's currently the third-string QB in San Francisco.
6th round
No. 205. Jordan Palmer,
Redskins
: Jeff Rowe's worst nightmare. Actually, Palmer is one snap away from taking older brother Carson's job if the latter has to leave the game because of injury.

7th round
No. 217.
Tyler Thigpen
,
Vikings
: Thigpen actually has had a better career than many of the QBs on this list. Sure, he's the third-string QB in Miami, but he's started 11 NFL games (with an absurd record of 1-10) and he's thrown 19 TDs against 15 INTs.
For more NFL news, rumors and analysis, follow @cbssportsnfl on Twitter and subscribe to our RSS Feed .