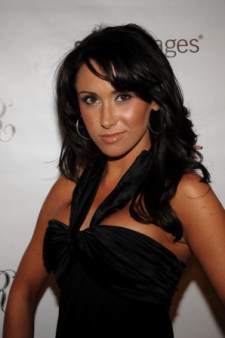 Posted by Josh Katzowitz
Blissfully, I didn't watch a minute of the final installment of the two-part
Good Morning America
interview with Jenn Sterger (come to think of it, I didn't watch part I either, though
you can catch the recap here)
.
But luckily for everybody,
USA Today's
Michael McCarthy watched today (and even more luckily, there is video on the website of some of her interview with ABC's George Stephanopolous), and he reports that Sterger still wants to break into the world of sportscasting.
"I knew what I was getting myself into working in sports. It's the boy club," said Sterger.
Asked about the NFL's investigation into the alleged sexting incident and the decision to fine Brett Favre $50,000, she didn't seem to have much interest in talking about it. "It's a league matter," she said.
And that's pretty much what she had to say. Riveting stuff (or, for most of the rest of the world, not so riveting stuff) from somebody who seems sort of desperate to remain in the public eye. Kind of like another person we know.
His name is Brett Favre.
For more NFL news, rumors and analysis, follow @cbssportsnfl on Twitter and subscribe to our RSS Feed .