Posted by Josh Katzowitz
Rookie quarterbacks
Ryan Mallett
and
Terrelle Pryor
are not so dissimilar. Both were third round draft picks -- Mallett last April and Pryor
in the supplemental draft
-- and both come to the NFL with character marks that have been branded on them by a lack of discipline.
Yahoo Sports'
Jason Cole compares the two and tries to explain why they will or will not succeed with the team that drafted them.
And while we've already discussed how these two players
will affect their teams
as rookies, Cole presents some interesting theories.
Yeah, it doesn't take a soothsayer to predict that Pryor might be in trouble now that the
Raiders
have their paws on him, but Cole writes that Pryor's biggest career problem is that nobody has had the audacity to tell him no. Not in high school and not former Ohio State coach Jim Tressel.
While Raiders coach Hue Jackson will try to make his mark on Pryor, it's also documented that Oakland owner Al Davis doesn't exactly back up his coaches when it comes to disciplining his players. Writes Cole: "Davis picked [JaMarcus] Russell, seeing him as the second-coming of [Jim] Plunkett from an athletic perspective. Davis then let Russell run wild over coaches Lane Kiffin and Tom Cable. Those coaches tried to discipline Russell from time to time, but Davis either waived the fines or didn't do anything until it was way too late."
And we all know where Russell is these days (well, actually we don't, which is kind of the point).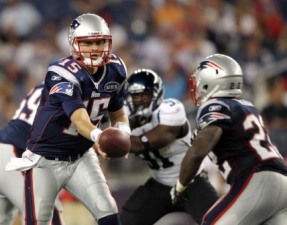 Patriots
coach Bill Belichick doesn't have a problem letting his players know the way he wants things done, which means Mallett will have to adjust. And Cole has another interesting tidbit about all the partying Mallett is
alleged to have done
before training camp began. Writes Cole: "Aside from the sordid tales of him from college, the latest story about him was the all-night partying he did at the NFL Players Association rookie symposium in Sarasota, Fla., in July, according to two sources."
Which probably isn't a good idea, especially if
the biggest predraft concern
by teams -- and probably the reason he slipped to the third round -- was because of his off-the-field behaviors.
You can't be stupid and play quarterback in the NFL, and right now, the jury is still out on how much sense Mallett has in his brain.
So, aside from what round they were drafted and the concerns about their character, you have to wonder how we'll be discussing Pryor and Mallett five years from now. Obviously, there's now way to tell, but if we're discussing which of the quarterbacks has a better chance to succeed on where he was drafted, you'd have to give the nod to Mallett at this point.
For more NFL news, rumors and analysis, follow

@EyeOnNFL

on Twitter and subscribe to our
RSS Feed
.