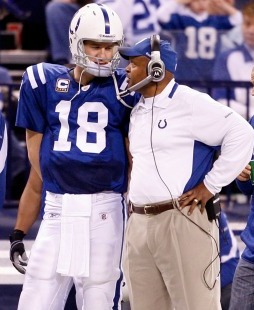 Posted by Josh Katzowitz
After the
Colts
released him, cornerback Justin Tryon touched off a mini-controversy when he insinuated that coach Jim Caldwell isn't the one who decides who will start and who won't.
Wrote Tryon on his
Twitter account
on Wednesday: "I thank the Colts die hard fans for the love they're showing me! I'M A STARTER yes.. Caldwell wanted to start me but it wasn't up to him!"
Obviously, there are all kinds of problems if what Tryon wrote is true. No. 1: if the players are well aware that Caldwell isn't the man in charge of gameday decisions, why would they treat him with any respect whatsoever? No. 2: it gives credence to the somewhat-joking assertion that
Peyton Manning
is the one who truly runs the team while Caldwell sits in the passenger seat and goes along for the ride.
Thus, Caldwell felt compelled Thursday to dispute Tryon's comment in front of the Indianapolis media.
"Well, probably without being boastful or seeming as if that I'm reacting to that particular statement, but I can just tell you that if I wanted him to start, he would have started," Caldwell said, via the
Indianapolis Star
. "If I wanted him to here, he'd still be here, plain and simple. I'm not going to carry on a back-and-forth, you know, because the young man did a good job for us while he was here and I hope he's able to land with someone else."
So, why would Tryon -- who started six games last season but had fallen down the depth chart this season -- write it, then?
"I cannot go into the minds of other individuals and tell you that. I know one thing, and I think some of you could probably attest to, I'm pretty direct and I usually don't have very many people that misunderstand me," Caldwell said.
While Caldwell thinks he has control of the team -- and I'm not saying he doesn't right now -- wait what happens if the team is 1-9 or 2-8 in two months. Then, we'll see how much pull Caldwell has in that organization.
For more NFL news, rumors and analysis, follow

@EyeOnNFL

on Twitter and subscribe to our
RSS Feed
.