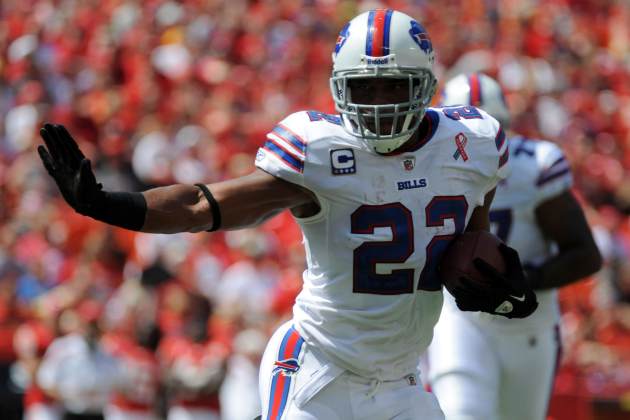 Posted by Josh Katzowitz
Fred Jackson
rushed for 1,000-plus yards in 2009, but he still had to convince
Bills
management that he was better than
Marshawn Lynch
and the newly-drafted
C.J. Spiller
last year. He eventually won the starting job, and this year, he's been one of the league's hottest running backs, ranking fourth in the league with 303 rushing yards (6.4 yards per attempt) and three touchdowns.
But a journey to NFL stardom was not easy for Jackson. He spent four years at Division III Coe College in Cedar Rapids, Iowa, and after graduation, he spent one season apiece in the National Indoor Football League, the United Indoor Football League and NFL Europe. A half-decade later, he's one of the major reasons the Bills are 3-0 and in first place by themselves in the AFC East.
We caught up with Jackson on Wednesday, and we talked about his journey through Division III football and the minor leagues, what the Bills learned from last season and how Jackson is bucking the stereotype of the 30-year-old running back who's got nothing left in the tank.
Previous Five Questions (or more):
Sept. 16
: Actor/former
Patriots
DB Brian White
1.CBSSports.com:
So, what the hell is going on in Buffalo?
Fred Jackson:
You know, everybody is just preparing, doing what we expected. We had a lot of confidence coming back from the offseason. We had confidence in what we were capable of doing, because we were in a lot of close games last year, a lot of overtime games. We felt like should have won more games than we did.
CBS
: But how do you have confidence when you weren't winning those games? Isn't there a difference between the confidence of knowing you have won games and the confidence of thinking you
should
have won games?
Jackson:
We felt like we gave away games. We let some chances slip away from us. We knew we weren't going to let that happen again this year. We were preparing to go out and finish those games.
CBS:
But if you've never won those games, how do you know how to do it?
Jackson:
It's through experience. Being able to make catches when you need to, make the blocks when you need to, being in the right spots. This is (
Ryan Fitzpatrick
's) second year in this offense, and now he's getting comfortable getting people in the right spots. As long as we have him standing on his feet, we can pick defenses apart. The offensive line are in their second year in this system, and they know where they're supposed to be.
2. CBS:
Beating the Patriots last week, that's a huge statement. I think a lot of people -- myself included -- thought the Bills were a nice 2-0 story but would get smashed by New England. But with that win, how big of a hump was that for the Bills to get over?
Jackson:
It's definitely a big hump when you have to beat them to win this division. But it is just our third win of the season. We still have a lot of work to do. We've been down early to two good teams, and we can't continue to play like that. There's a lot of learning we can take from the last few weeks. But it's definitely a big win, because it puts us one up on them in the division and it puts them own down to us.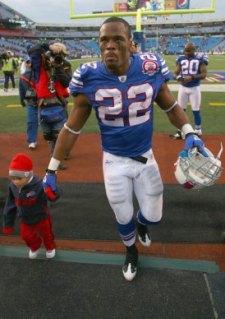 3. CBS:
Your path to the NFL wasn't exactly orthodox. I think if you mentioned Coe College to most people, they wouldn't have a clue as to what you were talking about. How did you end up there?
Jackson:
It was one of those things where my middle school coach, Wayne Phillips, used to be the head coach at Coe College. I had a great relationship with him, and he told me about it. I was a little guy coming out of high school. It was one of three opportunities I had, all Division III schools. I have a twin brother named Patrick, who started as a receiver and then became a DB, and it was a dream for us to play college ball together. Coe was that opportunity. And coach (Marv) Levy was an alum and I got to meet him and build that bridge. When he got a chance to come back and be the GM in Buffalo, he gave me a workout. I was fortunate enough to come in and take advantage of that. But yeah, there were not a lot of scouts hanging out at Coe.
CBS:
You weren't on the NFL's radar screen after Coe, so you went to a couple of indoor leagues and NFL Europe. How did you finally attract Buffalo's attention?
Jackson:
I was fortunate to do three workouts when I came out of college for the
Bears
, the
Broncos
and the
Packers
. The guy with the Packers came out and told me, "We think you can play football, but we're not willing to stick out our neck for a guy from a DIII school." He told me to continue to get film and to keep playing in these smaller leagues. That's what I did. After hearing they thought I did have the talent, that lit that fuse. The two years I played in the indoor leagues, I kept in touch with coach Levy. He kept saying if he could give me a chance, he would.
CBS:
Oh, so even though you were out of school, Levy still gave you that positive reinforcement?
Jackson:
My middle school coach and coach Levy are really good friends. Every month I would hear from coach Levy. I thought as long there was a chance, I would keep working.
4. CBS:
So, you were with the Bills for a while, and then last year, it seemed like you finally … I don't want to say "secured" your spot … were in a good spot with the team after Marshawn Lynch went to Seattle and you beat C.J. Spiller out for the starting job. Did you feel that?
Jackson:
It was one of those things where I really didn't know. We did draft C.J. last year. I knew I had to keep working and keep working, even at the beginning of the year when I had my hand broken. I had to keep plugging away at it. I was accustomed to working and seeing how things work out afterward. But C.J. still wants to play, and he still wants to start. That's what we're here for. I expect nothing less of him.
5. CBS:
So, the saying goes that when a running back hits 30 years old, there's a huge decline in skills. You're 30 now, but you obviously haven't hit that decline. How have you avoided that?
Jackson:
It's one of those things I pride myself on. I don't feel there's any deterioration at all. I feel like I'm just getting better. I'm finally getting that opportunity where I can showcase what I can do. This is one of the first times I've been where I've been the starting guy. I feel fine. I feel great. I feel like I could play for another seven or eight years. I'm not some 30-year-old back on the downside.
CBS:
I'm not asking you to comment on a guy like Larry Johnson, but he's an example of what can happen when you hit 30 years old. He's pretty much done and now on the tryout circuit. Do you think not taking that NFL pounding when you were 24 or 25 years old is the reason you don't feel old at 30?
Jackson:
I think that has a lot to do that. I didn't get 300 carries my first three years in the game. I'm getting fresh in it. I'm where a 26- or 27-year-old back usually is.
For more NFL news, rumors and analysis, follow

@EyeOnNFL

on Twitter and subscribe to our
RSS Feed
.