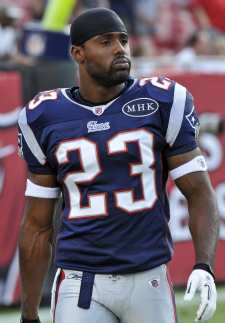 Posted by Josh Katzowitz
When the
Patriots
released cornerback Leigh Bodden late last month,
there was speculation
that Bodden either had gotten very old very quickly or that he was simply going through the motions despite his four-year, $22 million contract.
The truth of the matter, though, is much more painful.
Bodden, in a hospital bed in North Carolina, told the
Boston Herald
that he had severe back problems after Week 1 and there were times he could barely run because of the pain.
"People may have thought I was angry, but I never was," Bodden told the newspaper. "I just knew sometimes I would feel healthy, sometimes I wouldn't. … (After an MRI), it didn't really show much. I went on, and it got progressively worse.
"I had told them my back was hurting. One time, a receiver caught a ball on me, and I could barely run. They're screaming at me, and it probably looked like I didn't care. But that's never the case with me."
After New England waived him, Bodden actually had a chance to sign with the
Chiefs
, but because he has so much respect for Kansas City defensive coordinator Romeo Crennel, Bodden told the team about his physical maladies, including his back pain and a weakened right leg.
"Then I got home and noticed one leg was smaller than the other," Bodden said. "The muscle had atrophied. They measured my leg, and I had lost three inches."
That's when Bodden underwent back surgery to fix the herniated disc that was causing so many of his problems.
The issue with New England is that an MRI didn't show anything wrong with Bodden even though he was in pain. Bodden knew something was wrong, but neither he nor the Patriots knew the extent of the injury. Now that he does and has taken corrective measures to fix the problem, he's looking forward to the rest of his career.
"I don't want my career to end like this, and it won't," Bodden said. "I know my ability. This surgery is really nothing, they removed the disc, and it'll just let the leg be normal. I still feel like I'm a damn good player at this point in my career, age or not."
For more NFL news, rumors and analysis, follow

@EyeOnNFL

on Twitter and subscribe to our
RSS Feed
.