Posted by Will Brinson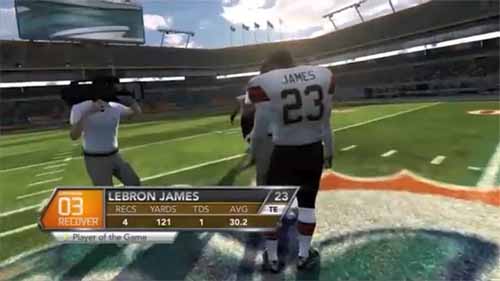 In these desperate NBA times, we've seen a superstar
like LeBron James discuss jumping to the NFL
. While the league wouldn't comment on it when we asked them, and while it's unlikely that 'Bron actually ever makes that jump (for any number of reasons, really),
Pete Carroll is courting him to Seattle pretty, pretty hard
these days.
And it got me wondering what exactly LeBron would look like in the NFL. So, in an attempt to
really make Mrs. Brinson think I'm a dork
find out, I fired up Madden 12, created a LeBron James character for the Cleveland
Browns
and played a game. No, seriously: there's video proof below.
But first, a couple pieces of information that are helpful. One, I edited the video. Duh. (You don't want to watch me playing Madden for 20 minutes, even with LeBron.) Two, I put him on Cleveland because I wanted to deal with an average quarterback. And also, Cleveland deserves
something
. Three, I started out on "Pro" level, but cranked it up to "All-Madden" after the first series. Four, LeBron rates out, based on the characteristics I gave him (see below), to an 83 as a tight end, a 71 as a wide receiver and a 74 as a fullback. Five, he would be a LOT higher, except his route running is shoddy as is his pass- and run-blocking footwork.
Six, he is a beast.
OK, so you probably want to know how we got here. Well, for starters, I brought in Eye on Basketball's
Matt Moore
to persuade me that LeBron's better than I believed on the football field. That bought the king a pile of points, as Moore's substantially more in love with his ability to transition to the NFL than I am.
The result of inputting the various particulars made LeBron the 10th best tight end in the NFL. Which is pretty ridiculous considering he has no practice on anything.
Here are the full characteristics I plugged in, and I'm totally willing to concede that some stuff is off; if you've got beef with a rating leave it in the comments or
holler at me on Twitter @WillBrinson
. Trucking, for instance, could be higher. And catching could be lower. (See Moore's influence above.)
Strength: 90
Agility: 88
Speed: 91
Acceleration: 93
Awareness: 65
Catching: 90
Carrying: 70
Pass blocking: 50
Run blocking: 50
Jumping; 99
Trucking: 77
Elusiveness: 85
Stiff arm: 79
Spin move: 85
Juke move: 90
Impact blocking: 65
Run block strength: 85
Run block footwork: 50
Pass block strength: 85
Pass block footwork: 50
Spectacular Catch: 90
Catch in Traffic: 85
Route Running: 55
Release: 55
Injury: 85
Stamina: 90
Toughness: 65
Ed. Note: Here's the YouTube for anyone having trouble with the vid above.
For more NFL news, rumors and analysis, follow

@EyeOnNFL

on Twitter, subscribe to our NFL newsletter, and while you're add it, add our
RSS Feed
.