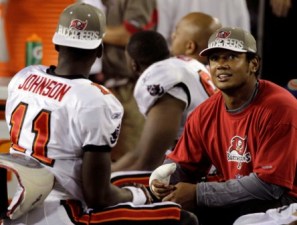 Posted by Josh Katzowitz
The
Buccaneers
seem confident that QB
Josh Freeman
– who broke the tip of his thumb on his throwing hand Saturday – will return for the team's season opener. He'll just have to play in a little bit of pain.
Until then, though, GM Mark Domenik, filling in for the absent Raheem Morris at the team's news conference, told reporters he would like to sign another quarterback in the meantime.
As the
St. Petersburg Times
writes, that quarterback could be undrafted rookie free agent Jevan Snead – who was released by Tampa Bay at the end of last month.
"It is a broken bone in his thumb, so he's just got to let that actually fuse back together," Domenik said. "But it's a lot about the swelling, it's about being able to grasp the football, to hold onto it and be accurate with the ball. But this week, he's going to be extremely limited to almost doing nothing, just to give him a chance to really get his body healthy and move forward from there.
"Injuries are part of it and you deal with that in every aspect of the game. I think every sport handles injuries the same way. It's just part of the nature of the beast. You just continue to prepare the guys behind them and I think our coaching staff has done a very good job with our two young quarterbacks in
Josh Johnson
and
Rudy Carpenter
. I think they both played their best game this last week, so you just have to prepare the guys behind them to step up if that were to happen. But certainly, we're looking forward to Josh being out there against the Cleveland
Browns
.''
As
we pointed out here
, having to play Johnson or Carpenter during the regular season wouldn't be the ideal situation, considering Johnson is 0-4 as a starter and Carpenter has never played in an NFL game.
For more NFL news, rumors and analysis, follow @cbssportsnfl on Twitter and subscribe to our RSS Feed .