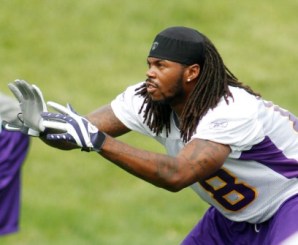 Posted by Josh Katzowitz
Vikings
WR
Sidney Rice
had hip surgery on Monday that could sideline him for the first half of this season. This comes courtesy of the
Minneapolis Star-Tribune
– staff writer Judd Zulgad confirmed on the radio this morning that Rice actually underwent the surgery – and I have a few thoughts about this issue.
1)
It's been a bad two weeks for the Minnesota receivers.
Percy Harvin
has been suffering from debilitating migraine headaches and now the Rice news. What was once considered one of the top WR corps in the NFL has been reduced to one legit starting receiver in
Bernard Berrian
.
Joe Webb
, who probably could play WR, is still at QB, and that leaves
Greg Lewis
(eight catches in 13 games last year),
Taye Biddle
(who was playing in the UFL last season),
Marko Mitchell
(four catches in 10 games last year) and a few other guys whose names you haven't heard. Oh, and Javon Walker, who still hasn't signed officially but
actually might have a chance to make the roster
.

2)
Why did Rice have the surgery now? As opposed to way earlier in the offseason?
He had a standout season last year, catching 83 passes for 1,312 yards and eight touchdowns, and he was a force in the playoffs. But he injured his hip in the NFC championship game, and according to the paper, he saw three hip specialists in the offseason, two of whom recommended surgery.
Rice declined to do so. Why? And how pissed is Minnesota right now?
3)
Brett Favre
might have to be a miracle worker this season to get the Vikings back to the NFC championship game.
UPDATE (12:24 p.m.):
The Vikings have
officially signed Walker
.
Related Content:
Will Brinson and Andy Benoit discuss Rice's injury and how it impacts the Vikings in Tuesday's CBSSports.com Football Podcast.
If you can't view the podcast,
click here to download
.
Or, make it easy on yourself and
Subscribe via iTunes .