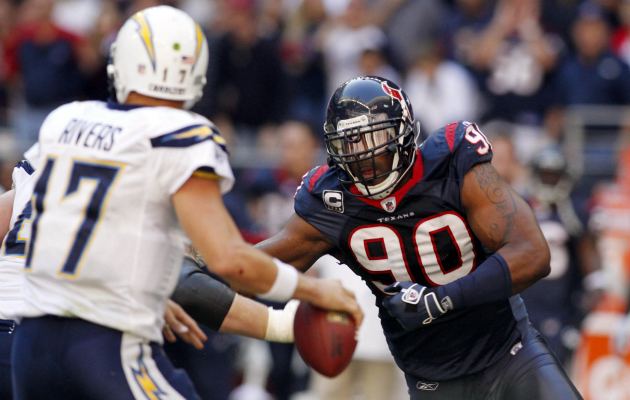 It sounds like Houston isn't remotely interested in letting Williams test free agency. (US Presswire)
By Josh KatzowitzLeading up to the start of free agency on March 13, we're compiling the best 2012 NFL free agents by position. These are the defensive ends.
Most of the categories in our 2012 free agent rankings are fairly straightforward. Running backs
are running backs
. Tight ends
are tight ends
. Quarterbacks
are quarterbacks
. But when it comes to the defensive line, the category gets a little blurry.
Some defensive ends also play defensive tackle. Defensive ends in a 3-4 scheme oftentimes line up as an outside linebacker. That makes ranking them in a single list a bit more complicated. Though some of the following players won't always line up as a defensive end, the idea that each of these players will be asked to rush the passer remains the same. So, we list them as defensive ends.
Breakdown:
Williams quickly caught on to Wade Phillips' 3-4 scheme where he played as more of an end/linebacker hybrid and recorded five sacks in the only five games in which he participated last year. Williams likely will return to terrorizing tackles and quarterbacks on nearly every snap if he leaves Houston and signs with a team that uses the 4-3. True, Williams is coming off a pectoral muscle injury that sent him to the IR list, but he says he's healthy and the former No. 1 overall pick is going to be expensive. That said,
Texans
general manager Rick Smith continues to say that re-signing Williams is one of the teams' top offseason priorities, though there's a real question whether Houston has the cap room to do so. Even though Williams has failed to reach double-digits in sacks for the past three years, he still could win the richest defensive player contract of all time if he leaves Houston.
Possible Landing Spots:
Texans,
Jaguars
,
Seahawks
,
Titans
Avril made a name for himself in 2011. (Getty Images)
Breakdown:
Although he's not as well-known as teammates
Ndamukong Suh
or (probably)
Nick Fairley
, Avril emerged as one of the nastiest ends in the league this year. His 11 sacks were a career high, and he even managed his first career interception. The problem on Avril's end is that there's almost no chance Detroit will let him get anywhere near free agency. The
Lions
and Avril are working on a long-term deal. General manager Martin Mayhew said that while he doesn't want to franchise-tag Avril, he's also not willing to lose him. If that occurs, Avril -- who has hinted at holding out -- will have to decide if he wants to be on time for training camp.
Possible Landing Spots:
Lions
Breakdowns:
The past three seasons, Campbell has been consistent, and he has consistently improved, increasing his tackle totals every season and notching a career-high eight sacks in 2011 for the
Cardinals
. But like Avril, he's got very little chance to test himself on the free agent market, because it sounds like if Arizona can't come to terms on a long-term contract, the Cardinals will tag him. But unlike Avril, Campbell said he's OK with that scenario. Besides, if he is tagged and makes close to $11 million for 2012
and
puts forth another career-best performance, he'll have the chance to set himself up with a huge contract.
Possible Landing Spots:
Cardinals
Breakdown:
Since he's spent his entire nine-year career in Indianapolis, it's hard to imagine Mathis in a non-Colts uniform -- almost as tough, I suppose, as imagining
Peyton Manning
in something other than blue and white. The potential problem, though, is new coach Chuck Pagano seems intent on installing the 3-4 scheme, and that will be a transition for somebody who's always been a 4-3 end (it's worth noting that
CBSSports.com's
Pete Prisco doesn't seem concerned with the
Colts
turning Mathis into a pass-rushing linebacker). The Colts have said they want to keep Mathis in Indianapolis, but
Dwight Freeney
will cost $19 million against the salary cap. Another possibility for Mathis is the Colts placing the franchise tag on him, but considering Mathis is 31, the delaying of a long-term contract isn't necessarily a great option for him.
Possible Landing Spots:
Titans,
Falcons
, Colts
Abraham believes he's worth $12 million a year, even though he'll turn 34 before next season. (US Presswire)
Breakdown:
Although Abraham will turn 34 before the start of the 2012 season, he still should draw plenty of interest throughout the league, simply because he continues to be one of the elite ends around. He's durable, playing at least 15 games per season in the last five years, and he continues to churn out double-digit sack totals on a near-annual basis (his 9.5 sacks in 2011 just missed the cutoff). Can he command a long-term contract? Probably not, because of his age. Is he still a top-10 defensive end? Probably, yes. But is he worth $12 million? According to Abraham, the answer is: absolutely. "Check out the five top ends," Abraham told the
Atlanta Journal Constitution
. "Everybody is getting 12-plus. I made $8 million last year. Everybody is saying, 'Oh, he's so greedy.' How am I greedy when I'm just trying to get paid the same thing they are getting paid?" The chances of Abraham getting $12 million? Slim to none.
Possible Landing Spots:
Giants
,
Buccaneers
,
Patriots
Breakdown:
He had a rough year in 2009 in his only season with the Lions, but since moving to Baltimore and playing with the
Ravens
for the past two seasons, Redding has returned to being a solid end who can stop the run and who occasionally can muster a sack (he's got 7.5 combined in the past two seasons). But Redding will turn 32 next season, and he had injuries at the end of last year that slowed him a bit (even though it was one of the best seasons of his career). He's probably not a great long-term value for most teams in the league, but the Ravens are a fan of him, particularly since he took on a leadership role when linebacker
Ray Lewis
missed four games. Redding just seems to fit in well with Baltimore's defense. But remember, Pagano lurks to the west in Indianapolis.
Possible Landing Spots:
Colts, Ravens
Breakdown:
Mincey certainly picked the best time to have a career year. In his contract year, he recorded 57 tackles, eight sacks and an interception. Considering he didn't
combine
for those numbers during the first five seasons of his career, that should tell you about Mincey's mindset entering 2011. Or, it should tell you that last season was simply an anomaly (or, I suppose, you could say that it just took Mincey a long time to develop). Either way, Mincey is looking to get paid -- he's on record saying he won't give Jacksonville a hometown discount -- and though it appears the Jaguars would like to keep him, they'll have to figure out where he fits in with the team's finances (it should be noted that Jacksonville has plenty of room under the salary cap).
Possible Landing Spots:
Jaguars,
Bills
Breakdown:
He obviously doesn't get the love that's reserved for teammate
Julius Peppers
, but Idonije notched a career-high 52 tackles last season (along with five sacks). Even better for Chicago, Idonije seems intent on returning to the
Bears
. "I want to be here," Idonije said
earlier this month
. "I have an incredible relationship with the coaching staff, and I understand the system. So my No. 1 focus is to stay." He even intimated he would give Chicago a hometown discount. He probably won't command an expensive long-term deal, and he'll probably be worth it for the Bears.
Possible Landing Spots:
Bears
Breakdown:
Anderson is a strange case, because as
ESPN Boston
pointed out, he only played 47.6 percent of the Patriots snaps last year. Yet, he still managed 10 sacks. Also, he played all but one snap in the team's final two games after
Andre Carter
suffered a quad injury. Carter also is an unrestricted free agent, but reportedly, Anderson is a better bet to be re-signed by New England.
Possible Landing Spot:
Patriots,
Dolphins
10. Honorable Mentions
Unrestricted:
Kendall Langford
,
Raheem Brock
,
Red Bryant
, Andre Carter
Restricted:
Phillip Merling
,
Michael Bennett
For more NFL news, rumors and analysis, follow

@EyeOnNFL

on Twitter, Like Us on Facebook, subscribe to our NFL newsletter, and while you're add it, add our
RSS Feed
.