Posted by Andy Benoit

Everybody everywhere is always ranking quarterbacks, running backs and wide receivers. And, earlier this week, the Sporting News ranked all 32 head coaches. So why not rank owners?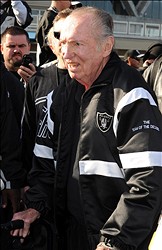 Yahoo! Sports' Michael Silver – one of the best football writers in America – published Part 1 of his annual NFL owners rankings. Silver offers extensive analysis on each owner. It's absolutely worth reading the entire article. Here are some of the highlights:

--Silver ranks Al Davis No. 32 and absolutely rips the Raiders organization. You may recall that Silver was the one who first reported the Tom Cable-Randy Hanson incident, and that the Raiders denied Silver a press pass to a game later that year. (We're not implying that Silver has an axe to grind – we're pointing out that the Raiders will hate him even more after this.)
--An anonymous NFC owner gave Silver a golden quote on Bengals owner Mike Brown (whom Silver ranks 31st): "He doesn't have a conscience. He's all about revenue-sharing – he comes right out and says, 'I just want some of your money.' He's worn out his welcome with 99 percent of that room. He came out and said that new stadiums are the worst thing to happen to the NFL because they raised the bar for other clubs. Unbelievable."

--On Dolphins owner Stephen Ross (ranked 25th), Silver writes, "After I broke the news in April that Miami general manager Jeff Ireland had asked Dez Bryant in a pre-draft interview if the receiver's mother was a prostitute – a great day for the Dolphins' brand – I thought Ross might finally overcome his fear of executive vice president Bill Parcells' shadow and assert his authority. But Ross, from what I can tell, did little more than throw out hollow rhetoric, which is one of his specialties."

--On Falcons owner Arthur Blank (ranked 20th): "In owner circles Blank is regarded as a man with a huge sense of self – and in a room full of rich folks, that's saying something."

Silver only published the first part of his rankings (teams 32-18). We'll provide the final rundown here, but it's highly recommended that you read the entire article (Silver's blunt analysis is fantastic).
32. Oakland Raiders – Al Davis
31. Cincinnati Bengals – Mike Brown
30. Detroit Lions – William Clay Ford (Bill Ford Jr.)
29. Cleveland Browns – Randy Lerner
28. Chicago Bears – Virginia McCaskey (George McCaskey/Michael McCaskey)
27. Arizona Cardinals – Bill Bidwill (Michael Bidwill)
26. Buffalo Bills – Ralph Wilson
25. Miami Dolphins – Stephen Ross
24. Tennessee Titans – Bud Adams
23. Jacksonville Jaguars – Wayne Weaver
22. New Orleans Saints – Tom Benson (Rita LeBlanc Benson)
21. Seattle Seahawks – Paul Allen
20. Atlanta Falcons – Arthur Blank
19. Tampa Bay Buccaneers – Bryan, Joel and Ed Glazer
18. St. Louis Rams – Stan Kroenke
17. Denver Broncos – Pat Bowlen

For more NFL news, rumors and analysis, follow @cbssportsnfl on Twitter and subscribe to our RSS Feed .