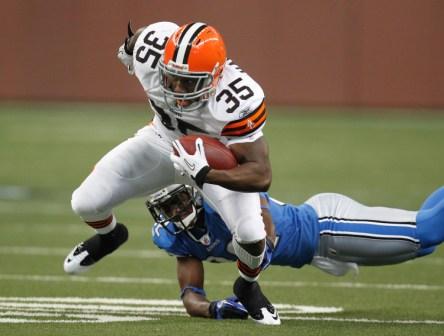 Posted by Josh Katzowitz
Now that former
Browns
RB
Jerome Harrison
has been traded to Philadelphia for RB
Mike Bell
–
as detailed here
– he can speak the truth about his wonderment of why Cleveland coach Eric Mangini didn't play him.
Will Brinson has theorized all along that Harrison was
holding Mangini's family hostage in his basement,
but apparently, that's not the case, because Harrison couldn't figure it out either. After all, Harrison rushed for 561 yards in the final three games of last season – three Browns wins, mind you – and might have saved Mangini's job in the process.
In a phone conversation he had with the
Cleveland Plain Dealer's
Mary Kay Cabot, Harrison said he wasn't sure what the deal was.
"I didn't understand one part of how it happened," Harrison said. "I didn't get into any fights with anybody and I didn't think there were any bad feelings toward me by any of the coaches or anything."
After the end of last season, the Browns drafted
Montario Hardesty
– who ended up tearing his ACL – and trading for
Peyton Hillis
. Once Hardesty went down, the starting job went to Hillis instead of Harrison.
"It was mind-boggling," said Harrison. "But it's the nature of the business. I didn't understand it. I'm not an angry person, so I'm not upset. But I was a little frustrated.
"I don't think I was what they wanted. People have different likes and dislikes. I don't think I was in their current plans or their future plans."
While Harrison didn't make any overtly-obvious disparaging remarks about the team this season – though you didn't have to be a mind-reader to figure out he was unhappy – it sounds like the organization wasn't happy with what Harrison was saying either.
From the Plain Dealer:
Harrison, in the last year of his contract, did get 16 carries the following week against Kansas City, but lost a fumble. The Browns thought he was down, but Mangini stressed that it shouldn't have been on the ground in the first place. The next week, Harrison was inactive with a thigh injury in Baltimore while Hillis rushed for 144 yards.

A few days later, when Harrison was asked if his role might change, he said, "I didn't know what my role was in the first place." Asked about his carries, he said, "What carries?"

The comments didn't sit well with the Browns, but Harrison said he never heard directly of any displeasure. Instead, Mangini said publicly that if Harrison had a problem, his door was always open. Harrison never took him up on it.

The following game against Cincinnati, the Browns got their point across: Harrison stood on the sidelines the whole game, trotting out only for the final three plays in the victory formation.
After all that, though, Harrison leaves the team with positive thoughts. Perhaps it's because he's going to an NFC East contender where he'll have a chance to contribute while leaving a Browns squad that will have to fight hard not to finish in the AFC North basement.
For more NFL news, rumors and analysis, follow @cbssportsnfl on Twitter and subscribe to our RSS Feed .