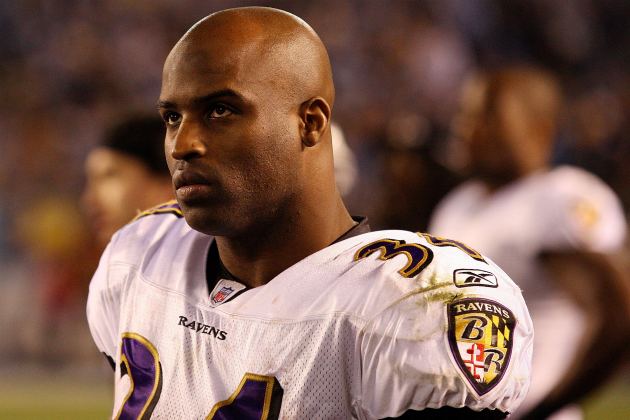 R. Williams will retire with more than 10,000 rushing yards. (US Presswire)
By Josh Katzowitz
According to numerous reports,
Ravens
running back
Ricky Williams
has informed the club that he will retire, and if he keeps that promise, it will end one of the most successfully interesting (or interestingly successful) careers in many years.
He rushed for 10,009 career yards (the 26th best total of all time) and 66 touchdowns (third-most among active players), and at one point early in his career, he was the greatest workhorse in the league, recording 313 carries for the
Saints
in 2001, 383 for the
Dolphins
in 2002 and 392 for Miami in 2003.
He only gained one more 1,000-yard season after that three-year stretch*, recording 1,121 yards in 2009 for the Dolphins.
Unfortunately for Williams and the Saints -- who traded their entire 1999 draft to the
Redskins
(plus a first- and third-rounder in 2000) for the right to draft him at the No. 5 spot in 1999 -- he was never a player who could turn around a franchise.
*Proving he could take a pounding and continue to perform at an NFL standard, there are only three other players who are currently active (Donovan McNabb, Champ Bailey and Antoine Wingfield) from the first round of the 1999 NFL draft class and only four from the second round.
Wrote Williams on his
Twitter account
: "Thank you all, but this ain't it, I'm gonna do something really special. "Be you and change the world."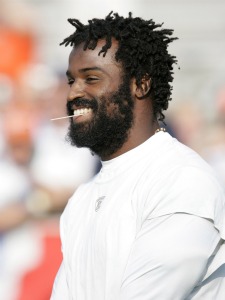 Ricky Williams in 2005. (US Presswire)
Williams entered the league surrounded by controversy after Mike Ditka orchestrated the trade that got Williams to New Orleans. It was the largest trade since Ollie Matson was sent from the St. Louis
Cardinals
to the Los Angeles
Rams
in 1959 (a trade that was made by future NFL commissioner Pete Rozelle and eventually got legendary coach Sid Gillman fired), and it backfired for the Saints, setting back the franchise a number of years -- Ditka went 15-33 during his three years with the team.
"I don't care if it was for the second coming of Walter Payton, there was no way the deal could work out, " NFL analyst Chris Landry told the
New Orleans Times Picayune
in 2009. "And the fact that Ricky was a disappointment, a non-productive player for them, made it one of the worst trades of all time."
While he was introverted and, well, just kind of weird -- anybody remember that
Sports Illustrated
cover with Ditka in a tuxedo and Williams in a wedding gown? -- he had a resurgence when he went to the Dolphins in 2002, gaining a combined 3,225 yards in 2002 and 2003.
But he got in trouble with the league for drug usage and retired in 2004 before unretiring, and from 2005-08, he only played 13 games. Last season, he went to Baltimore to be the No. 2 back behind
Ray Rice
, and he accumulated 444 yards and two touchdowns. After the year, in fact, he spoke about returning next season.
"My body feels good and I know I'm going to train hard and so I'm excited about next year," Williams told the team's
website
. "I've grown a lot, kind of falling into a new role and a new city and a new organization, and I've gotten better. And like everyone else, I feel like I have something to build on for next year."
Here's the statement released by Williams:
"The NFL has been an amazing page in this chapter of my life," Williams said. "I pray that all successive adventures offer me the same potential for growth, success and most importantly, fun. I want to thank all my fans, teammates, coaches and supporters for the strength they've given me to overcome so much. I want to especially thank my family, coach Mack Brown, coach [Mike] Ditka, coach [Bill] Parcells, Ronnie Brown, Wilbert Montgomery and the Jamail Family for believing in me. As for what's next, I am excited about all the opportunities ahead -- continuing my education, running The Ricky Williams Foundation and whatever other opportunities present themselves.

"My football career has been filled with many great memories going back to pee wee football with coach Tom Miller, [San Diego's] Patrick Henry High School and coach Jerry Varner and on to the University of Texas. It has been a big part of my life and blessed me with so many wonderful opportunities and the chance to connect with many people who have helped me grow and mature. I will miss the game, the camaraderie, my teammates and especially the emotions of a big victory. I love the game and leave it feeling fulfilled, proud, in great health and excited about the future."

I have to thank coach [John] Harbaugh and the Ravens organization for the opportunity they gave me this year. I had so much fun and really appreciated the chance to finish on such a great note."
And here's what Ray Rice had to say.
"I was a big fan of Ricky before we were teammates, but being around him this year is the best thing that happened to me in my NFL career. As a young player, you need to be around a guy who knows what he is doing, and Ricky was tremendous to learn from. The way he took care of his body and the way he prepared, he always showed that he is a true professional. This past season with him is a year I will never forget. I had the best year with him beside me, and that was no accident. I believe that Ricky Williams is a Hall of Famer. All that he has done in his career, he deserves that. I was honored to share the field with him when he went over 10,000 yards. What an amazing accomplishment, as he is one of the best. I will miss him, but I wish him and his family well."
As Williams' career advanced, he's changed his identity. He used to be an aloof character who would conduct interviews while wearing his football helmet, but he's morphed into a spiritual voice on Twitter.
This isn't the first time Williams has retired, but it seems much more likely to stick considering that he'll turn 35 in May and he's playing a backup role in Baltimore. And if so, good luck to one of the more fascinating characters in the league. I'm sure we'll miss him more than he misses the game.
For more NFL news, rumors and analysis, follow

@EyeOnNFL

on Twitter, Like Us on Facebook, subscribe to our NFL newsletter, and while you're add it, add our
RSS Feed
.