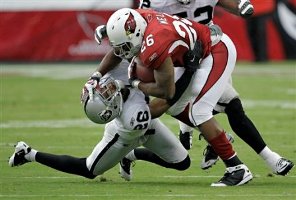 Posted by Josh Katzowitz
-Although coach Ken Whisenhunt completely misled everybody not in the Arizona
Cardinals
locker room regarding the health of running back
Beanie Wells
' knee – he said it was a bone bruise when, in actuality, Wells had knee surgery to repair a torn meniscus – Whisenhunt said he
didn't use the weekly injury report to his advantage.
In the first two games Wells missed, he was listed as questionable.
-At least one
49ers
player was excited by the ascension of
Mike Johnson
to the offensive coordinator position to replace the fired Jimmy Raye. And
by excited I mean pumped.
That'd be tight end
Vernon Davis
.
-Suddenly,
Bears
coach Lovie Smith is holding accountable – in very public ways – some of his team's top players. If they're not good enough to play – a la
Tommie Harris
–
they're simply not going to be on the field.
With a 3-0 record, who's to say Smith is wrong about this?
-The
Green Bay Press-Gazette
writes that tackles
Chad Clifton
and
Mark Tauscher
are starting to look a little old. After watching Monday night's game vs. the Bears, I was surprised with some of the mistakes made by Clifton (I didn't notice Tauscher as much, though he had his fair share), especially with the penalties.
-Apparently nobody seems bothered by
Ravens
RB
Ray Rice
's injured knee. It was not mentioned by anybody – not by coach John Harbaugh, not by radio host Gerry Sandusky, not by any callers – during
Harbaugh's weekly radio show.
-After watching the
Dolphins
lose 18 yards on eight attempts using the Wildcat formation,
Sun Sentinel
columnist Ethan Skolnick says Miami might want to dial it down a little. Skolnick calls the Dolphins victims of their own success and says the Wildcat has become rather predictable.
-The
Jaguars
re-signed S
Gerald Alexander
a few weeks after cutting him, and Alexander is
happy to be employed
once again. He said he wasn't surprised by Jacksonville releasing him. In fact, he said he didn't deserve to make the team, and he's surprised he's been re-signed.
-You might be wondering what's up with Dolphins LB
Ikaika Alama-Francis
and why he hasn't played this year (and subsequently allowed
Koa Misi
to have a big impact at that position).
The answer
is that Alama-Francis has been ill and has lost 15-20 pounds.
-Giants S
Michael Johnson
has been placed on IR with
a herniated disc in his back.
For more NFL news, rumors and analysis, follow @cbssportsnfl on Twitter and subscribe to our RSS Feed .