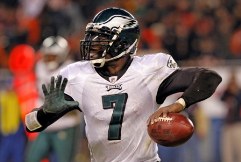 Posted by Will Brinson
Michael Vick
's 2010 season was straight out of a storybook. And now, it will go straight into a biography, with the release of Vick's new book, "Finally Free," on July 27.
In the book, Vick details his rise and fall, as well as the humiliation of being in prison.
"You're nobody," Vick writes,
per Sean Leahy at USA Today
. "You don't have no existence to the world at all. You're just a guy with a name and a number."
Most interestingly, Vick details that he lied to everyone about dogfighting, including his lawyer. The lying isn't a surprise, but while prosecutors were building a case, Vick's defense was continually claiming he had nothing to do with the ring.
"When the dogfighting allegation surfaced, my lawyer told me, 'If you were involved, you need to tell me you were involved.' That's when it was on the state rather than the federal level," Vick writes. "I kept telling him, 'No, no, I wasn't involved, no, no.' The whole time they were building the case, my lawyer was saying 'no' but he was seeing all this evidence saying 'yes.'
"If I had just told the truth, maybe I would've received a smack on the wrist instead of a lengthy sentence."
That's actually a pretty good lesson for everyone -- don't lie to your lawyer. And speaking of lessons, it seems that the primary purpose of the book is to impart valuable lessons to young people about the mistakes they make and turning around their lives.
It also seems, based on the video below and the ads on MichaelVickStory.com, that Vick's trying to help sell
Sports Spectrum Magazine
, which appears to be a faith-based sports magazine that has somehow managed to avoid being sued by
Sports Illustrated
for having a remarkably similar cover setup.
The book is co-written with Charles Chandler and Brett Honeycutt, both formerly of the
Charlotte Observer
, and is being sold at Vick's newest website, MichaelVickStory.com in both hardback ($
24.75 pre-order
!) and Limited Edition Hardback (for the
not-so-low price of $99.95
).
For more NFL news, rumors and analysis, follow

@cbssportsnfl

on Twitter and subscribe to our
RSS Feed
.