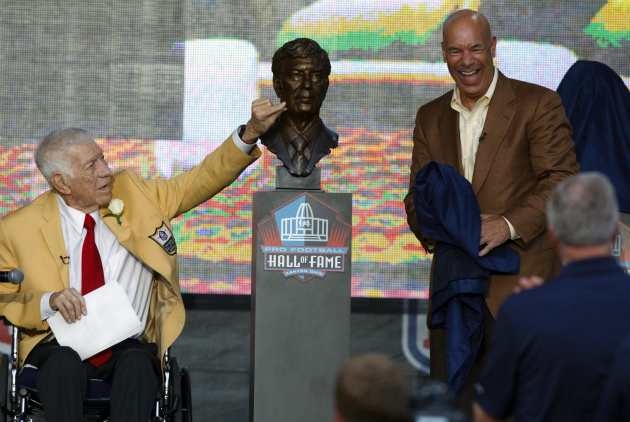 Posted by Josh Katzowitz
With the controversy surrounding the new
Walter Payton biography
, written by Jeff Pearlman, I got to thinking about the other books we need to read but that haven't been written yet. I'm not talking about a season in the life book of the 2010
Packers
or the latest words written by Mike Ditka (at least five authored or co-authored by the
Bears
coaching icon), but about subjects we don't really know and on topics we would love to explore.
For this Top Ten List with a Twist, I'm discounting what a publisher might say if he/she was presented with some of these ideas (namely, the idea that blah, blah, blah won't sell or that nobody has ever heard of blah, blah, blah). Some of these ideas, no doubt, would work, and maybe, one day, you'll see one of them on
the shelf of your nearest book store
in the cart of your Amazon.com page.
Without further ado, here are the Top Ten books we absolutely deserve to read.
10. The inside story on the NFL lockout:
Yeah, maybe many football fans wouldn't care about a book like this, because they only wanted the work stoppage to end as soon as possible so they could continue to watch the game they love, but I bet it would be fascinating. What is the relationship between Roger Goodell and DeMaurice Smith really like? How were the compromises finally reached? Did Jerry Jones really tap his fists together and walk out of a negotiation session
to make a point
? For those who reported and analyzed the entire ordeal, it would be a mind-churning look from behind the curtain.
9. Bill Belichick end-of-career autobiography:
Although he almost always comes off completely uninteresting during his midweek and postgame press conferences -- hell, he eats his lunch during teleconference calls with the media! -- the recent NFL Network documentary showed that he's an interesting dude. The fact he got a little emotional during a trip to the Meadowlands was almost shocking, and I've seen interviews with him before that are really, really good. If he let down his guard, like during that documentary, his autobiography would be a fascinating study of the best coach in football. There have been big-name authors who have written big-name books about Belichick, but when his career is over, I want him reflecting on the impact he's made and the reason he did it all the first place.
8. A biography on Tom Brady's hair:
We've already
had the obituary
for Brady's shorn locks. Next, we should have a book that tells the tale of the entire two-year history of the hair that helped Brady land that
lucrative Uggs endorsement
.
7. Sid Gillman biography:
Gillman is the most important coach you might not remember. Unlike Paul Brown (who has a stadium named after him and a legacy in Cincinnati) or Vince Lombardi (who you might have heard a little something about) or Woody Hayes (a decent-enough coach at Ohio State) -- all of whom were Gillman contemporaries -- Gillman has fallen through the cracks of history. And considering, he's the father of the modern passing offense, that's a shame.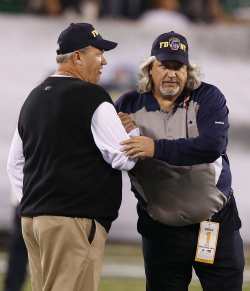 6. Rob/Rex Ryan quote book:
This could even be made into one of those peel-a-page-every-day calendars, like the Jeff Foxworthy redneck gags or the best of the old Far Side comic strips. But if you like to laugh (or just shake your head), this book would be a big seller. You could have Rex talking about not wanting to kiss Bill Belichick's rings or Rob discussing how
Calvin Johnson
would be the
Cowboys
No. 3 receiver behind
Dez Bryant
and
Miles Austin
. See what I mean? It'd be high hilarity.
5. Bryant McKinnie in the Blind Side, part II:
Since McKinnie was the one to replace
Michael Oher
as the
Ravens
left tackle, McKinnie should have his own
Michael Lewis
-penned biography. I'm pretty sure McKinnie didn't live in foster homes and on the streets before he was adopted, like Oher, but McKinnie has had struggles with his weight and he did (allegedly) spend $100,000 on a bar tab this offseason. It's not as heartwarming as the Oher book, but a tome about McKinnie would be pretty fun.
4. The early struggles of black players:
You know all about Jackie Robinson in major league baseball, but if I asked you who the broke the color barrier in the NFL, you probably wouldn't have any idea. Hell, I read a long article about the NFL's integration the other day, and I couldn't tell you the guy's name*. But this is an important -- and somewhat complicated -- history. Black players participated in pro football at the turn of the 20th century, and they also were part of teams in various professional leagues until the NFL stopped signing them in the early 1930s. It would be an interesting look at an era that, just like much of society, was decidedly unfair for anybody who wasn't white.
*After blacks were excluded from the league in 1933, Kenny Washington was the one to break the barrier in 1946, one year before Robinson did it in baseball.
3. A Cam Newton investigation
: Don't we deserve to know who
Newton's bag man
is or if there
was
a bag man at all? Not that it would make any difference in his pro career, but don't you want to know if Newton's father
really
demanded $180,000 from Mississippi State for Newton's service? Maybe Auburn fans wouldn't, but I certainly would.
2. NFL Films biography:
People underestimate the importance of Ed and Steve Sabol. Proof of that was that it took so long for Ed to earn his way into the Pro Football Hall of Fame. But the NFL -- and the NFL fans -- owe them a huge debt of gratitude, because the way you watch football today might not be possible if NFL Films hadn't been created on the backs of the Sabol's in the 1960s. I want to know how it started, the obstacles they faced in the early years and the impact the company has made to this day. It's a book the Sabol's deserve to have written.
1. An investigation into the rise of CTE:
There have been a few journalists (the
Newark Star Ledger's
Jerry Izenberg and the
New York Times'
Alan Schwarz are two who come to mind) who do fine work keeping watch on the NFL's relationship and response to the rise of head injuries that continue to devastate retired players and keep us reminded about what a brutal game football is to those who play it for your enjoyment. But from the premature death of
Steelers
legend Mike Webster to the shock of what Chris Henry's brain looked like during his autopsy, from the suicide of Dave Duerson to the continued work of those who track of the rise of chronic traumatic encephalopathy, this is a book that needs to be written. And the sooner, the better.
For more NFL news, rumors and analysis, follow

@EyeOnNFL

on Twitter and subscribe to our
RSS Feed
.